Table of Contents:
POLITY
1. Bihar's woman MLAs seek 50% quota in Lok Sabha, state legislative houses
2. SC to HCs: Don't keep review pleas pending
INTERNATIONAL RELATIONS
1. Dire straits
SOCIAL ISSUES
1. Smartphone Connectivity Drives Social Change & Rural Empowerment
ECONOMY
1. Centre plumps for rural FMCG e-sales
3. RCEP: Ministry awaits political nod for more tariff cuts
ENVIRONMENT AND ECOLOGY
1. Two more Tiger reserves soon in Uttarakhand
2. Fewer migratory water birds sighted at Ropar
1. Siri
2. Misoprostol
************************************************************************************************************

.
************************************************************************************************************
Useful News Articles for UPSC Current Affairs
A. GS1 Related
Nothing here for today!!!
B. GS2 Related
Category: POLITY


1. Bihar's woman MLAs seek 50% quota in Lok Sabha, state legislative houses
What's in news?
Women legislators of Bihar demanded 50% reservation for women in State legislature and in Parliament as well.
In the 243-member State assembly, there are only 27 women legislators.
Bihar government has already made provision of reserving 50% seats for women on all posts in the Panchayati Raj Institutions (PRIs) and urban local bodies (ULBs).
Bihar government has also provided 50% reservation to women in the recruitment of school teachers, she said.
Key Facts
A bill has to be introduced in the Parliament for enhancing the reservation given to women both at the legislature as well as at Parliament as it involves amendment of constitution.
At present as per the 73rd and 74th constitutional amendment act, 33% of seats at Panchayath bodies and Urban local Bodies are reserved for women.
The first Lok Sabha in 1951 had 22 women MPs. The current 2014 Lok Sabha has 66. In the span of 54 years and 16 Lok Sabha elections it amounts to a three- fold increase in the number of women MPs that made their way to the lower house of the parliament. From 5% in 1951, women MPs constitute 12.2% of the Lok Sabha today.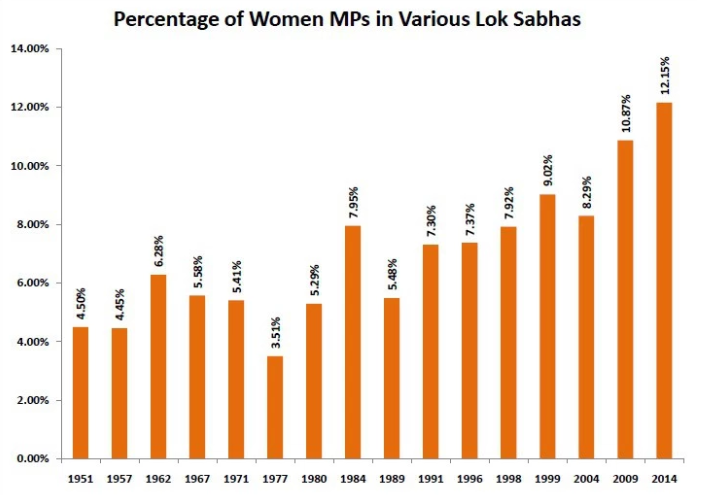 Representation given to women among Asian countries and BRICS NATION

2. SC to HCs: Don't keep review pleas pending
What's in news?
The apex court's observation came as it was dealing with a matter in which the Kerala High Court had kept a review plea pending for almost four years.
It said the review plea should be disposed of as expeditiously as possible and it is the duty of the high court registry to place the matter before the concerned judge so that the application can be dealt with "in quite promptitude".
Supreme Court guidelines
High Courts not to keep the applications for review pending as that is likely to delay the matter in every court and also embolden the likes of the petitioner to take a stand intelligently depicting the same in the application for condonation of delay.
Litigant to file his review plea against a judgment on time. The court said it was the obligation of counsel filing an application for review to cure or remove the defects at the earliest.
Registry of the High Court's is required to be vigilant.
Category: INTERNATIONAL RELATIONS


1. Dire straits
Issue
Killing of a Tamil Nadu fisherman somewhere between the Indian and Sri Lankan coast triggers tensions.
There is no clarity that who pulled the trigger — whether it was the Sri Lankan Navy or some armed group.
It is also not clear where the shooting took place, whether in Sri Lankan waters or elsewhere.
Past scenario and the lacunae in bilateral relationship
The direct fallout of the long-standing dispute between Tamil Nadu and Sri Lankan Tamil fishermen over fishing rights in the Palk Bay. 
The shooting exposes the lack of progress in the implementation of the agreement between the two countries on preventing loss of life while managing the fishing dispute through official channels.
Unfulfilled Promises
Last year, the two countries agreed on establishing a Joint Working Group (JWG)
on fisheries to help resolve the dispute.
A hotline between the Coast Guards of India and Sri Lanka, convening of the JWG once in three months, and meetings of the fisheries ministers every half-year were the components of the mechanism
Negative Consequences
Without arriving at a settlement on sustainable exploitation of the marine resources that would end the use of bottom trawlers from Tamil Nadu, India and Sri Lanka will not be able to ensure incident-free fishing in the strait.
Instances of Indian fishermen crossing into Sri Lankan waters have always been commonplace.
Consequences for such transgressions in recent years have been limited to seizure of boats and prolonged detention.
During the period of Sri Lanka's war with the Liberation Tigers of Tamil Eelam, its Navy indiscriminately shot at boats and trawlers fearing smuggling of contraband by the Tamil rebels
Sri-Lanka's stand on the issue
Prime Minister Ranil Wickremesinghe said Indian fishermen who crossed the maritime boundary to fish in another country's territorial waters would be fired upon.
Way forward
India to take deep- sea fishing, and inland alternatives. This could free India's fishermen from being locked in a conflict with their Sri Lankan counterparts as well as with a hostile Sri Lankan Navy.
Need of the hour is to get a bilateral Joint Working group (JWG) to regulate and prevent the exploitation of marine resources.

Category: SOCIAL ISSUES


1. Smartphone Connectivity Drives Social Change & Rural Empowerment
Current scenario 
The telecom sector is redefining technological transformation in India, with greater reach and penetration across all sections of society. 
Research and Survey
According to a survey conducted by the Boston Consulting Group (BCG) last year, 120 million Indian consumers living in rural areas were connected to the Internet. That number constitutes 36% of India's online population.
By 2020, the figure is expected to increase to 315 million, at an expansion of 30% each year.
The BCG survey indicates that 98% of internet users in rural areas are men.
Private firms like Tata Communicationsare working hard to ensure that they keep up with any changes in technology.
Initiatives and their Importance
Government decision to demonetise a chunk of Indian currency enhances the importance of online connectivity and the smartphone, as we move towards a cashless economy, where payment of goods and services is being carried out through a range of digital platforms.
As technologies evolve and adapt, there is a huge potential for the Internet to affect different aspects of life, economy and society.
A better understanding of the internet is likely to improve the appreciation of the Internet and its capabilities leading to new and innovative ways to incorporate digital resources into daily activities
The smartphone can also serve as an important tool for social change and empowerment, especially for sections of society that are marginalized.
There have been several initiatives to address that disparity and empower women through the use of mobile phones.
Private Sector Initiative
Tata Communications joined hands with MasterCard and a host of other partners in 2015, for a commitment to action to financially empower women by delivering payment-enabled phones to them.
The project is called, aptly, 100 Million Women, and will develop financial-service smartphone apps, in consultation with women belonging to low-income groups, as a means of financial, health, and educational emancipation.
It started off as a series of pilot projects in India, Nigeria, Indonesia, and Guatemala, engaging 25,000 women in its initial run.
Project has a larger plan to provide support to 100 million women in the developing world. 
Obstacles
Issues of literacy and numeracy will detract consumers' ability to use apps.
Access to electricity and connectivity.
Further, the nature of the software and apps is another difficult task, as it has to be of the optimum quality to ensure that the needs of the women are met
Way forward
Given the emphasis on Financial Inclusion in the country today, institutions can leverage the Tata Communications Payment Solutions infrastructure as a way to support their own micro-finance initiatives and rural coverage.
It offers in-house technology solutions for urban and rural financial inclusion, as well as options such as transaction switching, device management, card issuance and lifestyle management, clearing and settlement, biometric authentication, a helpdesk, and others.
C. GS3 Related
Category: ECONOMY


1. Centre plumps for rural FMCG e-sales
Key Points:
Move aimed at enabling sales of goods from firms like Patanjali, P&G at common service centres
CSCs are designed to be the hub Centre of activities in rural India.
The government is focused on expansion of CSCs because of their inherent strength to transform rural India. With the sale of FMCG products, the door has been opened for popularising e–commerce through CSCs.
What are Common Service Centres(CSC)?
There are more than 2.5 lakh CSCs across the country which enable people, particularly in rural areas, to access government services online. These services include ration card, birth certificate, train tickets and online form submission, among other things.
How it helps rural economy and Village Entrepreneurship?
Going beyond delivery of public services through such centres, the Centre is now opening up to tie-ups with private companies for their products to be sold through CSCs to increase profits for Village Level Entrepreneurs (VLEs). For example, CSC also has a tie up with Videocon d2h and Reliance Jio to sell their connections.
The move will help VLEs who run CSCs to earn commission on the products sold while also enabling access for customers in rural areas to these products. According to estimates, a VLE is likely to earn a commission in the range of 12-20% on FMCG products, which is far higher than less than 10% on other services offered.
All the back-end and logistics would be taken care of by the CSCs.
Key Points:
There are four border haats, along the India-Bangladesh border.
Two border haats are located in Meghalaya at Kalaichar and Balat and two are located in Tripura at Srinagar and Kamalasagar.
The trade at border haats is permitted to be carried out in Indian Rupees/Bangladesh Taka and on barter basis, and data of such trade is maintained by the Haat Management Committee of the respective border haat.
What are Border Haats?
The Border Haats in Indian Language means Rural Market. It aims at promoting the well-being of the people dwelling in remote areas across the borders of two countries.
It seeks to establish traditional system of marketing the local produce thorough local markets in local currency or according to barter basis.
Though the trade carried in this informal market is not significant in terms of percentage of bilateral trade, but these local measures help to improve economic well-being of marginalised sections of society.

3. RCEP: Ministry awaits political nod for more tariff cuts
Key Points:
The RCEP, which includes the 10-member ASEAN countries, India, China, Japan, South Korea, Australia and New Zealand, is aiming for free trade in goods and services and freer flow of investments between members.
Once concluded, it could be the largest free trading bloc in the world accounting for 45 per cent of the world population and over $22 trillion of gross domestic product (about 30 per cent of world GDP).
The Commerce Ministry is under pressure to expedite a political decision on the market openings offer to members of the proposed regional comprehensive economic partnership (RCEP), particularly China, the country largely responsible for India's indecisiveness.
In last week's negotiating round in Kobe, Japan, there was a broad agreement between the 16 participating countries that efforts would be made to submit revised and concrete offers in May, when members meet for the next round of negotiations in the Philippines, and to try and wrap up the negotiations before the end of this year.
India's Concern:
India's main problem is that the members have rejected its initial offer under a three-tiered system where it extended the ASEAN the maximum tariff elimination on 80 per cent items, followed by elimination on 62.5 per cent of items for Japan and South Korea (countries with which bilateral free trade pacts exists) and elimination on 42.5 per cent items for China, Australia and New Zealand (where no free trade such pacts exist).
Not only will New Delhi now have to give a single structure of tariff cuts for all countries, with only some deviations allowed to take care of its sensitivities, it also has been asked to improve its offers, the official said.
It was difficult enough for India to give an offer of eliminating 42.5 per cent of tariffs for China, despite the fact that it will happen over an extended period of time. To improve upon that will be a very difficult political call.
Conclusion:
Now that the US has pulled out of the ambitious TPP — of which seven members from RCEP were also a part — participating countries are viewing the RCEP as their last recourse to a large regional pact.
While the failure of the TPP has made India less vulnerable in the discussions on IPR and investments where the TPP provisions were being treated as the gold standard, definitely the pressure in the area of goods has gone up several-fold.

Category: ENVIRONMENT AND ECOLOGY


1. Two more Tiger reserves soon in Uttarakhand
What's in news?
Uttarakhand State to get two more tiger reserves.
The Nandhaur Wildlife Sanctuary, which falls under the Terai Arc Landscape spanning across India and Nepal, and the Surai Range in the Terai East division of the Uttarakhand forest department are the two proposed tiger reserves.
Facts review
Uttarakhand now has two tiger reserves – the Corbett Tiger Reserve and the Rajaji Tiger Reserve.
According to the tiger census data released in 2015, Uttarakhand has 340 tigers making it a State with the second highest tiger population in the country after Karnataka.
With the two new tiger reserves, Uttarakhand, would become the first State in North India to get four tiger reserves.
The Nandhaur Wildlife Sanctuary, The Nandhaur Sanctuary lies between the Gola and Sarda rivers in the Haldwani forest division and covers an area of 269.96 km2. The Nandhaur Sanctuary is a link between the Bramhadev and Sukhlaphata Wildlife Reserves of Nepal and the western forests of Ramnagar and the Terai central forest division in India
Terai Arc Landscape, The Terai Arc Landscape (TAL) extends from River Yamuna in India in the west to River Bagmati in Nepal in the east covering an area of about 50,000 km2. The landscape is part of the Tarai-Duar Savana Eco-region and has two distinct physiographic regions, the terai and the bhabar. TAL has one of the world's densest tiger populations and houses 14 protected areas of which five are in Nepal. The tiger, the Asian elephant and the Indian rhinoceros are three flagship species of the region.

2. Fewer migratory water birds sighted at Ropar
What's in news?
Asian Waterbird Census 2017, conducted by Wetlands International, South Asia, and Punjab's Wildlife Preservation Department, revealed that the number of water birds this season stood at 2,302 as against 3,114 last year.
Fewer winter migratory water birds from central and north Asia were sighted at the Ropar Wetland in Punjab.
The birds that came up this year included oriental darter and river papwing, both put on the red-list by the International Union for Conservation of Nature (IUCN).
 Reasons
Anthropogenic factors: Due to local disturbance such as threat and unavailability of food, the number of migratory birds decreased on many wetlands. At Ropar, boating, fishing and human disturbances along the riverbanks seem to drive away the water birds.
With seasonal wetlands getting dry because of global warming, migratory birds going to a particular wetland switch to nearby wetlands, lakes, reservoirs with a large open area for seasonal congregation.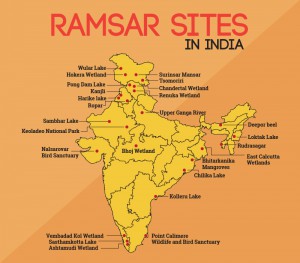 Key facts
The Ramsar convention of Wetland: – The Ramsar Convention is an international treaty for the conservation and sustainable use of wetlands.It is also known as the Convention on Wetlands. It is named after the city of Ramsar in Iran, where the Convention was signed in 1971.Every three years, representatives of the Contracting Parties meet as the Conference of the Contracting Parties (COP). The List of Wetlands of International Importance included 2,231 Ramsar Sites in March 2016 covering over 2.1 million square kilometres. The country with the highest number of Sites is the United Kingdom with 170, and the country with the greatest area of listed wetlands is Bolivia, with over 140,000 square kilometres.
Ropar Wetland, also named Ropar Lake, is a man-made freshwater riverine wetland. Indian narrow-headed softshell turtle(Chitraindica) also known as small-headed softshell turtle is an endangered species of softshell turtle is found here.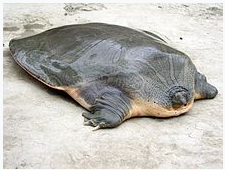 D. GS4 Related
Nothing here for today!!!
E. Concepts-in-News: Related Concepts to Revise/Learn
1.Siri
Siri is a computer program that works as an intelligent personal assistant and knowledge navigator, part of Apple Inc.'s iOS, watchOS, macOS, and tvOS operating systems. The feature uses a natural language user interface to answer questions, make recommendations, and perform actions by delegating requests to a set of Web services. The software, both in its original version and as an iOS feature, adapts to the user's individual language usage and individual searches (preferences) with continuing use, and returns results that are individualized.
2.Misoprostol
Misoprostol, is a medication used to start labor, cause an abortion, prevent and treat stomach ulcers, and treat postpartum bleeding due to poor contraction of the uterus. It is taken either by mouth, under the tongue, or placed in the vagina. 
F. BILLS/ACTS/SCHEMES/ORGS IN NEWS 
| | |
| --- | --- |
| BILLS/ACTS/SCHEMES/ORGANISATIONS IN NEWS | About the Article 136 |
| Article 136 – SPECIAL LEAVE TO APPEAL BY THE SUPREME COURT | Clause(a)The Supreme Court may, in its discretion, grant special leave to appeal from any judgment, decree, determination, sentence or order in any cause or matter passed or made by any court or tribunal in the territory of India Clause(b)Nothing in clause (a) shall apply to any judgment, determination, sentence or order passed or made by any court or tribunal constituted by or under any law relating to the Armed Forces. |
G. Fun with Practice Questions 🙂
Question 1: Consider the following statement with reference to Special 
Leave petition:
SLP can be filed against any judgment of High Court within 90 days from the date of judgement.
SLP can be filed within 60 days against the order of the High Court refusing to grant the certificate of fitness for appeal to Supreme Court.
Even High courts can issue SLP
SLP can be issued against judgment, determination, sentence or order passed or made by any court or tribunal constituted by or under any law relating to the Armed Force
Choose the correct answer
a) 1,2 and 3
b) 1 and 2
c) 1 and 3
d) All are correct
See
Question 2: Consider the following statement with reference to Terai Arc
Landscape:
The Terai Arc Landscape (TAL) extends from River Yamuna in India in the west to River Bagmati in Nepal
The landscape is part of the Tarai-Duar Savana Eco-region and has two distinct physiographic regions, the terai and the bhabar.
TAL has one of the world's densest tiger populations.
Choose the correct answer
a) 2 and 3
b) 1 and 2
c) 1 and 3
d) All are correct.
See
Question 3: Consider the following statement with reference to Ropar 
Wetland which was in news recently:
The Ropar wetland is recognized under The Ramsar Wetland Convention.
Ropar wetland is a habitat for the endangered small –headed soft-shell turtle.
Choose the correct answer.
Only 1 is correct
Only 2 is correct
Both of them are correct
Neither 1 nor 2
See
Question 4: The 13th amendment also called Indo-Sri Lanka Accord was 
signed between Indian Prime Minister Rajiv Gandhi and Sri Lankan 
President J.R. Jayewardene, this agreement provided for
Establishment of provincial councils.
Taking action against the human rights violators
Creation of a second chamber in central legislature.
Enable Sinhalese alone as national language and preserve English as the link language.
Select the correct answer using the codes given below.
1 only
1 and 2 only
2, 3 and 4 only
1, 2,3 and 4
See
Question 5: Consider the following with respect to the Tulip festival as 
recently seen in news:
Mega Tulip festival was organised in the Kashmir valley by the Indian Government.
Asia's largest tulip garden is the showcase of the festival
Identify the correct statements
1 only
2 only
Both 1 and 2
None of the above
See
Question 6: Which of the following countries are there in Regional 
Comprehensive Economic Partnership?
USA
India
South Korea
North Korea
Select the correct answer using the codes given below.
1, 2 and 3
2, 3 and 4
2 and 3
1 and 4
See
For previous practice questions solution, click here
"Proper Current Affairs preparation is the key to success in the UPSC- Civil Services Examination. We have now launched a comprehensive 'Online Current Affairs Crash Course'. Limited seats available. Click here to Know More."
H. Archives