Table of Contents:
POLITY
1. Step up spending on infra, PM tells States
2. Tale of two sections: On vexatious criminal prosecution
INTERNATIONAL RELATIONS
1. Now, Australia wants a LEMOA
2. Beijing's Belt-Road plan overshadows BCIM meet
ECONOMICS
1. Centre mulls nodal body for transport
2. Delay in quota reforms to erode IMF's credibility, says Jaitley
SCIENCE AND TECHNOLOGY
************************************************************************************************************

.
************************************************************************************************************
Useful News Articles for UPSC Current Affairs

A. GS1 Related

Nothing here for Today!!!
B. GS2 Related
Category: 

POLITY



1. Step up spending on infra, PM tells States
Key Points
Expressing that the vision of 'New India' must be acknowledged if all States cooperate, Prime Minister Narendra Modi encouraged them to accelerate capital use and framework creation.
This is the third meeting of the Governing Council of the NITI Aayog.
While there has been a 40% expansion in general reserve portion to States between 2014-15 and 2016-17, the rate of assets attached to focal plans has declined from 40% of the prior aggregate to 25% of the improved aggregate, with a comparing increment in the unfastened share.
Basic Info 
NITI Aayog or the National Institution for Transforming India is a Government of India policy think-tank established by the Narendra Modi government to replace the Planning Commission which followed the top-down model.
The stated aim for NITI Aayog's creation is to foster involvement and participation in the economic policy-making process by the State Governments of India.
The emphasis is on bottom-up approach and make the country to move towards cooperative federalism .
The Union Government of India announced the formation of NITI Aayog on 1 January 2015, and the first meeting was held on 8 February 2015.
The Prime Minister serves as the Ex-officio chairman.
The governing council consists of all state Chief Ministers,Lieutenant Governors of union territories,and vice chairman nominated by the Prime Minister. In addition to full members, there are two part-time members and four ex-officio members and a chief executive officer. The temporary members are selected from the leading universities and research institutions.
2. Tale of two sections: On vexatious criminal prosecution
It's chance 295A and 153A of the IPC are returned to, to end vexatious criminal indictment.
The Supreme Court has interceded to extra cricketer Mahendra Singh Dhoni the difficulty of confronting a criminal trial for professedly offending the Hindu religion by being highlighted in the resemblance of a divinity on the front of a business magazine.
The court suppressed a criminal protestation documented against him in Anantapur in Andhra Pradesh under Section 295A of the Indian Penal Code.
Section 295A of the Indian Penal Code
It makes a deliberate and malicious act, intended to outrage reli­gious feelings of any class by insulting its religion or reli­gious beliefs a punishable offence.
What the court said?
The court said there was no consider goal with respect to the cricketer or the magazine to hurt religious suppositions.
Other Points
Legal alleviation comes at last, however the astringent truth is that the procedure is the discipline; it is time our lower courts quit taking reflexive cognisance of insignificant or vexatious cases recorded on the premise that the religious, position or social sensitivities of some gathering have been outraged.
A nearby cousin of this arrangement is another quite abused segment of the IPC — 153A.
Planned to rebuff the individuals who advance animosity between various gatherings on grounds of religion, race, place of birth, home and dialect, and doing acts biased to the upkeep of agreement, this segment has been utilized to pester authors and craftsmen and cast a chill on free expression.
The issue with affront laws, independent of the shape they expect, is that they are characteristically subjective.
They should be perused down, their degree limited in a way that ethical vigilantes and the individuals who influence an enthusiastic victimhood can no longer adventure the law to serve their restricted closed-minded closures.
Category: INTERNATIONAL RELATIONS

1. Now, Australia wants a LEMOA
What's in news?
Australia has advanced a proposition to have a coordinations bolster concurrence with India on the lines of the one closed with the US.
Be that as it may, India would rather have its concurrence with the U.S. operationalised first.
India and Australia have been growing their military-to-military participation, particularly in the sea space, given their mutual advantages and worries in the Indian Ocean, with the fast extension of China's maritime nearness in the locale.
Basic Info
LEMOA is an encouraging assention that sets up fundamental terms, conditions, and systems for corresponding arrangement of Logistic Support, Supplies, and Services between the military of India and the United States.
Calculated Support, Supplies, and Services incorporate sustenance, water, billeting, transportation, oil, oils, ointments, apparel, correspondence administrations, therapeutic administrations, stockpiling administrations, preparing administrations, save parts and segments, repair and upkeep administrations, adjustment administrations, and port administrations.
Proportional strategic support would be utilized only amid approved port visits, joint activities, joint preparing, and philanthropic help and catastrophe alleviation endeavors.
Coordinations bolster for some other helpful endeavors might just be given on a case-by-case premise through earlier shared assent of the Parties, steady with their particular laws, controls and approaches.
Arrangement of Logistic Support, Supplies, and Services from one Party to the next would be as an end-result of either money installment or the equal arrangement of Logistic Support, Supplies, and Services.
The Agreement does not make any commitments on either Party to complete any joint action. It doesn't accommodate the foundation of any bases or basing game plans.
2. Beijing's Belt-Road plan overshadows BCIM meet
What's in news ?
The two-day meeting of the Joint Study Group, a sub-regional group of the BCIM, is to review economic integration of the region focussing on trade and energy cooperation while facilitating the construction of an economic corridor from Kumning in south-west China to Kolkata.
BCIM Economic Corridor
The Bangladesh, China, India and Myanmar Economic Corridor is an activity conceptualized for noteworthy increases through sub-provincial monetary participation inside the BCIM.
The multi-modular passage will be the principal freeway amongst India and China and will go through Myanmar and Bangladesh.
These points of interest are visualized to accumulate from more prominent market access for merchandise, administrations and vitality, end of non-levy obstructions, better exchange assistance, interest in foundation advancement, joint investigation and improvement of mineral, water, and other regular assets, improvement of significant worth and supply chains in view of similar favorable circumstances, by making an interpretation of relative focal points into upper hands, and through nearer individuals to individuals contact.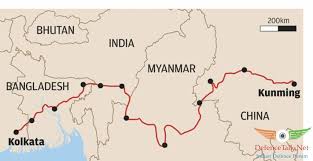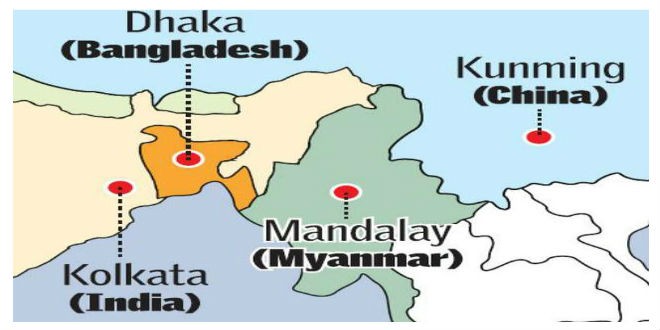 C. GS3 Related

Category: ECONOMICS
1. Centre mulls nodal body for transport

Incited by the Prime Minister's Office, the Center has started examinations to set up a national level nodal body for all vehicle related matters crosswise over modes including aeronautics, railroads, surface transport and conduits.
The proposed 'Coordinations and Integrated Transport Board' will at first work on enhancing between ecclesiastical co-appointment to encourage a proficient multi-modular transport framework in India.
The point, notwithstanding, is to bit by bit set up a solitary brought together transport service by consolidating the services of Aviation, Railways, Surface Transport and Shipping to guarantee more noteworthy simplicity of working together and lift India's inner and outer exchange.
It is likewise in accordance with the NDA government's motto of 'least government and most extreme administration'.
2. Delay in quota reforms to erode IMF's credibility, says Jaitley
What's in news ?
Finance Minister Arun Jaitley has expressed disappointment over the slow pace of International Monetary Fund (IMF) quota reforms and said any further delay would erode the legitimacy and credibility of the multi-lateral organisation.
Basic Info : IMF Quota Reforms
Voting privileges of developing business sector economies, for example, India and China have expanded at the International Monetary Fund (IMF), which has at long last told administration quantity changes received in 2010.
India's share at IMF has now expanded to 2.75% from 2.44%, making it the eighth-biggest shareholder in the multilateral office, climbing three scores.
The approval of the 2010 changes additionally makes room for the establishment to start the following round of audit of its amounts to talk about the size and sythesis of IMF assets and the appropriation of standard shares among the Fund's enrollment.
IMF's Board will completely comprise of chose Executive Directors. It will end the present class of arrangement of Executive Directors by five biggest amounts holders. China's vote at the IMF would increment to 6 for every penny from 3.8 for each penny. It would make it the third-biggest shareholder from its past 6th position.
India's voting rights will likewise ascend to 2.6 for each penny from the current 2.3 for each penny. US's amount share drop from 16.7 for each penny to 16.5 for every penny except it will hold its veto control.
Category: SCIENCE AND TECHNOLOGY

1. 3D-printing conquers glass
Researchers have built up a novel approach to 3D-print objects utilizing glass, a propel that could be utilized to make little optical segments for complex PCs.
Specialists from Karlsruhe Institute of Technology (KIT) in Germany blended nanoparticles of high-immaculateness quartz glass and a little amount of fluid polymer and enabled the blend to be cured by light at particular focuses — by methods for stereolithography.
Stereolithography is a type of 3D-printing innovation utilized for making models, models, examples and creation parts in a layer by layer design utilizing photopolymerisation, a procedure by which light makes chains of atoms connection, shaping polymers. The material, which remains a fluid, is washed out in a dissolvable shower, leaving just the coveted cured structure. The polymer still blended in this glass structure is in this way expelled by warming.

D. GS4 Related
Nothing here for Today
PIB ArticlesEditorials Roundup

E. Concepts-in-News: Related Concepts to Revise/Learn 
F. BILLS/ACTS/SCHEMES/ORGS IN NEWS
| | |
| --- | --- |
| BILLS/ACTS/SCHEMES/ORGANISATIONS IN NEWS | About the Article |
G. Practice Questions for UPSC Prelims Exam



Question 1: Who is the chairman of Niti Aayog?
Finance Minister
Home Minister
Prime Minister
One of the chief ministers of the states elected for the purpose
See
Question 2: Which of the following constitutes governing council of NITI Aayog?
All state Chief Ministers
Lieutenant Governors of union territories
All state Finance Ministers
Choose the right answer from the below given options.
1 and 2 only
1 only
1 and 3 only
All of the above
See
Question 3: Recently, India and the United States have signed the Logistics 
Exchange Memorandum Of Agreement (LEMOA). Consider the following 
statements:
LEMOA is a facilitating agreement that establishes basic terms, conditions, and procedures for reciprocal provision of Logistic Support, Supplies, and Services between the armed forces of India and the United States.
The Agreement creates obligations on either Party to carry out joint activity.
It provides for the establishment of any bases or basing arrangements.
Which of the above statements is/are correct?
1 and 2 only
1 and 3 only
1 only
2 and 3 only
See
Question 4: Which of the following countries is /are not associated with 
BCIM economic corridor?
Bangladesh
Bhutan
Malaysia
China
Mayanmar
Choose the right answer from the below given options.
1, 2 and 3 only
2, 3 only
2, 3 and 5 only
1, 2, 4 and 5 only
See
Question 5: Recently, Stereolithography was in news. What is it?
Study of ancient scripts
technology for mining of minerals
3D printing technolgy
None
See
"Proper Current Affairs preparation is the key to success in the UPSC- Civil Services Examination. We have now launched a comprehensive 'Online Current Affairs Crash Course'. Limited seats available. Click here to Know More."
H. Archives