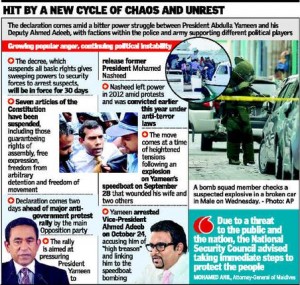 The state of Emergency declared in the Maldives, as of now for 30 days, by President Abdulla Yameen Abdul Gayoom is the latest in a host of crises that shook the Indian Ocean nation's young democracy.
The Emergency was declared after the Maldives National Defence Force (MNDF) and the Maldives Police discovered a large cache of arms in different locations in the archipelago nation, the Maldivian officials told .
But there were political reasons as well behind the move, according to experts and activists. The emergency measures effectively snatches away the freedoms that followed the August 2008 Constitution.
Pre-empting protest
"The Emergency was imposed to pre-empt a mass rally by the main Opposition Maldivian Democratic Party (MDP), which could have negatively impacted the law and order situation," Hasan Zahir, a senior journalist and commentator told.
The government recently arrested the Vice-President, Ahmed Adeeb, and conducted a series of raids to recover arms and explosives from several locations after the September 28 blast on the Presidential boat.
In the declaration, President Yameen pointed out that the raids were meant to nab the culprits behind the bombing of his boat, which left his wife and his colleagues injured.
On October 1, the Maldives High Court had upheld the arrest of Vice-President Adeeb, and the next day, an improvised explosive device-like object was recovered from near the Presidential estate in Male.
However, the excuses of the Maldivian government for the Emergency did not impress international human rights lobby which has been demanding fair trial of imprisoned Maldivian leaders like former president Mohamed Nasheed and Mr. Adeeb.
"The Emergency is just another tool in the hands of the Maldivian government to crack down on political opponents," Olaf Blomqvist of Amnesty International told from London.
"We are extremely worried about the list of freedoms that have been suspended by the order proclaiming Emergency," Mr. Blomqvist said on the phone.
'Threats neutralised'
President Yameen and Foreign Minister Dunya Maumoon asserted that the Maldives was in a stable condition and all threats to business and tourism had been neutralised.
India has been reluctant to comment on the development. The measure showed its immediate effect on the Internet, media houses and the websites of international organisations that became briefly inaccessible after the mid-day presidential declaration, read out by Attorney-General Mohammed Anil.