Sriram Venkataraman IAS biography
"If you want a better country, stop the blame game and join us in the quest. It is a long journey, and we can definitely do better than we are doing now,"
– Dr Sriram Venkataraman IAS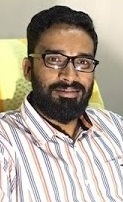 Sriram Venkataraman is a young IAS officer who has erupted into the media as well as the public with his brave initiative against unlawful encroachers in the hill station of Munnar in Kerala. Read on for Sriram Venkataraman biography for inspiration.
Dr. Sriram Venkataraman hails from a humble background and it was his childhood dream to become an IAS officer. He is a role model for upcoming UPSC aspirants. His acts towards unlawful activities are remarkable as well as escalate him as a figure of honest IAS officers. Here we bring the story of Dr. Sriram Venkataraman IAS. He believes that there is no shortcut to success; it is smart to work and proper planning is the key to success. Cracking the UPSC Civil Service Exam is possible only through smart work rather than mere hard work.
Read more| Important books for Medical Science optional for UPSC IAS Mains
Dr. Sriram Venkataraman is the well familiar to the people in Kerala.  He secured all-India second rank in UPSC IAS Exam. He did his schooling from Bhavan's Vidya Mandir – Girinagar in Kochi.  After that, he did (Bachelor of Medicine and Bachelor of Surgery) MBBS from Trivandrum Medical College and MD from SCB medical college & hospital in Cuttack. He started working in Cuttack SCB Medical College. Currently, he serves as the sub-collector of Devikulam near Munnar in Idukki district of the state. He bagged All India second rank in UPSC Civil Services Examination in his second attempt.
He suggests a combined study approach for both Prelims and mains exam. He highly recommends an integrated kind of approach. His optional subject where Medical science and Zoology. He opted optional subject based on his interest and background. He suggests the UPSC aspirant should stick to the syllabus in a systematic manner using limited and relevant sources.
He is much concerned about the increasing corruption, wicked governance, lack of transparency and social lethargy. He also believes that social change is a sluggish, two-way process. An IAS officer cannot alone bring on a revolution instantaneously.
Tune into byjus.com/free-ias-prep for more strategy articles and news on UPSC Civil Services IAS Exam