Civil Services Exam is the most popular exam conducted by the Union Public Services Commission (UPSC) every year in India to select proficient candidates for the prestigious posts in 24 services in Indian Administration. Though, the exam is commonly called as the IAS Exam, the civil services exam is conducted to select candidates for various posts like Indian Foreign Service (IFS), Indian Police Service (IPS), Indian Revenue Service (IRS) along with the most popular Indian Administrative Service (IAS).   The UPSC Civil Services Exam is conducted in three stages every year: i) CSE Prelims Exam ii) CSE Mains Exam iii) Interview/Personality Test Based on the results declared by the UPSC considering the marks of UPSC Civil Services Mains (written) Exam and the interviews of Personality Test secured by the candidates the merit list is decided and would be recommended for appointment to: i) Indian Administrative Service (IAS) ii) Indian Foreign Service (IFS) iii) Indian Police Service; and iv) Central Services, Group 'A' and Group 'B'  
Vacancies do not increase relative to the increase in number of candidates
Each year the number of candidates clear the UPSC Civil Services Examination differs, which depends on the number of vacancies.It has been observed that the number of vacancies is increasing which can be analysed from the statistics between the years 2010 and 2015.We can see the comparison of vacancies from 2010 to 2015. Even the number of candidates applying for this prestigious exam in the country has seen an increase, which could be witnessed in the last year exam 2015 that saw 9.5 lakh candidates applying for the exam.
UPSC Civil Services Examination Vacancies in category-wise from 2010 to 2015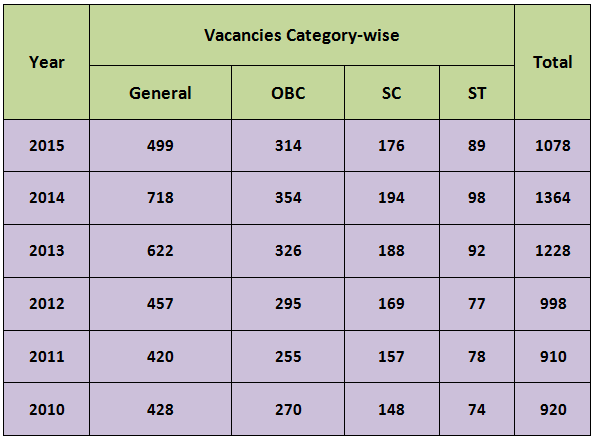 Note:
1. The final number of vacancies given above is based on the number of appointment recommended as released in the UPSC Notification. 2. Appointment to the various Services will be made according to the number of vacancies available with due consideration to the provisions contained in Rules 2 and 19 of the Rules of the Examination and subject to the final decision of the Hon'ble Supreme Court / Hon'ble High Courts / Hon'ble C.A.Ts. on the S.L.Ps / R.As / W.Ps. / O.As. pending therein.   
Also Read: