TABLE OF CONTENTS
A.

 GS1 Related




B.

 GS2 Related


POLITY
1. Prescription post Section 66A: 'Change law to punish hate speech online'
INTERNATIONAL AFFAIRS/BILATERAL RELATIONS
1. Partners, naturally
2. Doklam hangover? China deploys almost 1,000 PLA troops at standoff site, indicates 
tension not over yet


C.

 GS3 Related


ECONOMICS
1. Kotak-led panel wants MD, CEO roles split; 6 independent directors on board 
ENVIRONMENT AND ECOLOGY
1. India among the worst affected by climate change: IMF study 
MISCELLANEOUS
1. Gauri Lankesh Posthumously Honoured With Anna Politkovskaya Award


D. 

GS4 Related




E. 

Prelims Fact


F. UPSC Prelims Practice Questions
G. UPSC Mains Practice Questions 
Nothing here for Today!!!
1. Prescription post Section 66A: 'Change law to punish hate speech online'
Context:
Recommendations of the expert committee constituted by the centre after the Supreme Court struck down the controversial section 66A of the Information Technology Act, 2000.
Committee:
The committee was headed by former Law Secretary T K Vishwanathan.
The report was submitted to the Union Home Ministry.
Mandate: Study domestic and international cyber laws and propose a legal framework in order to deal with online hate speech and incitement of violence
Recommendations: The Indian Penal Code, Criminal Procedure Code and the Information Technology Act should be amended to include stringent provisions
 Recommendations of the committee:
No need to re-introduce Section 66A but strengthen IPC instead.
Indian Penal Code, 1860; Prohibiting incitement to hatred: Amend IPC section 153 C to include in communication "spoken or written words, signs, visible representation, information, audio, video, or combination of both, transmitted, retransmitted through any telecommunication service, communication device or computer resource".
Punishment: up to 2 years or fine of Rs 5000 or both.
Causing fear alarm or provocation of violence in certain cases: Amend IPC section 505A, punishment of any person or group of persons who intentionally, on grounds of religion, race, caste or community, gender, sexual orientation, place of birth, residence, language, disability or tribe, uses any means of communication to communicate.
Punishment: up to 1 year or fine of Rs 5000 or both.
Amendment in Code of Criminal Procedure, 1973: create a post of State Cyber-Crime Coordinator (not below rank of Inspector General of Police) and District Cyber-Crime Cell
Amending the Information Technology Act, 2000: Amending section 78 allows a police officer not below the rank of Sub-Inspector to investigate any offence under this Act as young SIs are better equipped and trained in dealing with these crimes.
A renovated section 66A has not been recommended in the IT Act, 2000. This is because the IT Act is basically commercial in nature and hence punishments have been recommended in the IPC.
Important observations: In recommending specific changes the committee said

Only that speech should be accounted as relevant which relates to "religion, race, caste, community, sex, gender, place of birth, residence and language."
Online speech would be criminalised "only both, when it advocates hatred and causes the incitement of an offence".
Way forward:
Section 66A was struck down as unconstitutional by the Supreme Court on the ground that it violated the basic freedom of expression of the citizens. There is need to balance the liberty of citizens while tackling the issues of hate speech, online harassment-hatred and national security.
The real purpose of the committee would be served only when the Parliament takes actions on these recommendations by keeping in mind the spirit of the 2015 Supreme Court judgement.
Category: INTERNATIONAL AFFAIRS/BILATERAL RELATIONS
Context:
The Indo-Europe relationship.
India-EU relations:
Work of both go from fighting climate change and terrorism to cooperating on cyber security and digital
14th EU-India Summit:
India and EU will work to strengthen their excellent partnership
EU message to India will be that Europe is open for business and will continue to remain so
EU and India:
The EU is the world's biggest open market and the world's second largest economy
EU is the largest trading partner for 80 countries, including India
EU's economy is growing faster than that of the United States and eight million new jobs have been created
EU already trade more than 100 billion euro worth of goods and services every year with India
European Investment Bank in India:
The European Investment Bank has now set up an office in New Delhi
European loans have helped to finance the construction of the Lucknow Metro and solar power schemes across the country
Way forward:
EU-India Free Trade Agreement should resume
Europe will support India's ambitious goals through investment and expertise in green buildings, renewable energy, waste management and air pollution
Indian scientists have received research grants to work with their European counterparts on medical breakthroughs or cutting-edge technologies and will continue in future
2. Doklam hangover? China deploys almost 1,000 PLA troops at standoff site, indicates tension not over yet
Context:
More than five weeks after India and China stepped back from a standoff at Doklam on the Sikkim border, Indian soldiers remain on high alert with around 1,000 Chinese troops still present on the plateau, a few hundred metres from the faceoff site,.
But, India does not expect another "flashpoint" at the same site between the two countries.
Key Points:
The presence of People's Liberation Army (PLA) was also acknowledged by Air Chief Marshal B S Dhanoa recently and it has subsequently thinned in the area after the process of "disengagement" began but one PLA battalion remains on the plateau.
The deployment is expected to be reduced by two-thirds to brigade-level in the coming weeks.
The Chinese have not dismantled any of their tents, temporary construction in the vicinity and they still have road construction equipment and other stores.
But everything is under surveillance by the Indian Army.
Indian soldiers returned to their posts at Doka La but their numbers have since been strengthened.
The tracks leading to Doka La were improved during the faceoff, leading to enhanced logistics supply lines.
Road construction equipment, such as bulldozers and JCBs, have also been kept on location.
1. Kotak-led panel wants MD, CEO roles split; 6 independent directors on board
Context:
The SEBI panel on corporate governance led by Uday Kotak has proposed some important changes
In news:
These changes include splitting the posts of chairman and managing director and amending rules on independent directors, disclosures, and accounting and auditing practices
Currently, of the 50 companies on the benchmark Nifty, at least 12, including Reliance Industries, ONGC and Wipro, have the same person occupying both posts
Date of implementation:
Listed companies with more than 40% public shareholding should separate the roles of chairperson and MD or CEO from April 1, 2020
SEBI may consider extending the requirement to all listed entities by April 1, 2022
Concerns expressed:
Some experts said splitting the two roles shouldn't be made a legal requirement
Reason: Splitting of CMD role would mean two power centres instead of one but if enforced into a law, the chairman can just appoint a person who agrees with them as MD
According to some experts, such a thing cannot be forced and should be recommended as best practice rather than be made into a legal provision
Other recommendations:
The panel has also made several recommendations to strengthen the role of directors
Companies would need to induct at least six directors, up from the current minimum of three under the Companies Act, with at least one independent woman director
The panel has also recommended increasing the number of board meetings held every year
And an age limit for non-executive directors and capped the number of directorships that an individual can hold
Category: ENVIRONMENT AND ECOLOGY
1. India among the worst affected by climate change: IMF study
In news: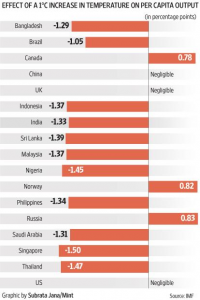 According to a study of the IMF, countries in the tropics will be the worst affected as a result of global warming
The report says, for the median emerging market economy, a 1°C increase from a temperature of 22°C lowers growth in the same year by 0.9 percentage point(see figure given below)
Affect on India and its neighbors
India is one of the worst affected, with its per capita output expected to fall
Other countries in the region, such as Bangladesh, Pakistan, Sri Lanka, Indonesia, Malaysia will be similarly affected
Affects on Developed Nations
The impact of most developed nations, located in the temperate zone, is negligible
The overall impact on China's growth, too, is estimated to be negligible
On the other hand, some northern nations such as Russia, Norway and Canada will see their growth improve
1. Gauri Lankesh Posthumously Honoured With Anna Politkovskaya Award
In news:
Gauri Lankesh, journalist and editor of Kannada tabloid Gauri Lankesh Patrike, has been posthumously honoured with the annual Anna Politkovskaya Award
Award was given out by Reach All Women in WAR.
Basic information: Politkovskaya, a Russian investigative reporter who wrote about state corruption and rights abuses, was shot dead in the lobby of her Moscow apartment block at the age of 48 on October 7, 2006. The London-based organisation RAW in WAR established the award in her honour.
Nothing here for Today!!!
F. Practice Questions for UPSC Prelims Exam
Question 1. Miyako Strait is connects
East China sea to Pacific Ocean
South China sea to Pacific ocean
Pacific Ocean to Arctic sea
Sea of Japan to Pacific Ocean
See
Question 2. Consider the following statements:
The objective of the National Food Security Mission is to increase production of rice, wheat and pulses only.
Production of horticulture crops have outpaced the production of food-grains consistently since 2012-13.
Which of the above is/are correct?
1 only
2 only
Both 1 and 2
Neither 1 nor 2
See
Question 3. Recently Lok Sabha passed the Motor Vehicles Amendment bill, the power 
to make such laws by Parliament, is under which list of constitution of India
Union List
State List
Concurrent List
None of the above
See
Question 4. India Water Stewardship Network and Alliance for Water Stewardship is a 
network created by
U.N
W.H.O
WWF
IMF
See
Question 5. Keibul Lamjao, worlds only floating national park is located in which state?
Assam
Tripura
Manipur
Arunachal Pradesh
See
Question 6. Contamination of drinking water with which of the following causes Blackfoot 
disease (BFD)?
Nitrates
Arsenic
Mercury
Cadmium
See
G. UPSC Mains Practice Questions
GS Paper II
Examine how Aadhaar's design protects individual's identity and privacy?
GS Paper III
Discuss the effects of minimum wages on employment?
What do you mean by Hyper-globalisation? Discuss how hyper-globalisation has lead to a "virtuous cycle of economic expansion"?
Also, check previous Daily News Analysis
"Proper Current Affairs preparation is the key to success in the UPSC- Civil Services Examination. We have now launched a comprehensive 'Current Affairs Webinar'. Limited seats available. Click here to Know More."
Enroll for India's Largest All-India Test Series