TABLE OF CONTENTS
A.

 GS1 Related




B.

 GS2 Related


Polity
1. Parents are behind child marriages: SC
2. 'Medical boards proposed to hear abortion pleas'
3. Making the Doklam standoff useful for India  
4. Plea to re-start tonga race in Nagaur rejected 
5. Order on net neutrality in a month 
6. Nationwide programme to test all TB patients
International Relations
1. An article of faith  
2. India thanks Switzerland for support in global fora   


C.

 GS3 Related


Economics
1. Powering aspirational India 
2. GDP growth slips to 5.7% in April-June 
3. Fiscal deficit touches 92.4% of budget estimates at July-end 
4. Core sector output growth quickens to 2.4% in July 
5. 'Trade-distorting farm subsidies must go
6. Odisha rated as low-growth State 
7. Domestic sugar production may increase 18-20% in October-September: ICRA 
Internal Security
1. Despite big reforms in Army, no clarity on sahayak system 
Science and Technology
1. 39 successes later, PSLV launch fails 


D. 

GS4 Related




E. 

Prelims Fact


F. UPSC Prelims Practice Questions
G. UPSC Mains Practice Questions 
Nothing here for Today!!!
1. Parents are behind child marriages: SC
In news:
Supreme Court observations:
It was unfortunate to note that parents drive their minor children into marriage
At least one in three marriages in rural areas involves girl children below the age of 18.
Petition filed by NGO Independent Thought:
Contention: Petition challenges the Exception 2 to Section 375 (rape) of the Indian Penal Code, which permits "intrusive sexual intercourse with a girl child aged between 15 and 18 only on the ground that she is married."
The Exception is part of the Criminal Law (Amendment) Act of 2013 and is contrary to the anti-child sex abuse law, Protection of Children from Sexual Offences Act of 2012 (POCSO).
Key stats: As per the Fourth National Family Health Survey of 2015-16, there are 26.8% of brides in the country who were married below the age of 18.
2. 'Medical boards proposed to hear abortion pleas'
Context:
Supreme Court directive: appoint permanent medical boards to provide women, especially rape survivors, urgent access to medical care and to consider their requests for abortion.
In news:
Government informed Supreme Court: that it has written to States and Union Territories about the court's suggestion.
Basic Information
What is MTP Act, 1971?
Abortion in India is legal only up to twenty weeks of pregnancy under specific conditions and situations.
One, the continuance of the pregnancy would involve a risk to the life of the pregnant woman or of grave injury of physical or mental health, or
Two, there is a substantial risk that if the child were born, it would suffer from such physical or mental abnormalities as to be seriously handicapped. 
What the draft MTP bill 2014 provides?
The draft MTP increased the legal limit for abortion from 20 weeks to 24 weeks.
It provides for abortion beyond 24 weeks under defined conditions.
The Bill amends Section 3 of the 1971 Act to provide that "the length of pregnancy shall not apply" in a decision to abort a foetus diagnosed with "substantial foetal abnormalities" or if it is "alleged by the pregnant woman to have been caused by rape".
Under the 1971 Act, even pregnant rape victims cannot abort after 20 weeks, compelling them to move court.
It allows a woman to take an independent decision in consultation with a registered health-care provider.
It also takes into account the reality of a massive shortage of both doctors and trained midwives, and seeks to allow Ayurveda, Unani and Siddha practitioners to carry out abortions. 
Why is it essential to change the MTP law?
Foetal abnormalities show up only by 18 weeks, so just a two-week window after that is too small for the would-be parents to take the difficult call on whether to keep their baby.
Even for the medical practitioner, this window is too small to exhaust all possible options before advising the patient.
There is an urgent need to empower women with sexual rights, legal protection against sex crimes and sex choices both in their own interest and for the sake of reducing the fertility rate as a whole.
The lack of legal approval moves abortion to underground and they are done in unhygienic conditions by untrained, thus, putting thousands of women at risk.
3. Making the Doklam standoff useful for India
Context
After more than two months, the India-China standoff in Doklam, came to an end.
Chinese accepted to cease the construction of road, which in fact was the trigger behind the scenes. Meanwhile Indian troops retreated as a concession to the decision.
Key Points:
Chinese escalations along the Sikkim sector that is an advantageous military zone for India could have been costlier.
The forthcoming Brics summit, which they will be hosting in Xiamen, must have also played a role in Chinese concern.
India should not believe the Chinese tactical move and get into a conclusion that former would stop its incursions into disputed and other's territories.
India brilliantly utilized the denial tactics to prevent China from adjusting the facts on the ground.
China's rise is a challenge to India's supremacy in South Asia.
Looks like despite being aware of its disadvantages in Chumbi Valley, Chinese played the card to trigger a rift between New Delhi and Thimphu.
But Thimphu upheld its calm endorsed India's position by calling for a return to the status quo ante.
But on the other the relationship of India with its other neighbours is unlike with that of Bhutan. For example, In Pakistan, China has assisted the establishment of a nuclear-armed state which deploys terrorists against Indiato achieve its territorially revisionist goals.
Chinese presence in the Indian ocean region is also a threat to Indian supremacy.
Way forward
India should be prepared with its diplomatic and military apparatus to prevent Doklam-type unilateral adventurism again.
India should also exploit its advantages of geography
Initiate closer military partnership with the US and Japan. 
4. Plea to re-start tonga race in Nagaur rejected
Context:
Rajasthan High Court: In January 2016, had banned the controversial tonga race.
The HC had outlawed the race citing cruelty to animals
In news:
State government filed a petition before the court, seeking the modification of its earlier order.
The Rajasthan High Court has dismissed the State government's petition
Jat leaders opinion: the race is a matter of people's faith and religious tradition and it does not have any trait of cruelty to animals.
Tonga race tradition:

Every year, on the 9th of Shukla day of Bhadrapada month as per the Hindu calendar, horse-carts run for 36 km on hard concrete or tarred road on the Mundiad-Kharnal-Nagaur route in Nagaur district.
The race forms part of fairs dedicated to Lord Ganesha and Lord Tejaji, with the tongas running amid the chaos of heavy traffic and with thousands of spectators shouting on the roadside.
5. Order on net neutrality in a month
In news:
The Telecom Regulatory Authority of India is likely to come out with its recommendations on the long-pending controversial issue of net neutrality in a month's time.
The issue has been debated since early 2015 in India.
What is net neutrality? Net Neutrality is the principle that service providers should treat all data on the Internet equally, and not discriminate or charge differently by user, content, site, platform, or application.
Demanding that the same rule should apply for the same services, telecom operators have reasoned that operators are required to ensure service quality and pay levies to the government, while no such rules are applicable on Internet-based calling applications such as Whatsapp and Skype.
After a series of consultation papers on related topics such as over-the-top service providers and differential pricing of data services, TRAI had released a consultation paper on 'Net neutrality'.
The regulator had last year barred telecom service providers from charging differential rates for data services, effectively prohibiting Facebook's Free Basics and Airtel Zero platform.
6. Nationwide programme to test all TB patients
In news:
Health authorities plan to commence a nationwide programme to test every tuberculosis (TB) patient for signs of resistance to first-line drugs.
This new plan could reveal a large number of hidden tuberculosis patients, as well greater numbers of those with multiple infections of TB and HIV (human immunodeficiency virus).
WTO estimates: as many as a million Indians with TB could be outside government scrutiny.
Key stat:

In 2015, nine million Indians were tested for suspected tuberculosis and about 900,000 were confirmed to be ailing from it.
Nearly 3% of new TB cases and 18% of prevalent cases are believed to be drug resistant.
The WHO's TB statistics for India for 2015, gives an estimated incidence figure of 2.2 million cases of TB for India out of a global incidence of 9.6 million.

Universal Drug Sensitivity Test:

The new policy, called the Universal Drug Sensitivity Test, will be implemented using a molecular diagnostic test called
GeneXpert is a US-developed technology tool being used worldwide since 2010. It can detect the TB bacterium as well check for resistance to rifampicin, one of the standard key TB drugs, within 90 minutes.
Conventional tests take at least a day or more and require well-trained personnel for similar results.

Why are we unable to eliminate TB?

Inability to rapidly diagnose multi-drug resistant tuberculosis has long been identified as among the chinks in India's strategy to eliminate tuberculosis.
Lack of logistics: There are only around 600 GeneXpert devices now in use — roughly one for each district — and this posed a stumbling block to deploying the WHO-recommended kits earlier.

Alternative for GeneXpert:

GeneXpert kits is very expensive.
It requires air-conditioned settings and reliable electricity access for optimal output.
The Indian Council of Medical Research (ICMR) is in the process of testing a cheaper alternative to GeneXpert called Truenat MTB, which is reportedly more portable, battery-operated, and performs as well at lower costs.
Category: INTERNATIONAL RELATIONS
Context:
Repeal of Article 35A that protects the unique identity of Dogras will test the relationship between J&K and the rest of the country.
Key Points:
The cultural identity and very existence of Jammu and Kashmir, which was recognized as an example of cultural assimilation and co-existence is at, peril now.
Article 35A of the Constitution is more relevant for the Duggar region of Jammu than Kashmir and Ladakh for a variety of reasons.
Repeal of this article will lead to the economic deprivation and erosion of cultural identity of the Dogras.
The last Dogra ruler of Jammu and Kashmir, Maharaja Hari Singh introduced these laws in 1927 to safeguard the interests of his subjects and to shield them from domination by elite and affluent non-state subjects.
Those wanting to trample the unique identity of the Duggar land are spreading the rumor that repealing Article 35A will give a boost to development in Jammu.
Why should the scrapping of 35A, therefore, be wrongly linked to the lack of industrial growth in Jammu and Kashmir?
A misguiding move initiated that Article 35A will lead to the integration of Jammu and Kashmir with the rest of India.
But Jammu and Kashmir is a part of India and the relationship with the nation was inked on October 26, 1947 through the Instrument of Accession signed by Maharaja Hari Singh, then ruler of Jammu and Kashmir, and Lord Mountbatten, the Viceroy of India, which were incorporated into the Indian Constitution as Article 370.
But the real fact is that removing Article 35A could lead to a squeeze in opportunities for the Dogra youth.
Where they will have to compete with youth from other states for jobs,Professional academic courses, recruitment in the security forces and denied scholarships and other financial assistance.
The marginal and medium-level traders will face increased competition.
The influx of "non-subjects", in the absence of the repeal of Article 35A, will put immense pressure on landholdings.
Thus the fight to protect Article 35 A is the fight to protect Dogra Dugar land.
2. India thanks Switzerland for support in global fora
Context:
Swiss President Doris Leuthard, on a three day visit to India.
In news:
Prime Minister Narendra Modi sought greater cooperation to ensure bilateral financial transparency.
Swiss government was thanked by Modi, for its support to India's membership bid for the Missile Technology Control Regime (MTCR).
Joint statement:
Switzerland has supported India's continued quest for membership in the Australia Group and the Wassenaar Arrangement.
Agreements signed: signed two major agreements on railways. 
Basic Information
The Australia Group:
The Australia Group is an informal group of countries (now joined by the European Commission) established in 1985 (after the use of chemical weapons by Iraq in 1984) to help member countries to identify those exports which need to be controlled so as not to contribute to the spread of chemical and biological weapons.
It now has 42 members, including the European Commission, all 28 member states of the European Union, Ukraine, and Argentina.
The name comes from Australia's initiative to create the group. Australia manages the secretariat.
The Wassenaar Arrangement
The Wassenaar Arrangement on Export Controls for Conventional Arms and Dual-Use Goods and Technologies, commonly known as the Wassenaar Arrangement, is a multilateral export control regime (MECR) with 41 participating states.
The Wassenaar Arrangement was established to contribute to regional and international security and stability by promoting transparency and greater responsibility in transfers of conventional arms and dual-use goods and technologies, thus preventing destabilizing accumulations. Participating states seek, through their national policies, to ensure that transfers of these items do not contribute to the development or enhancement of military capabilities which undermine these goals, and are not diverted to support such capabilities.
The Missile Technology Control Regime (MTCR ):
The Missile Technology Control Regime (MTCR) is a multilateral export control regime. It is an informal and voluntary partnership among 35 countries to prevent the proliferation of missile and unmanned aerial vehicle technology capable of carrying above 500 kg payload for more than 300 km.
India formally applied for membership to the group in June 2015, with active support from France and the United States, and officially became a member on 27 June 2016 with the consensus of the 34 member nations.
1. Powering aspirational India
Context
More investment required to step up the use of low-carbon energy sources to meet the growing energy needs of the country.
Keypoints:
Country's energy requirements are assessed by two ways:

Top-down econometric model: This model studies growth in the economy, analyses the affiliation between economic growth and energy requirements, and integrates required technological and policy changes.
On the other hand, demand centered equipment capacities, competences and usage is assessed through Bottom-up approach.

International Energy Agency Report (2014) says average global per capita electricity consumption is 3030 kWh and for India it is at 805 units and for industrialized countries of the OECD, it is 8,028 units
Looking at the growing rate of population it is estimated that India's populationwould touch6 billion count by the middle of 21st century Transmission and distribution losses will come down to the lowest technically feasible value of about 7%.
Electricity generation projected for 2050 is six times the total generation in 2016-17and in terms of per capita generation, it is about 4.5 times.
Energy conservation and efficiency in utilization can help in decreasing electricity consumption.
India's solar and wind energy potential is greater than 750 GW and 302 GW respectively hence it is a brilliant move to maximize the use of low carbon energy sources.
Steps taken by the Government of India
10 indigenous pressurised heavy water reactors are being constructed including units 3-6 at Kudankulam.
nuclear cooperation agreement with Japan
2. GDP growth slips to 5.7% in April-June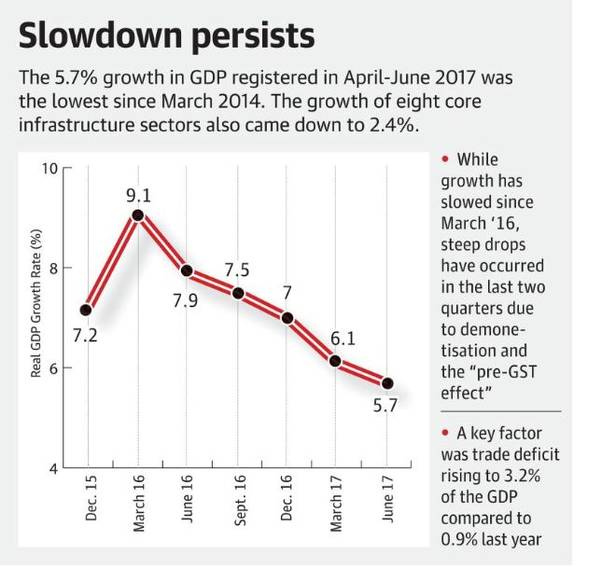 In news:
April- June, 2017: India's GDP growth rate is 5.7%
The slowest pace recorded in 13 quarters.
Gross fixed capital formation: reflects the investments into the country, stood at a four-quarter high of 29.8% of GDP, but was still lower than the 31% clocked in the same quarter of 2016-17.
3. Fiscal deficit touches 92.4% of budget estimates at July-end
In news:
India's fiscal deficit at July- end touched 92.4 % of the budget.
Reason: because of front loading of expenditure by various government departments.
Target:

2017-18: fiscal deficit to 3.2 % of the GDP.
2016-17: Government had met the deficit target of 3.5 % of the GDP. 
Basic Information
Fiscal Deficit:
The difference between total revenue and total expenditure of the government is termed as fiscal deficit. It is an indication of the total borrowings needed by the government.
A deficit is usually financed through borrowing from either the central bank of the country or raising money from capital markets by issuing different instruments like treasury bills and bonds.
4. Core sector output growth quickens to 2.4% in July
In news:
Core sector output grew 2.4% year-on-year basis in July, 2017-18.
Reasons: favorable base effect for steel, cement, fertilizers and electricity. 
Basic Information
Base Effect:
The base effect refers to the impact of the rise in price level (i.e. last year's inflation) in the previous year over the corresponding rise in price levels in the current year (i.e., current inflation): if the price index had risen at a high rate in the corresponding period of the previous year leading to a high inflation rate, some of the potential rise is already factored in, therefore a similar absolute increase in the Price index in the current year will lead to a relatively lower inflation rates. On the other hand, if the inflation rate was too low in the corresponding period of the previous year, even a relatively smaller rise in the Price Index will arithmetically give a high rate of current inflation.
IIP:
The Index of Industrial Production (IIP) is an index for India which details out the growth of various sectors in an economy such as mineral mining, electricity and manufacturing.
The all India IIP is a composite indicator that measures the short-term changes in the volume of production of a basket of industrial products during a given period with respect to that in a chosen base period.
It is compiled and published monthly by the Central Statistical Organisation (CSO) six weeks after the reference month ends.
The level of the Index of Industrial Production (IIP) is an abstract number, the magnitude of which represents the status of production in the industrial sector for a given period of time as compared to a reference period of time.
The base year was at one time fixed at 1993–94 so that year was assigned an index level of 100. The current base year is 2011-2012.[1].
The Eight Core Industries comprise nearly 40.27% of the weight of items included in the Index of Industrial Production (IIP). These are Electricity , steel, refinery products, crude oil, coal, cement, natural gas and fertilisers.
5. 'Trade-distorting farm subsidies must go
Context:
Joint proposal submitted by India and China to the World Trade Organization.
Upcoming 11th Ministerial Conference (MC) of the WTO to be held in Buenos Aires in December 2017
In news:
What is the proposal?
Proposal called for the develelimination — by developed countries — of the most trade-distorting form of farm subsidies, as a prerequisite for consideration of other reforms in domestic support negotiations.
Contention: Developed countries, including the US, the EU and Canada, have been consistently providing trade-distorting subsidies to their farmers at levels much higher than the ceiling applicable to developing countries.
Aggregate Measurement of Support (AMS) and developing countries:
Aggregate Measurement of Support (AMS) or 'Amber Box' support: The most trade-distorting form of farm subsidies
Developed countries have more than 90% of global AMS entitlements amounting to nearly $160 billion.
Most of the developing countries, including India and China, do not have AMS entitlements.
China and India says: Elimination of AMS should be the starting point of reforms rather than seeking reduction of subsidies by developing countries.
6. Odisha rated as low-growth State
The NITI Aayog's 'Ease of Doing Business Report: An Enterprise Survey of Indian States'
It points at issues in setting up new businesses in Odisha compared to other States
The 15-high growth States include Bihar, Uttarakhand, Tripura, Sikkim and Meghalaya
Basis of the report: The NITI Aayog and IDFC Institute, its knowledge partner, have classified States on the basis of their average annual real growth rate
By using State GDP from 2004-05 to 2013-14
7. Domestic sugar production may increase 18-20% in October-September: ICRA
In news:
ICRA predication of domestic sugar availability:
Domestic sugar production is likely to increase by 18-20% to around 24-24.5 million MT in sugar year (SY) 2018.
How?

Recovery in cane availability in Maharashtra and north Karnataka supported by monsoons.
Expected increase in sugar production in Uttar Pradesh.

For the sugar year 2017:

ICRA estimate: stock to end between 4-4.5 million MT.
Stock is expected to be sufficient for around two months of domestic consumption despite the possibility of a localised sugar deficit condition in the southern and western states during the forthcoming festival season.

Analysis:

Low closing stock levels of sugar in the domestic market are likely to support the sugar prices in the near term.
UP-based mills are likely to be benefit from healthy sugar prices along with continued healthy volumes and recovery rates, although that impact could be partly offset by higher cane prices.
Mills in Maharashtra and north Karnataka are expected to be negatively impacted by higher costs and reap benefits of higher production.
Basic Information
ICRA Limited (ICRA)
ICRA Limited (ICRA) is an Indian independent and professional investment information and credit rating agency. 
It was established in 1991, and was originally named Investment Information and Credit Rating Agency of India Limited (IICRA India).
It was a joint-venture between Moody's and various Indian commercial banks and financial services companies. The company changed its name to ICRA Limited, and went public on 13 April 2007, with a listing on the Bombay Stock Exchange and the National Stock Exchange.
1. Despite big reforms in Army, no clarity on sahayak system
In news:
Cabinet approved military reforms:

Enhances the combat capability and rebalances defence expenditure of the Army.
Increase the teeth-to-tail ratio, by which 57,000 soldiers would be redeployed to operational duties.

Neglected reformative measure: no immediate end to the sahayak system that is actually holding up thousands of combat soldiers from active duty.
Sahayaks:

There are over 30,000 soldiers employed as sahayaks or orderlies both in peacetime and forward locations.
There have been recommendations, time and again, to end the practice and replace the sahayaks in peacetime locations with civilians freeing up the soldiers for combat roles.

Parliamentary Standing Committee on Defence in the year 2010, had asked the Army to emulate the Navy and Air Force and abolish the "demeaning and humiliating" practice, a colonial legacy.
Category: SCIENCE AND TECHNOLOGY
1. 39 successes later, PSLV launch fails
In news:
Failed attempt: the PSLV-C39 mission carrying the replacement navigation satellite IRNSS-1H failed.
This was the PSLV's first failure, after 39 continuously successful launches and only the second such instance since 1993.
Reason for the failure: spacecraft was stuck in the heat shield in the last and fourth stage; it did not release into space as planned.
Impact:

Dent the image that the PSLV commands in the global small-to-medium launchers market. It has been the most-sought-after vehicle for small satellites of up to 600-700 kg.
Nothing here for Today!!!
NATIONAL PARKS/SANCTURIES/BIOSPHERE RESERVES:
1. Great Himalayan National Park
Location: located in Kullu region in the state of Himachal Pradesh.
Features: Park is at an altitude of between 1500 and 6000 m. The Great Himalayan National Park is a habitat to numerous flora and more than 375 fauna species, including approximately 31 mammals, 181 birds, 3 reptiles, 9 amphibians, 11 annelids, 17 mollusks and 127 insects.
In June 2014, the Great Himalayan National Park was added to the UNESCO list of World Heritage Sites
2. Inderkilla National Park
Location: Inderkilla National Park
---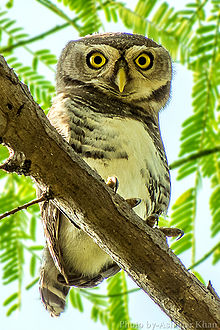 IUCN Red List:
1. Forest owlet
IUCN Classification: Critically endangered
Habitat and distribution: Endemic to the forests of central India (northern Maharashtra, and south-east Madhya Pradesh or western Orissa).
2. Baer's pochard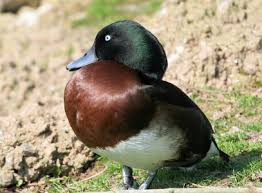 IUCN Classification: Critically endangered
Habitat and distribution: It breeds in southeast Russia and northeast China, migrating in winter to southern China, Vietnam, Japan, and India. 
F. Practice Questions for UPSC Prelims Exam
Question 1. 'Pradhan Mantri Jan Dhan Yojana' has been launched for ______.
Providing housing loan topoor people at cheaper interest rates
Promoting women's self-help groups in backward areas
Promoting financial inclusion in the country
None of the above
See
Question 2. In the 'Index of Eight Core Industries', which one of the following is given 
the highest weight?
Coal production
Electricity generation
Fertilizer production
Steel Production
See
Question 3. Which one of the following issues the 'Global Economic Prospectus' report 
periodically?
The Asian Development Bank
The European Bank for Reconstruction and Development
The US federal Reserve Bank
The World Bank
See
Question 4. The area known as 'Golan Heights' sometimes appears in the news in the 
context of the events related to ______.
Central Asia
Middle East
South-East Asia
Central Africa
See
Question 5. In India, the steel production industry requires the import of
Saltpetre
Rock phosphate
Coking coal
All of the above
See
Question 6. The Doklam Plateau supervises the _______.
Zanskar valley 
Mihir Hills 
Chumbi valley
Lug Valley
See
Question 7. Consider the following statements with reference to the Finance Act, 2017, 
the passage of which by the Parliament, was a part of enactment of the budget:
It amended the provisions under different laws to allow the executive to determine the qualifications, tenure, conditions of service and removal of members of some tribunals
It merged several tribunals
Which of the statements given above is/are correct?
1 only
2 only
Both 1 and 2
Neither 1 nor 2
See
Question 8. Which of the following statements are correct with respect to the 
functioning of the NALSA?
NALSA organises Lok Adalats for amicable settlement of disputes.
NALSA identifies specific categories of the marginalised and excluded groups and formulates various schemes for the implementation of preventive and strategic legal service programmes.
Select the correct option/s
1 only
2 only
Both 1 and 2
None of the above
See
G. UPSC Mains Practice Questions
GS Paper I
Should India as a whole or the diverse states individually fight for preserving its race, language, history, legends and tradition in the multi-religious, multi- lingual and multi-racial canvas?
GS Paper II
"Traditional bureaucratic structure and culture have hampered the process of socio-economic development in India." Comment.
Why does the state of Jammu and Kashmir in general, and Jammu in particular, feel compelled to fight for the rights bestowed by the Indian Constitution, 70 years after Independence?
What has gone wrong that the peaceful, compassionate and tolerant Dogras, ingrained with secular ethos, feel challenged by the overt and covert attempts to remove Article 35A of the Constitution?
GS Paper III
Rehabilitation of human settlements is one of the important environmental impacts which always attracts controversy while planning major projects. Discuss the measures suggested for mitigation of this impact while proposing major developmental projects.
GS Paper IV
Topic: CASE STUDY ANALYSIS
Question 1. You are working as Junior Engineer in a Tehsil. You have been given responsibility to measure MGNREGA works undertaken by 3 Gram Panchayats.
You have authority to give technical sanctions to all MGNREGA works. In one of these Panchayats you notice that your predecessor had wrongly measured many works, and in many cases he had approved works that never existed. One day few elected members of that Panchayat with bundle of job cards come to you to seek 'sanction' for the works done by them. When enquired, they reveal that they were contractors who had completed works under MGNREGA. When you reject their demand, they threaten you and tell you that the previous Junior Engineer was made to quit his job because he didn't listen to them. This is your first job and is very important to sustain your family. There have been precedents in the past that some junior officials were beaten to death in some parts of the Tehsil.
What will you do in this situation? Explain in detail citing rules from MGNREGA Act. 
Answer
I would tell contractor that there is provision of social audit for MGNREGA and in future it is most likely that they would get caught in future. Also the provision of DBT and biometric authentication will reveal all their wrong doings.
Subsequently i will report such incidence to my higher authorities and seek police protection in case my life is at risk. A report of bogus as well as valid JOB card shall be separately prepared by me which shall lie as a proof for all past irregularities.
My courage and uprightness will deter me from succumbing to their demands. In any case if i comply as directed by contractors, my job would be in peril. Truth can't be hidden for long and its better to be courageous than to hide facts and face future actions.
Also, check previous Daily News Analysis
"Proper Current Affairs preparation is the key to success in the UPSC- Civil Services Examination. We have now launched a comprehensive 'Current Affairs Webinar'. Limited seats available. Click here to Know More."
Enroll for India's Largest All-India Test Series