TABLE OF CONTENTS
A.

 GS1 Related




B.

 GS2 Related


POLITY
1. Adarsh scam: Bombay High Court sets aside Governor's sanction to prosecute Ashok Chavan
INTERNATIONAL AFFAIRS/BILATERAL RELATIONS
1. UN Vote on Jerusalem
2. 'India, China must look beyond bilateral ties'
3. Proud of India, says Palestinian envoy
4. India's digital gender gap could further marginalise women: Unicef


C.

 GS3 Related


ENVIRONMENTAL SCIENCE AND ECOLOGY
1. NGT notice to Centre, Uttarakhand govt.
2. What's darkening Brahmaputra: Landslide, not Chinese machines


D. 

GS4 Related




E. 

Prelims Fact


F. UPSC Prelims Practice Questions
G. UPSC Mains Practice Questions 
Nothing here for Today!!!
1. Adarsh scam: Bombay High Court sets aside Governor's sanction to prosecute Ashok Chavan
 In news:
The Bombay High Court set aside the sanction granted to the Central Bureau of Investigation by Maharashtra Governor to prosecute senior Congress leader Ashok Chavan in the Adarsh housing society scam.
Court's observation:

Though the CBI had claimed to be in possession of fresh evidence against Mr. Chavan at the time of seeking the sanction, it "failed to present any fresh evidence".
The material presented by the CBI before the Governor could not be converted into credible fresh evidence against Mr. Chavan.
The sanctioning authority i.e., Governor is an independent body that can't allow itself to be influenced by anyone's opinion.
The court ruled that Mr. Rao's order "cannot be sustained and is quashed and set aside."
"It was permissible for the Governor — the sanctioning authority to review or reconsider the earlier decision of the erstwhile Governor not to grant sanction to prosecute Mr. Chavan — on fresh material which had surfaced after the earlier sanction was refused."
Background:
The Court was hearing a petition filed by Mr. Chavan, challenging the sanction granted by the Governor in February 2016 to prosecute the former Chief Minister of Maharashtra under various sections of the IPC related to criminal conspiracy and cheating, besides provisions of the Prevention of Corruption Act.
Chavan had challenged Mr. Rao's order in the High Court, calling it "arbitrary, illegal and unjust" and passed with "malafide intentions".
Category: INTERNATIONAL AFFAIRS/BILATERAL RELATIONS
The UN General Assembly vote on a resolution calling for the final settlement of Jerusalem through negotiations may have been pitched as a contest between Israel and Palestine; however, it became a referendum on U.S. President Donald Trump's decision to recognise the city as Israel's capital.
The final outcome should force the U.S. to rethink its move, with 128 of the UNGA's 193 member-countries voting for the resolution, and only nine against it.
Among those voting for the resolution that "deeply regretted" the U.S. decision were its NATO allies, Germany, the U.K. and France, its Asian allies Japan and South Korea; its closest neighbours Canada and Mexico chose merely to abstain.
The overwhelming majority ignored Mr. Trump and his UN Ambassador Nikki Haley's threats that all countries that defied America would be 'named and shamed' and face cancellation of U.S. aid.
The suggestion was that the U.S. would exact its revenge by refusing to support these countries when they next need it at the UN.
Israel showed deep derision for the world body, which Prime Minister Benjamin Netanyahu referred to as a "house of lies", while his UN envoy called the 128 countries "puppets forced to dance".
Such threats and epithets mark new lows in international diplomacy, and Israel and the U.S. come away looking like churlish bullies for issuing them.
With all its weaknesses, the UN is a global collective, and it is imperative to acknowledge its mandate when such a large number of nations speak in one voice.
The U.S. only recently asserted its intention to uphold the international rules-based order in its National Security Strategy document.
It cannot now just walk away from both UN resolutions and its national commitment to the Israel-Palestine peace process by unilaterally changing its stand on the status of Jerusalem, without being accused of doublespeak.
Sensitive Issue
The Jerusalem issue is easily the most contentious one between the Palestinians and the Israelis.
There are other issues such as borders, sharing of waters, refugees, security, and so on.
None of them is amenable to easy answers, but the Jerusalem problem is the most sensitive. Any attempt to unilaterally change its status will kill the peace process.
S. President Donald Trump has obviously given priority to nourishing his core domestic constituency rather than worry about the concerns of his close allies, all of whom voted against the U.S., except Canada — though it did not side with its powerful neighbour and simply abstained.
The immediate international reaction to Mr. Trump's decision on Jerusalem was rather muted.
Instead of condemning it, most voiced concern at the negative impact it would have on the peace process. Even several Arab countries were not very vocal in their criticism.
But soon, the Arab street asserted itself and forced the governments to take a more robust position.
Egypt seems to have played a lead role in this. It drafted a resolution which avoided mentioning the U.S. by name; that would have made it difficult for Britain and others to support the draft.
After the veto in the Security Council, Egypt and Turkey lost no time in bringing the matter to an emergency session of the General Assembly, where there is no veto.
In all, 172 member states cast their votes. This means 21 countries did not vote at all.
A few of them seem to have lost their right to vote because of arrears in payment of their mandatory dues to the organisation.
The resolution passed with 128 votes in favour, a comfortable two-thirds majority. Nine voted against, and 35 abstained.
The U.S. threat might have worked both ways.
It would be interesting to watch how the presidential threat works out in practice in the case of Pakistan which voted against the U.S. Among India's neighbours, Bhutan abstained.
This might be explained either by its desire to demonstrate its independence from India or not to alienate the U.S., or perhaps a combination of the two.
India's Policy
India's vote in favour of the resolution was in line with its traditional policy. In recent months, there has been a noticeable change in the formulation of Indian statements on the Palestine problem, with the phrase 'East Jerusalem' being absent.
By voting for the resolution, India has affirmed its traditional policy in favour of a negotiated settlement for Jerusalem as part of a larger two-state solution for Israel and Palestine.
Although Prime Minister Narendra Modi avoided mentioning the contours of the settlement during his visit to Jerusalem in July this year, India's support to the creation of a Palestinian state according to UN Resolution 181 (1948) was heavily underscored in his statement to the UN in November, just days before Mr. Trump's decision.
There had been some speculation that in the face of the U.S. threats over the resolution, as well as Mr. Netanyahu's impending visit to India in January, India would dilute its support to those principles in favour of close strategic ties with both nations.
In choosing to vote for the resolution at the UNGA, India has shown clarity of purpose that also aligns with the broad global consensus
India-Israel
India's vote would have disappointed Israel and the U.S. It has excellent relations with Israel, as ought to be.
Israel needs India more than the other way around. India buys at least a third of Israel's defence production. India is also very important to Israel for diplomatic and political reasons.
As for the U.S., the interest is more mutual. We need American support for a few things such as the sale of their defence platforms and membership of the Nuclear Suppliers Group.
The U.S. has a huge interest in India's markets, especially given the latter's insatiable desire to acquire, and almost limitless capacity to pay for, expensive military hardware.
There is also the China factor. Mr. Trump has very recently described India as a leading global power and expressed his readiness to support it in reaching that status.
It is fortunate since it is not dependent on American aid, which can be cut off or reduced at will.
2. 'India, China must look beyond bilateral ties'
In News:
Highlights of 20th round of Special Representative talks:
Venue: New Delhi
Key points:
China and India must "transcend the bilateral dimension" of their ties for stability in Asia and the world
Both the sides discussed enhancing confidence-building measures and an early settlement of the boundary issue.
There is a need for China and India to maintain an island of stability in an increasingly unpredictable global scenario.
3. Proud of India, says Palestinian envoy
In news:
India voted in favour of a negotiated solution to the issue of Jerusalem and against U.S. President Donald Trump's recognition of the holy city as the capital of Israel.
Palestine response: Palestinians are proud of India and India's support to the cause of peace in West Asia.
4. India's digital gender gap could further marginalise women: Unicef
In news:
UNICEF's "State of the World's Children Report-2017"
With less than one-third of India's internet users being females, the country's girls and women risk becoming further marginalised in society and at home if they remain digitally illiterate
This is in the backdrop of the country making a public push towards a more digital economy
There is a digital gender gap as well. Globally, 12% more men than women used the internet in 2017
Report:
Themed "Children in a digital world", the latest report provides country-level examples to give a sense of the kinds of barriers girls and women confront
Pointing out that digital connection and literacy offer advantages in a knowledge-based society, improving children's lives and their future earning potential, the report says: "At the same time, connectivity doesn't always equalise opportunity."
Digital divides can mirror broader societal divides — between rich and poor, cities and rural areas, between those with or without an education — and between women and men
Factors behind digital gender divide in India
Social norms
Education levels
Lack of technical literacy and lack of confidence among them
It is more often rooted in parents' concern for the safety of their daughters
There is also a fear that allowing girls to use the internet will lead to liaisons with men, bringing shame on the family
For most girls, if they are allowed to use the internet, their every move is monitored by their parents or brothers
For girls, traits like deference and obedience are often valued over intelligence and curiosity
In some households, technology is not seen as necessary or beneficial for girls and women
Category: ENVIRONMENTAL SCIENCE AND ECOLOGY
1. NGT notice to Centre, Uttarakhand govt.
In news:
The National Green Tribunal issued notices to the Uttarakhand government and the Centre after a petitioner alleged that an unknown virus was adversely affecting wildlife in the Himalayas.
Petitioner claimed that the Himalayan blue sheep were affected by the 'unknown virus.'
The biodiversity of the Gangotri National Park in Uttarkashi is endangered because of an unknown virus or disease.
2. What's darkening Brahmaputra: Landslide, not Chinese machines
In news:
Massive landslides caused by a series of earthquakes in Tibet is darkening the Brahmaputra waters
This report comes amidst apprehensions that contamination may have been caused due to the construction of a dam by China on a tributary of the Brahmaputra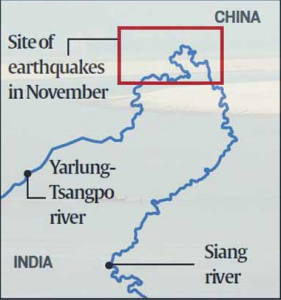 Reason for darkened water
Lab tests have established that the water has darkened due to turbidity typically caused by landslides
The accumulating debris has caused partial blockages at three locations, forming natural dams on 6 km of the river across a 12-km stretch in China
A preliminary study by two researchers from Bengaluru-based National Centre for Biological Sciences (NCBS) and Ashoka Trust for Research in Ecology and the Environment (ATREE) shows that quake-induced landslides on the river continued for over three weeks, which probably explains the prolonged turbidity
The evidence puts to rest fears that dam construction and tunnelling work upstream the Yarlung-Tsangpo in China were responsible for the darkening of Brahmaputra waters
Three natural dams formed
Three natural dams have formed one behind the other
The dams are significantly smaller than the Yigong dam, which led to catastrophic flooding of the Brahmaputra in 2000
The worry for India is that these three dams may merge and eventually give away to result in a deluge downstream
Nothing here for Today!!!
Nothing here for Today!!!
F. Practice Questions for UPSC Prelims Exam
Question 1. Mahatma Gandhi undertook fast unto death in 1932, mainly because
Round Table Conference failed to satisfy Indian political aspirations
Congress and Muslim League had differences of opinion
Ramsay Macdonald announced the Communal Award
None of the statements (a), (b) and (c) given above is correct in this context
See
Question 2. Which of the following is the chief characteristic of 'mixed farming'? 
Cultivation of both cash crops and food crops
Cultivation of two or more crops in the same field
Rearing of animals and cultivation of crops together
None of the above
See
Question 3. Normally, the temperature decreases with the increase in height from the 
Earth's surface, because
The atmosphere can be heated upwards only from the Earth's surface
There is more moisture in the upper atmosphere
The air is less dense in the upper atmosphere
Select the correct answer using the codes given below:
1 only
2 and 3 only
1 and 3 only
1, 2 and 3
See
Question 4. Which of the following can be said to be essentially the parts of 'Inclusive Governance'? 
Permitting the Non-Banking Financial Companies to do banking
Establishing effective District Planning Committees in all the districts
Increasing the government spending on public health
Strengthening the Mid-day Meal Scheme
Select the correct answer using the codes given below:
1 and 2 only
3 and 4 only
2, 3 and 4 only
1, 2, 3 and 4
See
Question 5. In India, in the overall Index of Industrial Production, the Indices of Eight 
Core Industries have a combined weight of 40.27% , Which of the following are among 
those Eight Core Industries? 
Cement
Fertilizers
Natural gas
Refinery products
Textiles
Select the correct answer using the codes given below:
1 and 5 only
2, 3 and 4 only
1, 2, 3 and 4 only
1, 2, 3, 4 and 5
See
G. UPSC Mains Practice Questions
GS Paper II
'Rule of Law' and 'Mob Justice' are oxymorons. Elucidate.
GS Paper III
"Industrial growth rate has lagged behind in the overall growth of Gross-Domestic-Product(GDP) in the post-reform period" Give reasons. How far the recent changes is Industrial Policy are capable of increasing the industrial growth rate?
Also, check previous Daily News Analysis
"Proper Current Affairs preparation is the key to success in the UPSC- Civil Services Examination. We have now launched a comprehensive 'Current Affairs Webinar'. Limited seats available. Click here to Know More."
Enroll for India's Largest All-India Test Series