TABLE OF CONTENTS
A. 

GS1 Related




B. 

GS2 Related




C. 

GS3 Related 


ECONOMICS
1. RBI cuts rates to spur growth
HEALTH
1. Medical journals' publisher under fire
2. NGOs call for funds to eliminate TB


D. 

GS4 Related




E. 

Editorials


ENVIRONMENT AND ECOLOGY  
1. Governing India's many spaces
INTERNATIONAL RELATIONS   
. Iran role in Afghanistan
INDIAN ECONOMY   
. The Pradhan Mantri Kisan Samman Nidhi (PM-KISAN) scheme


F. 

Tidbits


1. Plant trees, Delhi HC tells 2G case accused
2. Ivanka unveils global women initiative


G. 

Prelims Facts


1. Naveen unveils statue of Guru Padmasambhava
2. Kerala to get country's 2nd longest rail tunnel
3. LAIRCM Self-Protection Suites


H. 

UPSC Prelims Practice Questions




I. 

UPSC Mains Practice Questions



A. GS1 Related
 Nothing here today!!!
B. GS2 Related
 Nothing here today!!!
C. GS3 Related
1. RBI cuts rates to spur growth
Context
The Reserve Bank of India (RBI) has cut the policy repo rate by 25 basis points to 6.25% in a bid to revive economic growth as it projected retail inflation to remain below its target of 4% for the next 12 months. The rate reduction was the first since August 2017.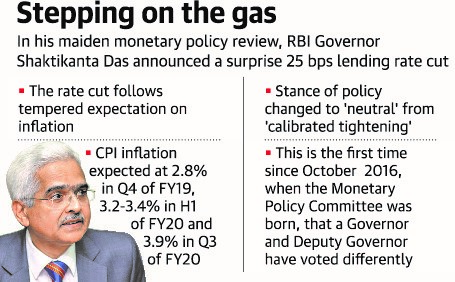 Highlights of the recent Monetary Policy Review
The RBI also simultaneously changed the stance of the policy to 'neutral' from 'calibrated tightening,' which indicates that the central bank remains ready to move in either direction based on incoming data.
The move will enable banks to lower their lending rates. While all six members of the monetary policy committee voted for a change in the stance, the vote for a rate cut saw two members breaking with the majority view by backing the status quo.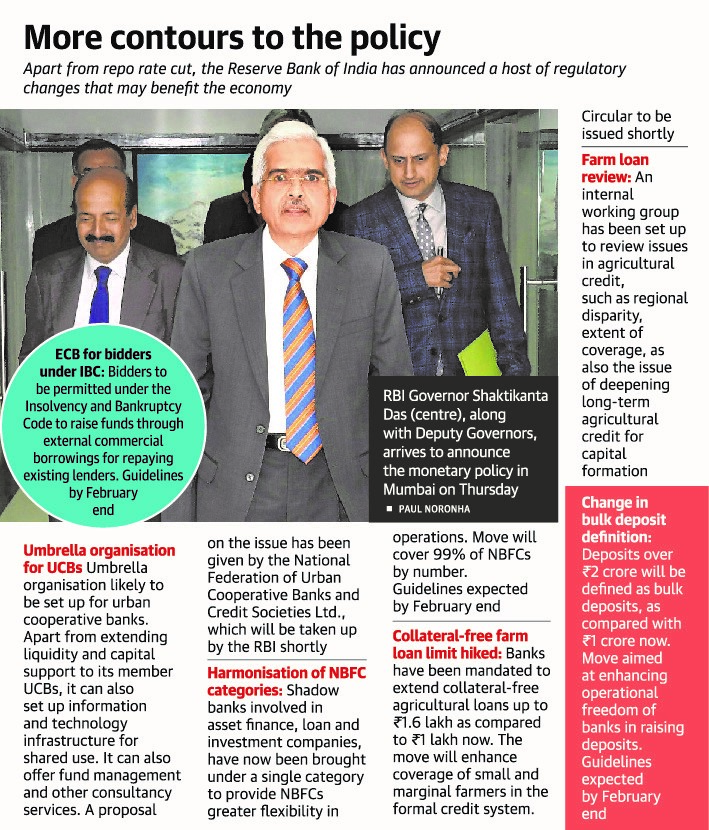 Repo rate
Repurchase rate or the repo rate is the rate at which the RBI lends money to commercial banks.
This is availed by the banks in the event of any shortfall of funds.
Reverse repo is the rate at which the RBI borrows money from commercial banks within the country.
Monetary Policy Committee
The Reserve Bank of India Act, 1934 (RBI Act) has been amended by the Finance Act, 2016, to provide for a statutory and institutionalised framework for a Monetary Policy Committee, for maintaining price stability, while keeping in mind the objective of growth.
The Monetary Policy Committee would be entrusted with the task of fixing the benchmark policy rate (repo rate) required to contain inflation within the specified target level.
A Committee-based approach for determining the Monetary Policy will add lot of value and transparency to monetary policy decisions.
The meetings of the Monetary Policy Committee shall be held at least 4 times a year and it shall publish its decisions after each such meeting
The MPC will have six members – the RBI Governor (Chairperson), the RBI Deputy Governor in charge of monetary policy, one official nominated by the RBI Board and the remaining three members would represent the Government of India.
These Government of India nominees are appointed by the Central Government based on the recommendations of a search cum selection committee consisting of the cabinet secretary (Chairperson), the RBI Governor,  the secretary of the Department of Economic Affairs, Ministry of Finance, and three experts in the field of economics or banking as nominated by the central government.
The three central government nominees will hold office for a period of four years and will not be eligible for re-appointment. These three central government nominees in MPC are mandated to be persons of ability, integrity and standing, having knowledge and experience in the field of economics or banking or finance or monetary policy.
RBI Act prohibits appointing any Member of Parliament or Legislature or public servant, or any employee / Board / committee member of RBI or anyone with a conflict of interest with RBI or anybody above the age of 70 to the MPC.
The Central government also retains powers to remove any of its nominated members from MPC subject to certain conditions.
1. Medical journals' publisher under fire
Context
The Indian Journal of Clinical Practice (IJCP) Group, a doctor-run publisher of medical journals, has come under flak from public health experts for partnering with American e-cigarette maker Juul Labs Inc. Juul, which is evaluating an entry into India, has retained the Group to "better understand the India market," a spokesperson from the company told.
Public health experts say it is unethical for journal editors to have financial ties with an e-cigarette maker, especially since the U.S.-based tobacco firm Altria Group is an investor in Juul.
E-cigarettes
An electronic cigarette (or e-cig) is a battery-powered vaporizer that mimics tobacco smoking. It works by heating up a nicotine liquid, called "juice."
Nicotine juice (or e-juice) comes in various flavors and nicotine levels. e-liquid is composed of ingredients such as : vegetable glycerin (a material used in all types of food and personal care products, like toothpaste) and propylene glycol (a solvent most commonly used in fog machines.) propylene glycol is the ingredient that produces thicker clouds of vapor.
WHO report on E-Cigarettes
As per the report, Electronic Nicotine Delivery Systems (ENDS) (also known as e-cigarettes) emits nicotine, the addictive component of tobacco products. In addition to dependence, nicotine can have adverse effects on the development of the foetus during pregnancy and may contribute to cardiovascular disease.
The WHO report further says that although nicotine itself is not a carcinogen, it may function as a "tumour promoter" and seems to be involved in the biology of malignant disease, as well as of neurodegeneration.
Foetal and adolescent nicotine exposure may have long-term consequences for brain development, potentially leading to learning and anxiety disorders.
The evidence is sufficient to warn children and adolescents, pregnant women, and women of reproductive age against ENDS use and nicotine.
E-Cigarettes – A tricky question
E-cigarettes, which dispense nicotine by heating a liquid, are a controversial subject. Even though their aerosols are thought to contain fewer carcinogens than cigarette smoke, experts are divided about their safety.
India's Union Ministry of Health and Family Welfare favours a ban, and has advised all States to clamp down on the sales and manufacture of these products. However, some experts say e-cigarettes can be a part of "harm reduction" policies, because they are a comparatively safe alternative to combustible cigarettes.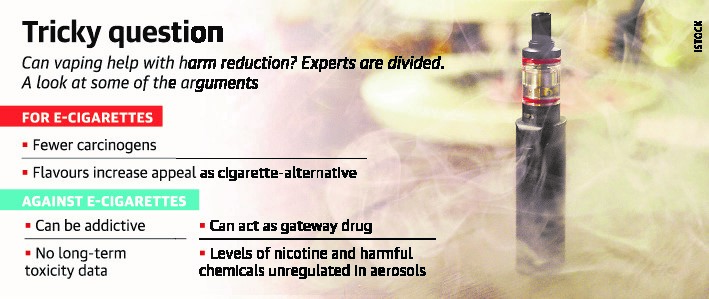 2. NGOs call for funds to eliminate TB
Context
Non-governmental organisations (NGO) working to eliminate tuberculosis have urged the government to ensure that the National Strategic Plan for 2017-2025 is fully funded and effectively implemented to eliminate tuberculosis.
Several NGOs and stakeholders, including TB survivors, have urged the Global Fund to Fight AIDS, TB and Malaria, and donor countries to invest substantially in communities to create a person-centred, rights-based and gender-sensitive response to TB.
The signatories to these appeals are Touched by TB, TB Mukt Vahini-Bihar and REACH (Resource Group for Education and Advocacy on Community Health). These organisations are supported by the Stop TB Partnership, Geneva; Global Coalition of TB Activists; Rainbow TB Forum, Tamil Nadu; and Journalists against TB, Bengaluru.
Tuberculosis
Tuberculosis is an infectious, airborne disease caused by the bacterium Mycobacterium tuberculosis. It mainly affects the lungs. It can be transmitted from person to person through the air when people with TB cough, sneeze, laugh or speak, spit, propelling the germs into the atmosphere
With proper diagnosis and treatment, TB can be cured. However, too many people with TB don't seek care for early symptoms and get properly diagnosed. Of those in whom the disease is detected, many do not complete their treatment.
The disease also has been reported to be main cause of deaths related to antimicrobial resistance and the leading killer of people with HIV.
The biggest challenge was underreporting and underdiagnosis of TB cases, especially in countries with weak health systems and large unregulated private sectors.
D. GS4 Related
 Nothing here today!!!
E. Editorials
Category: ENVIRONMENT AND ECOLOGY
1. Governing India's many spaces
Editorial Analysis:
Exerts have opined that as the general elections approach, it would be sensible to take stock of the progress made by the incumbent party and look out for the areas that call for particular attention by the one that gains power.
Without anticipating complete agreement on the indicators that ought to be used, one may look at the changes since 2014 in three indices for India.
These are the indices of the 'Ease of Doing Business' (EDB), 'Human Development' (HDI) and 'Environmental Performance' (EPI).
Published by separate international bodies, these indices are used to rank the world's countries according to their performance in the related sphere.
It is important to note that rankings by themselves do not reveal the level of attainment but they do convey how far a country is from the global frontier.
A Perspective on the Business Ecosystem:
The EDB, an indicator put out by the World Bank, is meant mainly as an index of the effect of government regulations on running a business. It is also meant to reflect the extent of property rights in a society.
Responses are sought from government officials, lawyers, business consultants, accountants and other professionals involved in providing advice on legal and regulatory compliance.
It is important to note that a country's ranking is based on the extent to which government regulations facilitate the following:
starting a business,
obtaining construction permits,
getting an electricity connection,
registering property,
accessing credit,
protection of investors,
paying taxes,
trading across borders,
enforcement of contracts and
resolving insolvency.
India has improved its ranking in terms of the EDB index. As a matter of fact, the improvement is considerable. From a rank of 134 in 2014, India's rank improved to 77 in 2018. As 190 countries were ranked in 2018, India was in the top 50%. The position is not spectacular but the improvement is, as said, noteworthy.
Further, it is important to note that the use of the EDB has not been without controversy, with the World Bank's Chief Economist, a Nobel Laureate, suggesting in an interview that in the past, political bias may have crept into the ranking of countries.
Perhaps a bigger problem with the EDB is that it measures the effect of government regulations alone.
While it is important to take this aspect into account, in any situation the ease of doing business is dependent upon other factors too.
Factors on which Ease of Doing Business is Dependent Upon:
The effect of government regulations;
Availability of 'producer services', with electricity, water supply and waste management coming to mind. There is little reason to believe that this infrastructure has improved in India in the last five years. As a matter of fact, the Planning Commission used to release data on infrastructural investment, but we have had none since its demise.
Despite all these shortcomings, it is yet important to be concerned with the ease of doing business in India, an aspect that has been given little or no importance in public policy for over 50 years, and to note that the EDB ranking for the country shows significant improvement since 2014.
Perspective on Human Development Index:
The Human Development Index is the result of a rare India-Pakistan collaboration in the global discourse on public policy, having been devised by Amartya Sen and Mahbub ul Haq for the United Nations Development Programme.
The HDI is a combination of indicators of income, health and education in a country. Its conceptual basis has been critiqued.
Why has the HDI been critiqued?
First, it has been pointed out that the index combines incommensurate categories, as income, health and education are not substitutes.
Second, while it does go beyond purely economic measures of progress, in that it looks at the health and education achievements in a population, it can say little about the 'quality' of development.
As pointed out by Selim Jahan of the UNDP, data can "[tell] us only a part of the story about people's lives. For instance, it is increasingly clear that it is not enough simply to count how many children are in school: we need also to know whether they are learning anything."
Nevertheless, the HDI has now gained reasonable acceptance globally as indicative of the development strides a country has taken.
When we turn to the HDI, we find that India's ranking has not altered since 2014. India was ranked 130 in 2014, and has remained in the same place out of 185 countries in 2018.
It is of relevance here that India's HDI ranking has not improved despite it being the world's fastest growing major economy in recent years, as the government often points out in its assessments.
This despite income being a component of the index. What this reveals is that an economy can grow fast without much progress in human development.
Also, India's HDI position in the bottom third of countries points to how much it needs to progress to earn the label 'the world's largest democracy'.
Perspective on Environmental costs
A Note on the Environmental Performance Index:
Finally, we may look at India's recent record on the Environmental Performance Index.
The EPI is produced jointly by Yale and Columbia Universities in collaboration with the World Economic Forum.
The index ranks countries on 24 performance indicators across several 'issue categories', each of which fit under one of two overarching objectives, namely, environmental health and eco-system vitality.
The issue categories are:
air quality,
water and sanitation,
water resources,
agriculture,
forests,
fisheries,
biodiversity and habitat, and
climate and energy.
These metrics are meant to serve as a gauge at a national level of how close countries are to accepted environmental policy goals.
In 2018 India ranked 177 out of 180 countries, having slipped from an already very low rank of 155 in 2014.
The country is today among the worst performing on the environmental front and its ranking has worsened over the past five years.
We now have indicators of the progress India has made in the past five years in the three crucial spheres of business, human development and the natural environment. The government has aggressively pursued an improvement in the business environment. This appears to have yielded fruit in terms of an improvement in the EDB index. However, at a time when it has been the fastest growing economy in the world, India's rank on human development has remained unchanged and on environmental performance has slipped close to the last place.
Concluding Remarks:
Experts have opined that these outcomes would not surprise anyone familiar with public policy since 2014.
Some experts have opined that the present government at the Center has marginally lowered health and education expenditure as a share of national income and distinctly lowered environmental standards.
An instance of the latter would be the Coastal Regulation Zone Notification of 2018 which allows construction and tourism development on land earlier considered inviolable due to its ecological value.
In conclusion, experts have opined that this de-regulation is a setback for India.
Category: INTERNATIONAL RELATIONS
Editorial Analysis:
Introduction:
Iran is not a newcomer to regional diplomacy in Afghanistan. First and foremost, India should try to discourage the U.S. from dealing with Iran, Russia and China as enemies.
In fact, U.S. President Donald Trump's perception of all three as foes is at odds with America's earlier engagement with them to end its military campaign in Afghanistan.
Clash of the adversaries:
S.-Iran ties have often been fractious.
As the U.S. imposed sanctions on Iran after 2005, Iran saw the Taliban countering American influence on its borders and gave them arms.
Iran continues to oppose the U.S.'s presence in Afghanistan, largely because it fears that American troops in Afghanistan could be used against it.
To allay Iranian fears, Afghanistan recently said that it would not allow the U.S. to use its bases in the country to conduct any act of aggression against Iran.
6+1 group:
It includes representatives from Afghanistan, China, India, Iran, Pakistan, Russia, and the U.S.
The 6+1 process assumed that each of these countries was essential to the achievement of a political settlement in Afghanistan.
In this regard, regional powers could put their weight behind a negotiated settlement that will ensure Afghanistan's stability.
Iran, Russia and China — and the Central Asian states with which India and Afghanistan wish to cooperate in countering terrorism — fear that continued instability in Afghanistan could spill over into their countries.
India can explore the Iranian diplomatic options to secure Afghanistan:
On good terms with Tehran, New Delhi would gain by developing the Chabahar port in southern Iran.
And looking beyond Chabahar, India, Iran and Russia were the founding countries of the International North-South Transport Corridor project — as long ago as 2002.
The corridor is intended to increase connectivity between India, Iran, Russia, landlocked Afghanistan and Central Asia — and Europe. It would also advance their trading interests.
India could remind Washington about the past coincidence of American and Iranian interests on Afghanistan.
Together with the U.S. and India, Iran supported the overthrow of the Taliban in 2001.
Iran has previously supported the installation of Hamid Karzai as President and favoured the exclusion of the Taliban from his government.
The U.S. and Iran could be advised of the mutual, and regional, advantages of improving ties. Such advantages could range from stability in Afghanistan, and beyond, to increased trade prospects, especially in South and West Asia.
How would it help both Iran and USA?
Iran could gain by strengthening trading ties with a secure Afghanistan.
In 2017 it supplanted Pakistan as Afghanistan's largest trading partner. At a time when Iran's economy is weighed down by American sanctions, it would want to build up trade ties with neighbouring states.
The U.S. would also gain. After all, Iran is the geopolitical hub connecting South, Central and West Asia and the Caucasus.
The Strait of Hormuz, that crucial conduit, links Iran westwards to the Persian Gulf and Europe, and eastwards to the Gulf of Oman, South and East Asia.
Moreover, an improvement in U.S.-Iran relations would be welcomed by America's European allies, who are opposed to Washington's unilateral sanctions on Iran.
Conclusion:
The U.S. should not lose the chance to act in concert with Iran to improve Afghanistan's security. And, as the U.S. airs the idea of withdrawal from Afghanistan, now is the right time for India to act as the honest broker between them and to play a larger role in regional security.
The status of India and Iran as regional powers as well as the stability of South, Central, and West Asia would simultaneously be enhanced.
It is to be hoped that Mr. Trump's display of America's "superpower" in opposition to Iran — and Russia and China — will not block such an opportunity to stabilise Afghanistan.
. The Pradhan Mantri Kisan Samman Nidhi (PM-KISAN) scheme
Context:
This is an analysis-based article which presents different perspectives to the reader on the Pradhan Mantri Kisan Samman Nidhi (PM-KISAN) scheme. UPSC aspirants would benefit from these points as they can use much of this content to present answers on the topic in case it is asked in the UPSC Mains Examination, be it as a part of the General Studies- III paper or the Essay paper.
Larger Background:
Brief Perspective on Pradhan Mantri Kisan Samman Nidhi:
In an effort to provide an assured income support to the small and marginal farmers, the Government is launching the Pradhan Mantri Kisan Samman Nidhi (PM-KISAN).
As a matter of fact, while presenting the Interim Budget 2019-20 in Parliament on 1st February, 2019, the Union Minister for Finance, Corporate Affairs, Railways & Coal, Shri Piyush Goyal said, "Under this programme, vulnerable landholding farmer families, having cultivable land upto 2 hectares, will be provided direct income support at the rate of Rs. 6,000 per year.
This income support will be transferred directly into the bank accounts of beneficiary farmers, in three equal instalments of Rs. 2,000 each.
This programme will be funded by the Government of India. Around 12 crore small and marginal farmer families are expected to benefit from this.
The programme would be made effective from 1st December 2018 and the first installment for the period upto 31st March 2019 would be paid during this year itself. This programme will entail an annual expenditure of Rs.75,000 crore".
PM-KISAN would not only provide assured supplemental income to the most vulnerable farmer families, but would also meet their emergent needs especially before the harvest season. PM-KISAN would pave the way for the farmers to earn and live a respectable living.
Editorial Analysis:
Analysis- I:
The points mentioned here, take the view that the  PM-KISAN scheme will provide farmers assured supplemental income.
The Pradhan Mantri Kisan Samman Nidhi (PM-KISAN) scheme, announced in the Interim Budget, is the biggest scheme launched by the Government of India till date for providing structured support to small and marginal farmers.
For farmers' welfare:
Under the scheme, Rs. 6,000 per year will be provided to farmers holding cultivable land of up to two hectares.
This has been done because the government is aware that the smaller the land holding, the greater the need for financial support.
This is a Central Sector Scheme and will be funded fully by the Government of India. The guidelines of the scheme have been issued.
The government has developed a portal for managing the scheme (http://pmkisan.nic.in), which has gone live.
The States have to upload the data of the beneficiaries on the portal.
The Ministry of Agriculture and Farmers' Welfare will transfer the benefit directly into the accounts of the beneficiaries. The amount will be credited into the account of the beneficiary within 48 hours of its release by the government.
In the 2018-19 Budget, the government announced that minimum support price (MSP) would be 1.5 times the cost of production for all the notified commodities.
The Pradhan Mantri Annadata Aay Sanrakshan Abhiyan was approved by the Cabinet in the year 2018, to ensure remunerative prices to the farmers.
There have been various interventions to boost the production of pulses and oilseeds. Earlier, in 2016, the government launched the Pradhan Mantri Fasal Bima Yojana to provide insurance to farmers from all risks.
Thus, in the broader framework of farmers' welfare, it is easy to understand the importance of the PM-KISAN scheme.
Perspective on Institutional credit:
The government was concerned that although our farmers work very hard, and we have had record foodgrain production in the last three years, they were unable to get good prices for their produce, especially for non-MSP commodities, because of the adverse terms of trade, including depressed international prices.
What has gone unnoticed is that the government is also trying to bring all farmers into the fold of institutional credit.
The target is to bring more than six crore farmers into the Kisan Credit Card (KCC) regime.
Directions have been issued for this to the States and banks. They have been advised to issue KCCs within 15 days of application by the farmers. All the charges which were being levied by the banks, including documentation and inspection charges, up to Rs. 3 lakhs have been waived. Credit should go to the Indian Banks' Association for taking such a farmer-friendly decision.
It is important to keep in mind that the average annual income of small and marginal farmers is well below the average income of all farmers.
The benefit being given to small and marginal farmers through PM-KISAN will provide them assured supplemental income and also meet their emergent expenses, especially immediately after harvest.
The scheme will be implemented with an estimated expenditure of Rs. 1 lakh crore till 2019-20, benefiting 12.50 crore small and marginal farmer families.
Analysis- II:
The points mentioned here, take the view that the amount is not even enough for farmers to fill diesel in their hired tractors.
The farm crisis is not a recent phenomenon. As a matter of fact, it is the result of policies adopted by most of the political outfits that have governed India and its States for the past many decades.
The explanation for politicians turning a blind eye to the crisis is simple.
While solutions to the bottlenecks in business and industry could be dished out in comfortable offices in New Delhi or State capitals, agriculture, for long, had no spokesperson or lobby in India. All the so-called elites of India looked down on farmers as poor and unwanted citizens that the country could well do without.
Critics take the view that the past and present governments were concerned primarily with restructuring corporate laws, refunding financial institutions that were sick because of bad lending, providing subsidies to industries and attracting foreign investments.
The farm crisis is real:
Farmers with two hectares of land want not just ₹2,000 every four months, as the Pradhan Mantri Kisan Samman Nidhi promises.
That is not even enough to fill diesel in their hired tractors. Farmers are not begging for doles. The system of governance has to understand who the small farmer is.
There are many questions that arise. Among them include:
What does the word share-cropper imply?
Who is a tenant farmer?
Are the land records sorted out in rural India, or are they all being purposefully kept vague to enable big sharks to grab large tracts?
What is land settlement and why has most of the country not gone through this process?
These are the questions that we need to ask.
A Case for Imagining a New India:
It is time for a New India.
This New India requires modern irrigation facilities.
It needs seeds and scientific and modern technological knowledge that can help and guide in reducing costs.
It needs a rapid transition to cost-effective organic farming.
It needs timely delivery of inputs and transport systems to enable commercialisation of agricultural products and activities. It does not need doles.
Analysis- III:
The points mentioned here, take the view that building rural infrastructure in markets and providing tariff protection against subsidised imports is the way forward.
In the Interim Budget, the government has made a number of major political statements, which is understandable in an election year.
The Pradhan Mantri Kisan Samman Nidhi (PM-KISAN) gives direct annual income support to farmers with a land holding of two hectares.
This borrows from Arvind Subramanian's basic income support scheme for substantial sections of the rural workforce.
Congress president Rahul Gandhi had stated this as his objective for the economy as a whole, if voted to power, despite criticism.
However, the Budget has shown an implicit appreciation of the idea and proposed it for a large part of the rural labour force.
It is important to note that landless labourers are a category in the Census and National Sample Survey Office, but as the Finance Secretary clarified, they cultivate at least kitchen plots, and so are marginal farmers for revenue purposes and are eligible for the scheme.
When we count the economic costs we factor in the terminal costs (for the year when the scheme is fully implemented) as a percentage of, say, GDP or agricultural GDP, but such schemes take time to implement and the initial costs are lower.
Will it work?
Of course, there is no way of testing if sufficient funds have been provided for the scheme.
Small farmers till around two-fifths of the land but are two-thirds of the labour force, since agricultural labourers also till small plots of land.
The Budget speech compares the revised estimates for this year with the Budget estimates for the next fiscal. Since Budgets get scaled down when the fiscal crunch begins mid-fiscal year, this gives a false sense of expansion.
A question arises: Is there an economic case for the scheme in the real world? The terms of trade have been moving against agriculture (Commission for Agricultural Costs and Prices reports) since 2013. So, when income in real terms goes up by, say, 6% annually, the farmer's real income in terms of what she gets for what she sells goes down. She is agitating because there is a real issue.
Some experts suggest that the answer is to build rural infrastructure in markets and give tariff protection against subsidised imports. But urban interests become a constraint.
The Interim Budget has rhetoric, but the NITI Aayog, does not have any fund allocation powers, unlike the reformed Chinese planning set-up where strategic plans are buttressed with funds. So, you live from day to day. Direct Transfers are then the oxygen you need.
The Budget speech also reiterates the government's stated goal of doubling farmers' income.
Some critics point out that the government is obviously sceptical of this; otherwise an additional Direct Transfer sounds rather excessive, even in the months before an election. The budgeted figure for MSP or other support will have to be based on a cost concept that includes rent and interest on farm investments.
Direct Transfers to stay:
Lastly, by calling it an Interim Budget, a legal constitutional hassle has probably been avoided.
But the argument that the amount that a new government can spend can be decided now is unconvincing.
The new lot, even if the same party comes to power, will not be that generous in giving credit to their predecessors
F. Tidbits
1. Plant trees, Delhi HC tells 2G case accused
The Delhi High Court has directed Swan Telecom promoter Shahid Usman Balwa and four others accused in the 2G case to each plant 3,000 trees here as penalty for not filing their responses on the ED and CBI appeals against their acquittal in the 2G case.
Justice Najmi Waziri ordered that the plantation drive be carried out in Delhi's South Ridge forest area. It also granted a final opportunity to Mr. Balwa, businessman Rajiv Agarwal and three companies — Dynamix Reality Pvt. Ltd., DB Reality and Nihar Constructions — to file their response on the case.
The High Court also directed former Telecom Minister A. Raja's erstwhile private secretary R.K. Chandolia to plant 300 trees, while director of Kusegaon Fruits Asif Balwa will have to plant 500 trees. Mr. Agarwal have to plant another 500 trees over his 3,000 trees.
The direction came while granting final opportunity to Mr. Chandolia, Mr. Balwa and Mr. Agarwal to file responses in the CBI's case.
The court directed all the individuals and firms to report to the Deputy Conservator of Forests (South) on February 15 for this purpose.
"The plants shall be of deciduous indigenous variety and they shall be of nursery age of three and a half years old and have a height of at least six feet. They will ensure the maintenance of trees till the rainy season," Justice Waziri said. He said that till now he had asked litigants in various cases to plant 39,000 trees. The court had listed the case for March 26.
2. Ivanka unveils global women initiative
Ivanka Trump unveiled an effort aimed at helping 50 million women in the developing world get ahead economically over the next six years.
The White House officially launched the Women's Global Development and Prosperity Initiative, a government-wide project led by the senior adviser and daughter to President Donald Trump.
The initiative will involve the State Department, the National Security Council and other agencies.
When women are economically empowered, they re-invest in their families and communities, producing a multiplier effect that spurs economic growth and contributes to global peace and stability. The Trump Administration is launching the first-ever whole-of-government approach to advance global women's economic empowerment, W-GDP.
W-GDP seeks to reach 50 million women in the developing world by 2025 through U.S. government activities, private-public partnerships, and a new, innovative fund at USAID.
G. Prelims Facts
1. Naveen unveils statue of Guru Padmasambhava
Context
Odisha Chief Minister Naveen Patnaik unveiled a 19-foot-high statue of Guru Padmasambhava, the founder of Tibetan Buddhism, at Jirang in Gajapati district.
This 29 tonne stone statue is placed in the middle of 'Padma Sarovar', a large tank near Padmasambhava Mahavihara, the largest Buddhist monastery in eastern India. The Dalai Lama had inaugurated this monastery in 2010. Tibetan refugees settled in this region over six decades ago.
The statue of Guru Padmasambhava has been sculpted by noted sculptor Padmashri Prabhakar Moharana.
Guru Padmasambhava
Historians claim that Guru Padmasambhava, also known as second Buddha, was born and brought up in Odisha before he left for Tibet.
Guru Padmasambhava was known in Tibet as one of the founding fathers of Tibetan Buddhism, who appeared in Tibet in 749 A.D, and spent 54 years. Other two founders were Acharya Shanta Rakshita and prevalent King Thisong Deotsen.
2. Kerala to get country's 2nd longest rail tunnel
Context
A 10.7-km railway line, including a 9.02-km tunnel, has been proposed to connect the upcoming Vizhinjam International Multipurpose Deepwater Seaport to the railway network.
The 9.02-km tunnel, mooted by Konkan Railway Corporation Ltd (KRCL) from near the Balaramapuram station on the Kanyakumari-Thiruvananthapuram railway line, will be the second longest railway tunnel in the country. The 11.26-km Pir Panjal rail tunnel, connecting Banihal and Hillar Shahabad, is the longest.
Details of the Project
The KRCL, in its draft Detailed Project Report (DPR) submitted to Vizhinjam International Seaport Limited (VISL) — a special purpose company supervising the execution of the seaport project — has favoured the railway tunnel from Balaramapuram in view of the 35-metre level difference between the port and the highest ground level, undulating terrain, and local population.
The proposed railway line from Balaramapuram to Vizhinjam will be a single line and will be sufficient for the movement of 9 to 10 rakes daily through the corridor for the next 20 years, according to KRCL.
The KRCL, experts in constructing tunnels, was roped in after Rail Vikas Nigam Ltd under the Union Ministry of Railways backed out from the seaport connectivity project. The plan is to establish the railway link by May 2022.
The development of the Balaramapuram railway station is being explored as part of the rail link to the seaport.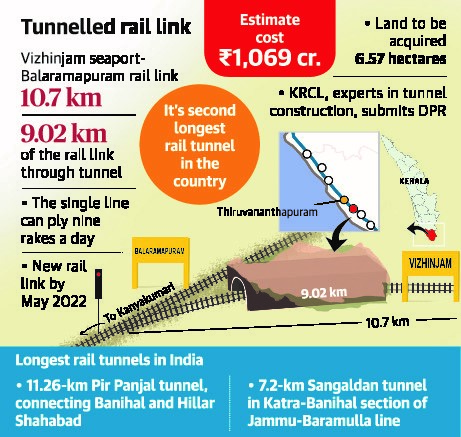 3. LAIRCM Self-Protection Suites
Context
The Defense Security Cooperation Agency of the United States notified Congress that the State Department has approved a possible foreign military sale to India — two 777 Large Aircraft Infrared Countermeasures (LAIRCM) Self-Protection Suites (SPS), for an estimated $190 million.
Details of the system
These systems will protect protect two Boeing-777 Head-of-State aircraft. This would bring the security of Air India One at par with that of Air Force One, the aircraft used by the American President.
LAIRCM is a programme meant to protect large aircraft from man-portable missiles. It increases crew-warning time, decreases false alarm rates and automatically counters advanced infrared missile systems.
In a 2016 document, the Defense Technical Information Centre of the US Defense Department explained that LAIRCM consists of missile warning sensors (MWS), a laser transmitter assembly, control interface unit (CIU) and processors to detect, track, jam and counter incoming infrared missiles. The number of sensors and transmitter assemblies per aircraft is determined by the size and signature of the aircraft.
The release said the proposed sale will improve India's capability to deter regional threats, and will support the foreign policy and national security of the US by helping strengthen the US-Indian strategic relationship.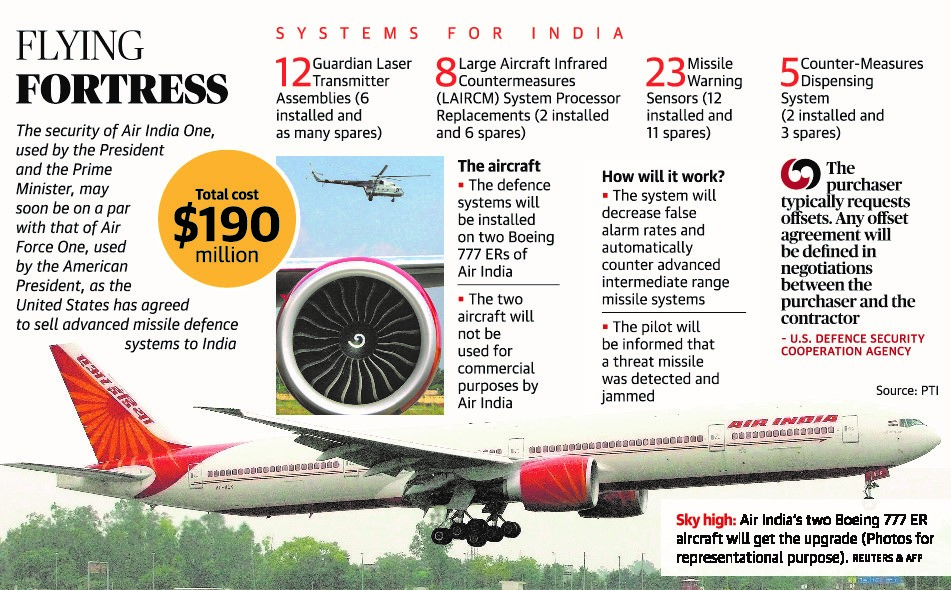 H. UPSC Prelims Practice Questions
Question 1.'Technology and Innovation Support Centres' is often seen in news. It is associated 
with which of the following?

World Intellectual Property Organization
World Trade Organization
World Economic Forum
World Bank
See
Question 2. Sadarmatt anicut, recently got heritage tag by the International Executive Council, the 
highest decision making body of International Commission on Irrigation and Drainage (ICID). This 
anicut is situation in which river
River Godavari
River Krishna
River Sabarmati
River Siang
See
Question 3. Consider the following statements about Anticipatory Bail 
It is valid only in case of non-bailable offence.
It is meant to protect a person from false accusation against him/her.
Which of the above statement(s) is/ are correct?
Only 1
Only 2
Both 1 and 2
None of the above
See
I. UPSC Mains Practice Questions
The setting up of Rashtriya Kamdhenu Aayog will result in increased growth of livestock sector which is more inclusive, benefitting women, and small and marginal farmers. Discuss (12.5 Marks; 200 words)
The European Space Agency's (ESA's) HERA mission is set for a new record by becoming the first spacecraft to explore a binary asteroid — the Didymos pair. Write a note on the HERA mission (10 Marks; 150 words)
See previous CNA