TABLE OF CONTENTS
A. 

GS1 Related


INDIAN SOCIETY
1. Telangana villagers ostracised for ignoring caste while voting


B. 

GS2 Related


POLITY AND GOVERNANCE
1. 60% children adopted in India between 2015 and 2018 are girls
INTERNATIONAL RELATIONS
1. Mammoth crowds mark 40th anniversary of Iran revolution
2. H-1B holders from India rally for reform


C. 

GS3 Related


INTERNAL SECURITY
1. NSCN (I-M) appoints chairman after 3 years


D. 

GS4 Related




E. 

Editorials


POLITY AND GOVERNANCE
1. Time to raise the bar 
INTERNATIONAL RELATIONS
1. A curious bid
INDIAN ECONOMY
1. The state of the States 
2. Everyone is afraid of data 


F. 

Tidbits


1. Bill to counter exploitation by NRI spouses
2. Rajasthan to scrap education criterion


G. 

Prelims Facts




H. 

UPSC Prelims Practice Questions




I. 

UPSC Mains practice Questions



A. GS1 Related
1. Telangana villagers ostracised for ignoring caste while voting
Context
Some villagers have been ostracised by their community leaders for not casting votes in favour of contestants hailing from their own community in the recently-held gram panchayat elections in various parts of integrated Karimnagar district of Telangana.
Expressing concern over the incidents, Lok Satta Udyama Samstha Karimnagar district president N. Srinivas said that ostracisation of the people for not casting vote for community candidates was against the democratic rights of the people.
Social Boycott
A social boycott is an act of voluntary and intentional abstention from dealing with a person, organization, as an expression of protest, usually for social, political reasons.
In India, it is frequent that particular Indudival or group of Indudival are boycotted by other set of majority in the name of caste, religion, rituals, and traditions.
It was categorically stated that social boycott for reasons such as religious rituals, inter-caste marriage, lifestyle, dress or vocation are happening.
The Maharashtra Prohibition of People from Social Boycott (Prevention, Prohibition and Redressal) Act, 2016 – the first law that treats social boycott as a serious crime. The law disallows social boycott in the name of caste, community, religion, rituals or customs.
How to overcome the challenges?
A social movement to spread awareness needs to be taken up
The attitude of the people needs to be addressed. This can be done through regular awareness weeks in schools, colleges, specialised training workshops and so on
The administration should make a concerted effort to popularise the achievements of people who broke this barrier and were successful in their lives.
Experts opine legal mechanisms are only a part of the solution. The masses need to be educated through workshops, celebrating Anti-boycott weeks etc
The sensitivity training needs to be imparted to the administration at all levels
The registration of cases needs to be tracked using technology like CCTNS projects so that Police do not use their discretion to avoid registering cases.
Various stakeholders like NGO's Media groups, public policy advocacy groups need to be engaged meaningfully to ensure effective implementation of the act
To address the various layers of exclusion as mentioned above, a comprehensive anti-discrimination law is required, on the lines of the Civil Rights enactments in the United States and the United Kingdom
B. GS2 Related
Category: POLITY AND GOVERNANCE
1. 60% children adopted in India between 2015 and 2018 are girls
Context
Data from the Ministry of Women and Child Development show that of the 11,649 children adopted, 6,962 were girls and 4,687 boys
India may have a skewed gender ratio, but the female child happens to be the first choice when it comes to adoption. The number of female children placed for in-country adoptions and inter-country adoptions between 2015 and 2018 are relatively higher than male children.
Related Organisation – Central Adoption Resource Authority
Central Adoption Resource Authority (CARA) is a statutory autonomous body of Ministry of Women & Child Development, Government of India.
It functions as the nodal body for the adoption of Indian children and is mandated to monitor and regulate in-country and inter-country adoptions.
CARA is designated as the Central Authority to deal with inter-country adoptions in accordance with the provisions of the Hague Convention on Inter-country Adoption, 1993, ratified by Government of India in 2003.
CARA primarily deals with the adoption of the orphan, abandoned and surrendered children through its associated /recognised adoption agencies.
Related Convention – Hague Adoption Convention
The Hague Convention on Protection of Children and Co-operation in Respect of Intercountry Adoption is an international convention dealing with international adoption, child laundering, and child trafficking.
The Convention was developed by the Hague Conference on Private International Law, the preeminent organization in the area of private international law. It was concluded on 29 May 1993 and entered into force on 1 May 1995.
It is an effort to protect those involved from the corruption, abuses, and exploitation which sometimes accompanies international adoption.
The Convention has been considered crucial because it provides a formal international and intergovernmental recognition of intercountry adoption to ensure that adoptions under the Convention will generally be recognized and given effect in other party countries.
More than 90 countries including India has signed and ratified this convention.
Category: INTERNATIONAL RELATIONS
1. Mammoth crowds mark 40th anniversary of Iran revolution
Context
Iran's President Hassan Rouhani had insisted that "enemy" plots against the country would fail as vast crowds marked 40 years since the Islamic revolution at a time of heightened tensions with the U.S.
The state has played up this year's anniversary, as 40 is symbolic of maturity in the Islamic tradition and the age at which Prophet Mohammed received revelations from God.
The Iranian Revolution
The Iranian Revolution (Islamic Revolution or the 1979 Revolution) refers to events involving the overthrow of the Pahlavi dynasty under Mohammad Reza Shah Pahlavi, who was supported by the United States, and eventual replacement of 2,500 years of continuous Persian monarchy with an Islamic Republic under the Grand Ayatollah Ruhollah Khomeini, the leader of the revolution, supported by various Islamist and leftist organizations and student movements.
Effect of Iranian Revolution
After the system of despotic monarchy had been overthrown, the economy and the apparatus of government had collapsed; military and security forces were in disarray.
Polity – The Constitution provides political legitimacy to "God" and the divine law given in the Koran. What began as an authentic and anti-dictatorial popular revolution based on a broad coalition of all anti-Shah forces was soon transformed into an Islamic fundamentalist power-grab.
Society – The Islamic Revolution of 1978-1979 brought a one hundred percent reversal in the trend of secularization which the country was experiencing. In fact, Islam became the official new state ideology of the clerical fundamentalist elites. Such a clear emphasis on Islam as the centre of governance has profound effects on Iran's societal fabric. The 1979 Islamic Constitution resulted in a shift of the legal system from a secular to religious orientation.
Extra and Quasi Judicial Activity – From 1979 to 1994 more than one thousand women have been stoned to death in Iran. This is just one example of the extra-or quasi-judicial activity taking place in the legal process. In fact, when the new government achieved power, women were once again subjugated and restricted to the confines of their homes. In every aspect of their lives, women were discriminated against.
Marriage – Men can legally have affairs through the institution of sigheh or temporary marriage. Men can obtain a unilateral divorce from their wife or wives. The marriage age for females has been lowered to nine and in some instances to seven.The reproductive policies of the new regime declared contraception and any from of family planning as being against Islam.Mothers no longer have equal rights in terms of child custody.
The religious edicts of the mullahs are enforced by an armed moral police who arbitrarily stop couples in the streets to make sure that no immoral act is taking place.
2. H-1B holders from India rally for reform
Context
A group of mostly Indians on H-1B visas held a rally outside the White House demanding immigration law reforms to benefit those in the country legally. The rally, organised by the Republican Hindu Coalition (RHC), involved some 200-300 people.
Details of the demands
Among the demands of the group was that the green card backlog be cleared with a waiting period of 1-5 years. The wait time, at present, can run into decades for employment-based green cards for Indians.
H-1B visa holders, whose children and spouses get H4-dependent visas, are asking that H4 children be given green cards straight away, so that they can remain in the U.S. after they turn 21 without having to switch to another visa category or having to self-deport. "Being on an H4 means, if I cannot obtain a green card by the time I turn 21, I will be kicked out of the country… In addition to being separated from my family, I will be made to feel like an outcast or a misfit, in a country that I grew up in for my whole life [sic]," Akshita, a high-school student, told the assembled crowd over a megaphone.
The third demand of those rallying was to remove the country caps for green card allotments. Currently, no country may be allocated more than 7% (around 9,800) of the total number of green cards granted each year. India, which sends a relatively large number of skilled workers to the U.S. each year — over 70% of all H-1B visas in fiscal year 2018 went to Indians — inevitably uses up all the green cards allocated to it. China, Vietnam and the Philippines are other examples, though the excess demand for immigrant visas is far less in these countries.
H-1B and H4 Visa
The H-1B category is an expedient and lawful method to bring foreign-born professionals temporarily to the United States, and therefore one of the most widely sought after visa classifications for employment in the United States.
The H-1B is a non-immigrant visa in the United States; it allows U.S. employers to temporarily employ foreign workers in specialty occupations.
H4 Visa (Dependent Visa) A H4 visa is issued to dependent family members (spouse and children) of H1 visa holders who would like to accompany the H1B visa holder to the U.S. during their stay.
H-4 visa allows work permits for spouses who otherwise could not be employed without waiting for their spouses to receive permanent resident status, a process that can take a decade or longer.
C. GS3 Related
1. NSCN (I-M) appoints chairman after 3 years
Context
The Isak-Muivah faction of National Socialist Council of Nagaland or NSCN (I-M), once the fountainhead of extremism in the Northeast, has appointed a chief almost three years after the death of its founder-chairman Isak Chishi Swu.
The faction is named after Swu, who died at 86 in June 2016 after a prolonged illness, and its general secretary Thuingaleng Muivah.
NSCN
Nationalist Socialist Council of Nagaland, was formed to advance the Naga cause for sovereignty.
This organisation has operations in the Naga inhabited regions of India & Myanmar, with easy cross border access.
This group has had major splits. Issac-Muivah faction (NSCN – IM) is currently involved in peace talks with the Indian government, while the Kaplang faction with its major operations in Myanmar is designated as a terror outfit by India.
Greater Nagalim
A "Greater Nagalim" comprising "all contiguous Naga-inhabited areas", along with Nagaland. That included several districts of Assam, Arunachal and Manipur, as also a large tract of Myanmar. The map of "Greater Nagalim" has about 1,20,000 sq km, while the state of Nagaland consists of 16,527 sq km.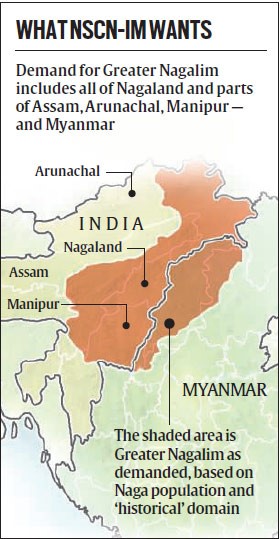 The claims have always kept Assam, Manipur and Arunachal Pradesh wary of a peace settlement that might affect their territories.
The Nagaland Assembly has endorsed the 'Greater Nagalim' demand — "Integration of all Naga-inhabited contiguous areas under one administrative umbrella" — as many as five times: in December 1964, August 1970, September 1994, December 2003 and as recently as on July 27, 2015.
The NSCN (Isak-Muivah) has been engaged in peace talks with the interlocutor of the Central government since 1997, when it announced a ceasefire agreement after an insurgency movement that started in Nagaland soon after India's Independence.
The NSCN(K) had signed ceasefire with the Centre in 2001 but unilaterally abrogated (repeal or do away) it in March 2015 when the then chairman of the group, S.S. Khaplang, was alive.
In 2015, the Centre signed a framework agreement with the National Socialist Council of Nagaland-Isak-Muivah (NSCN-IM) to end the long- drawn Naga insurgency after it agreed to give up the demand for sovereignty. Six Naga political groups joined the discussions later.
The Union government has also started separate talks with working committees of six Naga nationalist political groups since 2017.
D. GS4 Related
 Nothing here today!!!
E. Editorials
Category: POLITY AND GOVERNANCE
Why in the news?
Justice A.K. Sikri, who is a well-regarded judge of the Supreme Court of India, found himself in the eye of a storm arising from accepting a post offered by the government, last year, while being a judge of the court.
By later turning down the offer after the controversy erupted, he substantially redeemed the judiciary's and his own honour.
However, this is an issue that recurs frequently. Even titans in the legal field have had to face stinging rebuke from respected members of the fraternity for similar lapses.
Editorial Analysis:
The case of M.C. Chagla
When we take the case of the late Justice M.C. Chagla, we realize that both he and the former Attorney General of India, M.C. Setalvad, were members of the First Law Commission.
Speaking as members of the Law Commission they had categorically denounced the proclivity of judges accepting post-retirement jobs sponsored by governments and called for an end to it.
Unfortunately, in his post-retirement assignments, Justice Chagla violated the very same principle he had supported.
After retirement, he accepted a government appointment to serve as Indian Ambassador to the U.S. (1958-61) and later as Indian High Commissioner to the U.K (1962- 1963).
Soon after this he was asked to be minister for education in Nehru's cabinet, which he again accepted. He served as Education Minister (1963-66) and then as Minister for External Affairs (1966-67).
All this incensed his good friend M.C. Setalvad no end. In his book, My Life: Law and Other Things, he did not mince words in commenting on this serious lapse. He observed: "The Law Commission had, after careful consideration, expressed the unanimous view that the practice of a judge looking forward to accepting employment under the government after retirement was undesirable as it could affect the independence of the judiciary… He was so keen to get into politics that soon after the report was signed by him he resigned his office to become India's Ambassador to the United States. His action was characteristic of the self-seeking attitude of many of our leading men."
These harsh words are possibly unfair to a person of the calibre of Justice Chagla. As a matter of fact, in none of the posts he held could he be accused of having acted as a sidekick to the government.
On the other hand, by declaring in 1965 that the Aligarh Muslim University could not claim minority status conferred under Article 30(1) of the Constitution, he even earned the collective ire of his cabinet members.
Having said this, the shrill denunciations of the Law Commission on judges accepting post-retirement posts and Setalvad's repeated calls to honour the principle merit acceptance even today.
In a study, the Vidhi Centre for Legal Policy pointed out that as many as 70 out of 100 Supreme Court retired judges have taken up assignments in the National Human Rights Commission of India, National Consumer Disputes Redressal Commission, Armed Forces Tribunal, and the Law Commission of India, etc.
In Rojer Mathew v. South Indian Bank Ltd. — which is currently going into the issue of tribunalisation of the judiciary and its challenges to the independence of the judiciary — senior counsel Arvind P. Datar, amicus, has observed: "The Tribunals should not be a haven for retired persons and appointment process should not result in decisions being influenced if the Government itself is a litigant and appointment authority at the same time."
The Way Forward: Striking a balance
At the same time, it is also true that the valuable experience and insights that competent and honest judges acquire during their period of service cannot be wasted after retirement.
It is important to note that unlike abroad, a judge of the higher judiciary in India retires at a comparatively young age and is capable of many more years of productive work.
Having said this, government-sponsored post-retirement appointments will continue to raise a cloud of suspicion over the judgments the best judges delivered while in service. Though cliched, it is true that in law, justice must not only be done but also be seen to be done.
Therefore, the viable option is to expeditiously establish, through a properly enacted statute, a commission made up of a majority, if not exclusively, of retired judges to make appointments of competent retired judges to tribunals and judicial bodies.
It is true that judges cannot legislate. However, where a void is found in the legal framework that requires immediate attention, and legislative intervention is not likely to emerge immediately, the Supreme Court is empowered to provide an interim solution till legislation is passed to address the hiatus.
This process the top court has followed, to cite an instance (there are others), in the Vishaka case, where it laid down guidelines to deal with sexual harassment in workplaces till a law was passed by Parliament.
It is desirable the Supreme Court invokes that methodology now and puts in place a process to regulate post-retirement appointments for judges. Such a process must sufficiently insulate the judiciary from the charge of being a recipient of government largesse.
In these times, the attacks on the fabric of independence of the judiciary will not be through engulfing flames but through small corrosive doses. Therefore, it is in the judiciary's own interests to resolve this issue as expeditiously as it can
Category: INTERNATIONAL RELATIONS
Why in the news?
Recently, the rather unusual move by a member of Thailand's royal family to announce a bid for the office of Prime Minister has ignited greater interest in the country's general election.
This member of Thailand's royal family is Ubolratana Rajakanya, King Maha Vajiralongkorn's sister.
She subsequently had her nomination withdrawn — but the fact that the prospect drew a public disapproval from the King is an indication of how closely the palace is tracking the contest.
Editorial Analysis:
Experts point out that the larger question concerning the March 24 poll is the prospect of Thailand's credible return to civilian rule, after the 2014 military coup that deposed the government of Yingluck Shinawatra.
The military general-turned-Prime Minister, Prayuth Chan-ocha, is contesting as the candidate of the Palang Pracharat party, known for its pro-military and pro-palace leanings. The constitution drafted by his ruling National Council for Peace and Order, and ratified in a 2016 popular referendum, introduced a voting system that provides for a wholly nominated Upper House of Parliament and allotment of seats to army officers.
It is important to note that King Vajiralongkorn had granted approval for its promulgation only after withholding some other controversial provisions.
A Closer Look at the March General Election:
The March general election has been long overdue, as General Prayuth repeatedly deferred the dates since seizing power in 2014.
Moreover, investigations into social media content from the new Future Forward party have added to worries about the junta silencing Opposition voices.
Experts point out that while the bid to hand over power to an elected government may seem well-intended, the power given to the military in the legislature remains a concern.
A Note on the Shinawatra's:
Ubolratana had entered the fray with the Thai Raksa Chart party, which is linked to exiled former Prime Ministers, the telecommunications tycoon Thaksin Shinawatra and his sister Yingluck.
The Shinawatras are perceived to be a challenge to the Bangkok elite, including the palace and the military. But despite being evicted from power in coups, they still hold sway among the predominantly rural electorate.
Till now, the military had struggled to dent their chances sufficiently, and Mr. Shinawatra or his proxies won every election since the early 2000s.
The new constitution ensures that the military will be a crucial determinant in a democratic transition.
King Vajiralongkorn's public response to his sister's decision to contest the election may also affect the chances of Mr. Shinawatra's party.
It is important to note that Ms. Ubolratana had relinquished her royal title in the 1970s, but her candidature sparked speculation about an understanding between the palace and Mr. Shinawatra.
Concluding Remarks:
The March election is being watched keenly across the region.
The second largest economy in Southeast Asia, Thailand this year assumes the presidency of ASEAN, that sets a broad economic and political agenda for member-states.
A number of them are so-called guided democracies, with a pre-eminent role for the military
Editorial Analysis:
It is important to note that India was one among the 193 United Nations member states to adopt the Sustainable Development Goals (SDGs) in September 2015.
As a matter of fact, it has been making sincere efforts to achieve these goals.
The SDG India Index: Baseline Report 2018, released to the public in December 2018 by NITI Aayog, is a useful comparative account of how well different States and Union Territories have performed so far in their efforts to achieve these goals.
In this effort, it has not been possible to establish suitable indicators for three of the 17 goals, including climate action (SDG-13).
This is on account of either lack of identification of appropriate indicators or of the inability to compare different States. On the whole, 62 indicators representing 14 goals have been identified based on their measurability across States over time.
A progress performance assessment has been made towards targets set by the Government of India, or the UN SDGs target for 2030, or the average of the three best-performing States. For reasons of comparability, all these indicators are normalised.
A Look at the Four Categories:
Based on a scale of 0 to 100, the States are categorised into four groups:
achievers,
front runners,
performers, and
aspirants
Achievers are those States which have already accomplished the set target.
Front runners are those States that are very close to realising them.
A majority of the States are categorised as performers and some lag behind as aspirants.
Although classification sounds like an appropriate thing to do, there is arbitrariness in the exercise in the sense that in a unitary range, those States with scores till the midpoint are categorised as aspirants and a cluster of States in a close range of progress are termed as performers.
A few States are designated as front runners.
As a matter of fact, the three front runner States — Tamil Nadu, Kerala, and Himachal Pradesh — assume values of 66, 69 and 69, respectively, as against a range of States with values between 50 and 64.
With the national score being 57, almost 17 States qualify as above or equal to the national score.
Plotted on a graph, there is a negatively skewed distribution of scores with a reasonable tail to the left, a fat presence in the middle, and a tapering to the right. This needs to be recognised in classification; otherwise the arbitrariness with which the classification is made somewhat hints at a purposive designation of a few States in two extremes and a major share of them in between.
The problem experienced with averaging:
Further, when one reads into the performance on various SDGs, it is found that many States fall into the aspirant category, especially for SDG-5 (gender equality), SDG-9 (industry innovation and infrastructure) and SDG-11 (sustainable cities and communities).
These kinds of differences could well be emerging owing to a different number of indicators considered under different SDGs as well as their corresponding variability across the States. This is evident in the variation of scores across different goals.
For instance, in case of goals 1 and 2, the range for the majority of the States is between 35 and 80. For goals 3 and 6, the range is between 25 and 100.
Again, for goal 5, it ranges between 24 and 50.
Given these variations across different goals, merely averaging them not only compromises on robustness but also masks the disaggregated story to a large extent.
Not only does the feature of the progress performance pattern need to be recognised in such classification but also the pathway of progress in development indicators, which has a character removed from linearity.
Given that this is a measure of progress towards a target, the States near the target get a value closer to one compared to those which are away from the target assuming a lower value.
These values are determined in relative terms in the sense that they represent the unitary position of the States within the available scale of gap between the minimum achieved and the target.
Such positioning conveys a linear distance, which does not differentiate a given distance between two States which have performed well compared with another pair of States which are far from achieving the target.
The difference in progress between the three front runner States is three points. This is perhaps not similar to the distance between the performing States of Telangana and Andhra Pradesh, which too have a three-point difference. Such comprehension of achievement is limited as regards to comparing States, let alone designating them into four categories.
The Way Forward:
Finally, the process of aggregation adopted to present the summary index of compliance with the targets being a simple average assumes that each of the goals as well as the corresponding set of indicators are equally important and can substitute for each other.
This also overlooks the aspect of inter-dependence of various goals, although it is upfront stated in the exercise.
To ensure minimum robustness of this measure, a geometric average would have served towards avoiding perfect substitutability of one goal with the other.
It means achievement of progress in one goal cannot compensate for compromise in another. While this exercise serves as a report card of performance of States as regards compliance with the SDGs, its scientific adequacy is compromised with arbitrariness that presents a stereotypical pattern of performance rather than bringing out surprises.
In conclusion, the choice of indicators representing specific goals need not necessarily be guided by availability but also their explicit independence from one another.
This may help in making a uniform set of indicators for each of the goals with proper representation without duplication. On the whole, this performance assessment may not be misleading, but it does not help us understand the relative significance of compliance in some goals that helps in compliance of the other.
Thus, some experts point out that the performance assessment of SDGs while overlooking the strict interdependence of them may not be rewarding.
Editorial Analysis:
It is important to note that over the past two weeks, headlines have focussed on declining employment between 2011-12 and 2016-17; loss of jobs under the National Democratic Alliance government, particularly post-demonetisation; and the government's refusal to release a report using the Periodic Labour Force Survey (PLFS) documenting this decline, leading to resignations of two members of the National Statistical Commission.
As a matter of fact, in a pre-election, politically charged environment, these developments make for eye-catching headlines.
A Look at Five Important Trends:
Past experiences tell us five things:
Firstly, suppression of results seems to be a problem common to all political parties. Census 2011 data on religious distribution of the population was not released until 2015. It is widely believed that these data were ready before the 2014 election, however, some experts believe that the United Progressive Alliance government was worried about inciting passions around differential population growth between Hindus and Muslims and chose not to release the tables.
– Similarly, the UNICEF conducted the Rapid Survey on Children (RSOC) 2013-14 on behalf of the Ministry of Women and Child Development but the report was held up by the new government- some critics allege that this was due to the fear that it showed Gujarat in poor light.
– Sometimes these concerns lead to lack of investment in data collection itself, as is the case with the National Sample Survey, or the NSS's Employment-Unemployment surveys (not conducted since 2011-12), forcing public policy to rely on non-comparable statistics from other sources such as the data from the Employees' Provident Fund Organisation (EPFO). These episodes are likely to recur, and hence, we need a more comprehensive strategy for dealing with them.
Secondly, the fear of having statistical reports misquoted is legitimate. We live in a world where appetite for news is incessant and the news cycle is very short.
– Statistics that don't always lend themselves to rapid unpacking into sound bites and headlines are easily misinterpreted.
– When Census 2001 results on religion were released, in September 2004, a newspaper led with a story that although the Hindu growth rate between 1981-1991 and 1991-2001 had declined from 25.1% to 20.3%, that for Muslims had gone up from 34.5% to 36%.
– Media reports paid little attention to the actual report that highlighted that the 1991 Census was not conducted in Jammu and Kashmir and that after adjusting for it, growth rates for both Hindus and Muslims had declined. When the mistake was discovered, it was blamed on the then Registrar General and Census Commissioner, J.K. Banthia, a highly competent demographer. He was sent into bureaucratic exile while the news media moved on to a new story.
Thirdly, it is impossible to bottle up the genie once data are collected and reports prepared. In a world dominated by WikiLeaks, suppressing reports seem to create an even bigger problem, since it allows individuals with exclusive access to act as the interpreters for others. In the instance of the RSOC mentioned above, suppression of the report, coupled with leaked data encouraged speculation by The Economist (July 2015) that the data were being suppressed because Gujarat must have fared poorly on reducing malnutrition. It stated that Bihar had made much greater progress since the proportion of children who go hungry had been cut from 56% to 37% between 2005-6 and 2012-13, while the decline was much smaller in Gujarat, from 44.6% to 33.5%.
Fourthly, sometimes leaked results create speculation that is far worse than full disclosure would warrant. The Economist cherry-picked its comparisons. Nutritional status is measured by weight-for-age (underweight) and height-for-age (stunting).
– The final report showed that about 41.6% of children in Gujarat were stunted (had low height for their age), This is higher than the nationwide average of 38.7%.
– However, improvement in stunting in Gujarat between 2005-6 and 2013-14 was of similar and slightly higher magnitude as that for the nation as a whole: 10.1 versus 9.7 percentage points.
– Moreover, stunting decline in Gujarat was greater than that in Bihar, 10.1 percentage points as opposed to 6 percentage points.
– Usually statistics on underweight and stunting should provide a similar picture; when they do not, greater care is required in interpretation. This was not possible because only The Economist seemed to have access to the report and led the headlines.
Fifth, statistics often deal with complicated reality and require thoughtful analysis instead of the bare bones reporting contained in typical government reports. The headline in the Business Standard on February 3, 2019 based on the leaked PLFS report, claims that more than half the population is out of labour force; however, the statistics they present show that the trend is dominated by women and the rural population.
Some experts believe that if the full report were available, it would be rural women who would drive the employment story. This is very much a continuation of the trend between 2004-5 and 2011-12 documented by the NSS, under a different government.
It is important to note that between 2004-5 and 2011-12, work participation rates for rural women of working ages (25-64) fell from 57% to 43%.
However, much of this decline was in women working on family farms and in family businesses, from 42% to 27%; decline in wage work was much smaller, from 24% to 21%.
It is important to note that if lower engagement of women with family-based activities such as farming, rearing livestock or engaging in petty businesses drives the decline in employment, we may need to look at declining farm sizes and increasing mechanisation as the drivers of this decline.
Some experts point out that one can blame the government for not creating more salaried jobs for women pushed out of farming and related activities, but it would be hard to blame it for eliminating jobs.
If the full report and unit level data for the PLFS were available, it is possible that we will find a continuation of the trend that started in 2004-5.
This is not to say that demonetisation may not have had a negative impact, particularly in urban India, where Business Standard reports that employment fell from 49.3% to 47.6%, but this is a much smaller decline.
It is also important to note that the urban comparison between the NSS and the PLFS requires caution, particularly for unemployment figures. Whereas the NSS contains independent cross-sectional samples for each sub-round, the PLFS includes a panel component in urban areas where the same households are re-interviewed every quarter.
Since it would be easier to find unemployed individuals than employed individuals for interview, attrition adjustment is necessary before drawing any conclusions. Without access to the full report, it is difficult to tell whether attrition adjustment was undertaken.
An important question arises: How do we get out of this vicious cycle where fear of misinterpretation leads to suppression of data, which in turn fuels speculation and suspicion and ultimately results in our inability to design and evaluate good policies? The only solution is to recognise that we need more openness about data coupled with deeper analysis, allowing us to draw informed and balanced conclusions.
Some experts point out that the onus for this squarely lies with the government. Simply placing basic reports in the public domain is not sufficient, particularly in a news cycle where many journalists are in a hurry to file their stories and cherry-pick results to create headlines.
Case of Spreading the net wider
Understaffed and underfunded statistical services cannot possibly have sufficient domain expertise to undertake substantively informed analyses in all the areas for which statistical data are required.
A better way of building a robust data infrastructure may be to ensure that each major data collection activity is augmented by an analytical component led by domain experts, recruited from diverse sources, including academia.
F. Tidbits
1. Bill to counter exploitation by NRI spouses
Context
In a bid to counter growing incidents of exploitation of Indian women by NRI (Non Resident Indian) spouses, External Affairs Minister Sushma Swaraj has introduced a Bill in the Rajya Sabha.
The Ministry of External Affairs (MEA) stated that the Bill will create accountability and protect those who are trapped in fraudulent marriages and are abandoned by their spouses.
Highlights of the Bill
A marriage between an NRI and an Indian citizen will have to be registered within 30 days from the date of marriage. Necessary legal provisions have been created in the criminal code and the Passports Act, 1967, to initiate action against erring NRI spouses.
The introduction of the Bill was necessitated by the Ministry of External Affairs due to numerous complaints received from Indian nationals, mostly women deserted or harassed by their Non-Resident Indian spouses
The Bill, which has been championed by the MEA, the Ministry of Women and Child Development (MoWCD), Ministry of Home Affairs (MoEA) and Ministry of Law and Justice (MoLJ) is aimed at prevent victimisation of Indian nationals in fraudulent marriages.
It is expected that the Bill will serve as a deterrent for NRI spouses, who use marriages as a tool of exploitation.
2. Rajasthan to scrap education criterion
The Rajasthan Assembly had passed two Bills which seek to end the minimum education criterion for panchayat and civic poll candidates.
The House passed by voice vote the Rajasthan Panchayati Raj (Amendment) Bill, 2019 and the Rajasthan Municipality (Amendment) Bill, 2019.
The previous Vasundhara Raje-led government had introduced education criterion in 2015 which required a candidate to pass Class X for contesting zila parishad, panchayat samiti and municipal elections.
For contesting elections for sarpanch of a panchayat in scheduled and non-scheduled areas, it was mandatory to pass Class V and VIII, respectively.
Replying to the debate on the Rajasthan Panchayati Raj Amendment Bill, 2019, Panchayati Raj Minister Sachin Pilot said that the present government is committed for development of every section of the society.
G. Prelims Facts
 Nothing here today!!!
H. UPSC Prelims Practice Questions
Question 1.Consider the following statements with reference to the Ayushman Bharat-National 
Health Protection Scheme (AB-NHPS)

The scheme will provide a cover of Rs.5 lakh per family per year.
Only hospitalization expenses will be a part of the cover.
It will subsume Rashtriya Swasthya Bima Yojana (RSBY) and the Senior Citizen Health Insurance Scheme (SCHIS).
Which of the above statement(s) is/are correct?
Only 1 and 2
Only 1 and 3
Only 2 and 3
All of the above
See
Question 2. Consider the following statements about Pradhan Mantri Annadata Aay Sanrakshan 
Abhiyan (AASA) Scheme:
The major aim of the scheme is food security at low cost to the vulnerable groups as identified by Socio Economic Caste Census (SECC) data
The scheme also includes Price Deficiency Payment Scheme (PDPS) for crops excluding oilseeds
In Price Support Scheme (PSS), physical procurement of pulses will be done by Central Nodal Agencies
Which of the above statement(s) is/are correct?
Only 1
Only 2 and 3
Only 3
None of the above
See
Question 3. Which of the following statements about Law Commission given below is/ are correct?
It is a statutory body.
The 21st law commission has recommended simultaneous election for Union and State.
Each Commission appointed till date has a three- year term
Select the correct answer using the codes below:
Only 1 and 2
Only 3
Only 2
Only 2 and 3
See
I. UPSC Mains Practice Questions
The India-Japan strategic partnership has been growing stronger, and this also extends to their cooperation on matters of outer space. Explain (10 Marks; 150 words)
The crippling discom (distribution companies) business needs fundamental restructuring for a future in renewable energy. Discuss (10 Marks; 150 words)
See previous CNA