TABLE OF CONTENTS
A. 

GS1 Related




B. 

GS2 Related


INTERNATIONAL RELATIONS
1. Iran to promote Chabahar as curbs will hit main port
2. India, Pakistan to fight it out in UN court in espionage case


GS3 Related 


ENVIRONMENT
1. The last of the elusive pangolins


D. 

GS4 Related 




E. 

Editorials


INDIAN ECONOMY
1. Farm sop will be hard to implement? (Pradhan Mantri Kisan Samman Nidhi scheme)
ENVIRONMENT AND ECOLOGY
1. In Maharashtra, protecting a sanctuary (Thane Creek Flamingo Sanctuary (TCFS))
ART AND CULTURE
1.  In the Chishti shrine in Ajmer


F. 

Tidbits


1. Britannia to help women start businesses
2. Gujjars call off protest for quota


G. 

Prelims Facts


1. Decoding how leptospirosis bacteria interact with human proteins
2. Great Indian hornbills can adapt to modified habitat: study


H. 

UPSC Prelims Practice Questions




I. 

UPSC Mains practice Questions



A. GS1 Related
 Nothing here today!!!
B. GS2 Related
Category: INTERNATIONAL RELATIONS
1. Iran to promote Chabahar as curbs will hit main port
Context
With U.S. sanctions threatening Iran's main port of Bandar Abbas, the Iranian government is planning to promote the Chabahar port being developed by India in a major conference on February 26, highlighting the potential of the Indian Ocean port beyond India-Afghan trade alone.
The advantage of Chabahar was that it had received a waiver from the U.S. This exception relates to reconstruction assistance and economic development for Afghanistan. These activities are vital for the ongoing support of Afghanistan's growth and humanitarian relief
MEA officials dealing with the Chabahar project are advising some caution in the plans, given that the U.S. waiver for Chabahar was given by the Trump administration to facilitate trade to Afghanistan.
Chabahar Port
The Chabahar Agreement was signed in June 2015 and approved by Iran's Guardian Council in November 2016. Chabahar is being seen as a gateway for trade by India, Iran and Afghanistan with Central Asian countries.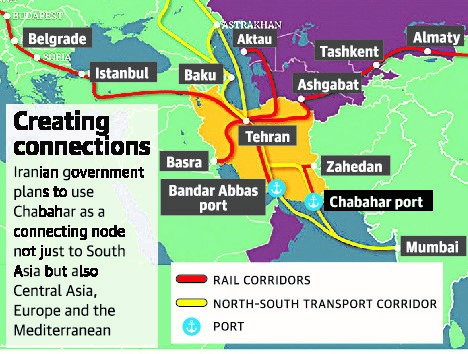 Iran's Chabahar port is located on the Gulf of Oman and is the only oceanic port of the country. The port gives access to the energy-rich Persian Gulf nations' southern coast.
The first and foremost significance of the Chabahar port is the fact that India can bypass Pakistan in transporting goods to Afghanistan. Chabahar port will boost India's access to Iran, the key gateway to the International North-South Transport Corridor that has sea, rail and road routes between India, Russia, Iran, Europe and Central Asia.
Chabahar port will be beneficial to India in countering Chinese presence in the Arabian Sea which China is trying to ensure by helping Pakistan develop the Gwadar port. Gwadar port is less than 400 km from Chabahar by road and 100 km by sea.
With Chabahar port being developed and operated by India, Iran also becomes a military ally to India. Chabahar could be used in case China decides to flex its navy muscles by stationing ships in Gwadar port to reckon its upper hand in the Indian Ocean, Persian Gulf and Middle East.
With Chabahar port becoming functional, there will be a significant boost in the import of iron ore, sugar and rice to India. The import cost of oil to India will also see a considerable decline. India has already increased its crude purchase from Iran since the West imposed ban on Iran was lifted.
Chabahar port will ensure in the establishment of a politically sustainable connectivity between India and Afghanistan. This will in turn, lead to better economic ties between the two countries.
From a diplomatic perspective, Chabahar port could be used as a point from where humanitarian operations could be coordinated.
2. India, Pakistan to fight it out in UN court in espionage case
Context
India will ask the UN's top court to order Pakistan to take an alleged Indian spy off the death row in a case that could stoke fresh tensions after a deadly terror attack in Jammu and Kashmir.
Kulbhushan Jadhav was arrested in the restive southwestern Pakistani province of Baluchistan in March, 2016, on the charge of espionage and sentenced to death by a military court. The International Court of Justice ordered Pakistan in 2017 to stay the execution, pending hearings on the broader Indian case that take place this week in The Hague.
Background
While the Pakistani side has repeatedly alleged that Jadhav is a Research and Analysis Wing "spy" in Pakistan's restive Balochistan province, India had categorically denied Islamabad's charges.
Though India has conceded right from the start that Jadhav was indeed an Indian national and a retired naval officer, the Indian side claims that Jadhav ran a legitimate business from Iran, and might have inadvertently crossed over to Paksitan.
Another curious aspect of the case has been an alleged confessional video by Jadhav, widely circulated in the Pakistani media, wherein he had confessed to his sabotage activities and detailed his networks with Indian spy agency RAW.
However, India has rejected the validity of the video and claimed that it was tutored or recorded under immense mental and physical pressure.
Pakistan Army chief had said, "His goal was to disrupt development of the CPEC, with Gwadar port as a special target."
The Indian government has, although categorically denied these allegations, it has said it was not in a position to clarify the circumstances in which Jadhav reached Pakistan as despite repeated attempts Pakistan had denied India consular access.
India had also requested for Jadhav's extradition but in March 2017, Pakistan told it won't extradite Jadhav.
International Court of Justice
The International Court of Justice (ICJ) was established in 1945 after half a century of international conflict in the form of two World Wars.
The ICJ functions with its seat at The Hague, Netherlands.
It has the jurisdiction to settle disputes between countries and examine cases pertaining to violation of human rights.
It adjudicates cases according to the tenets of international law and is the judicial arm of the United Nations.
ICJ is not to be confused with ICC (International Criminal Court) which is a permanent tribunal created to prosecute individuals for genocide, crimes against humanity, war crimes and the crime of aggression.
While ICJ is the primary judicial organ of the UN, the ICC is legally and functionally independent from the United Nations.
GS3 Related
1. The last of the elusive pangolins
Context
Obsession for its supposedly medicinal scales in China is believed to have made the ant-eating Chinese Pangolin, one of two species found in South Asia, extinct in India.
The pangolin is the most trafficked mammal in the world. Though hunted for its meat across the northeastern States and in central India, the demand for its scales in China has made it the most critically endangered animal in less than a decade.
Between November 2018 and January 2019, at least five cases of pangolin smuggling were reported from West Bengal and Assam, indicating that illegal trade of the most-smuggled mammal is still going on in the country.
Pangolin
The pangolin, which can be found all over India, seems doomed because of its scales, which are said to have medicinal value and are more expensive than gold, are sheared ruthlessly.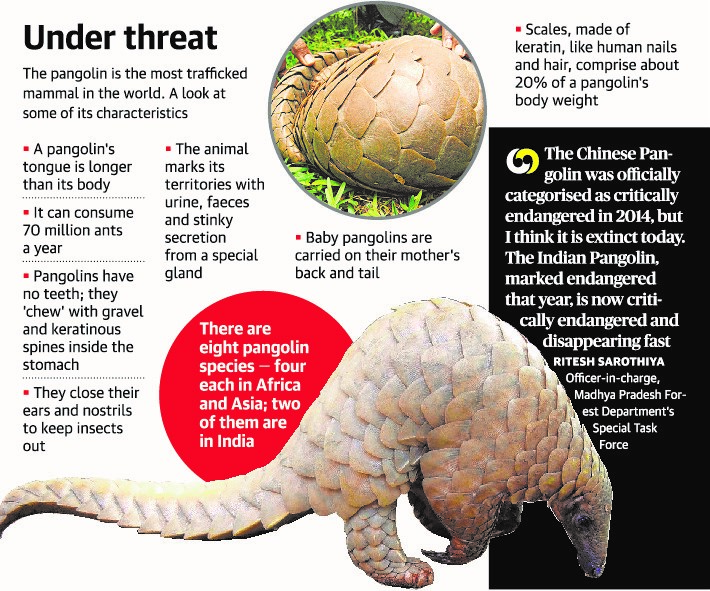 D. GS4 Related
 Nothing here today!!!
E. Editorials
1. Farm sop will be hard to implement? (Pradhan Mantri Kisan Samman Nidhi scheme)
Editorial Analysis:
What does the scheme offer?
The Pradhan Mantri Kisan Samman Nidhi scheme, announced in the Budget earlier in the month of February, 2019 aims to give Rs. 6,000 a year to 12 crore farmer families who own up to two hectares of cultivable land.
What are the challenges?
The number of beneficiaries comes from the number of land holdings of two hectares or less, according to the last agricultural land census.
However, the guidelines say a single family may hold multiple land parcels, which will be pooled to determine their eligibility for the benefit. Similarly, even landholdings bigger than two hectares, if owned by multiple families, will make them eligible for the scheme.
For example, if five brothers jointly own a single 10 hectare holding, each of them will be eligible for the scheme.
However, if the members of a single family unit each own three one-hectare holdings, they will not be eligible.
As a matter of fact, some experts have opined that it will be difficult to use existing land records to determine beneficiaries.
Experts ask an important question: "How do you know which family holds how much land?"
For the purposes of this scheme, family units are being defined as a husband, wife and minor children. Local administrations are more familiar with the unit of the household — which is used by most other government surveys and schemes — defined as a group living together and eating meals from a common kitchen.
What is the status of land records?
States have been implementing the Digital India Land Records Modernisation Programme for more than a decade.
It is important to note that while several States claim to have completed computerisation of their land records, others have not even begun the process.
However, digitisation does not mean the data have been updated.
Experts say many land records are updated only when the land is sold and only if the transaction is legally registered.
Inherited land may still be registered in a parent or grandparent's name.
Multiple government departments hold the documents required to establish land ownership — the Registration Department maintains sale deeds, but maps are kept by the Survey Department, while the Revenue Department keeps property tax receipts.
It is important to note that verifying ownership claims is thus a daunting task.
States have been asked to overhaul their land databases immediately in preparation for the scheme, which aims to pay out its first instalment of Rs. 2,000 by March 31, 2019 before the Lok Sabha elections.
What happened in Telangana?
The example of Telangana shows this may be an unrealistic time line.
Despite an advanced state of progress in digitisation, the State of Telangana took over three months to update its databases before implementing its own farmer income support scheme before its Assembly election last year (2018).
Since its payout was given per acre owned, rather than per family unit, it was a simpler process to identify beneficiaries on the basis of land records.
Yet, researchers say almost 10 lakh beneficiaries — of a total 54 lakh — were left out of the initial instalment, as the State scrambled to update records.
What about community farmers?
The scheme notes that land ownership rights are community-based in many northeastern States and promises that an alternative method of beneficiary identification will be developed.
However, many Adivasi communities in other States also cultivate land without individual rights, and may be left out of the scheme, although they are among the most vulnerable.
Further, tenant farmers are also not included in the scheme, as they do not own the land they cultivate.
It is important to note that with tenancy being as high as 60% in some areas, this could lead to resentment if absentee landlords receive benefits under the scheme.
Is payment infrastructure in place?
The government intends to pay beneficiaries through a direct transfer to their bank accounts.
From the second instalment, Aadhaar numbers will be compulsory to access benefits.
Previous welfare schemes requiring Aadhaar verification have faced significant hurdles in some rural areas
Category: ENVIRONMENT AND ECOLOGY
1. In Maharashtra, protecting a sanctuary (Thane Creek Flamingo Sanctuary (TCFS))
Editorial Analysis:
Why in the news?
An environment clearance to the Mumbai-Ahmedabad high-speed train corridor has put the spotlight on the Thane Creek Flamingo Sanctuary (TCFS) in Mumbai.
What happened?
A committee, chaired by Union Environment Minister Harsh Vardhan, has accorded wildlife clearance to the project which will encroach upon the TCFS and the Sanjay Gandhi National Park in Mumbai.
It is important to note that the Sanjay Gandhi National Park, is home to leopards, in Mumbai.
The proposal involves diverting 3.2 hectares of forestland from the TCFS and 97.5 hectares of land close to the boundary of the forest's protected area.
The high-speed train corridor or 'bullet train project' was inaugurated by Prime Minister Narendra Modi and his Japanese counterpart Shinzo Abe in Ahmedabad in September, 2017.
It is expected to be ready by 2022.
Environmental Concerns Raised around the Project:
Ever since the project was conceived, there have been concerns about the impact of the construction, which will create enormous debris, on the sanctuary and the national park.
The drilling of underground tunnels will lead to sound pollution which will disturb the tranquillity of the sanctuary.
The project will entail cutting down several mangrove trees, a natural flood barrier. In the aftermath of the 2005 floods, environmentalists spoke out against the declining mangrove cover for land reclamation projects.
A Closer Look at the Thane Creek Flamingo Sanctuary (TCFS)
The TCFS consists of 896 hectares of mangrove forests and 794 hectares of waterbodies.
It is on the western bank of the creek, between the Airoli and the Vashi bridges connecting Mumbai and Navi Mumbai.
It came into being in August 2015 and is Maharashtra's second marine sanctuary, after Malvan.
The TCFS has been attracting flamingos in large numbers since 1994.
By November every year, over 30,000 flamingos, along with their chicks, occupy the mudflats and the bordering mangroves.
They stay till the month of May each year, after which most of them migrate to Bhuj in Gujarat for breeding, leaving a small resident population.
Besides supporting a large congregation of flamingos, the area is a refuge for many resident and migratory birds.
In all, 200 species have been reported, even globally threatened species such as the greater spotted eagle and others such as osprey.
Other birds found here are the Pied avocet, western reef heron, black-headed ibis, common redshank, marsh sandpiper, common greenshank, curlew sandpiper, brown-headed gull, whiskered, gull-billed, Caspian and little terns.
The white-bellied sea eagle and Eurasian marsh harrier have been spotted too.
Are there any remedial measures?
While according permission, the National Board for Wildlife has laid several conditions.
The project developers should provide an alternate site and funds for penal plantation of at least five times the number of mangrove plants anticipated to be lost.
Because the project also encroaches upon the Sanjay Gandhi National Park in Borivili, developers have to construct under-passes to enable smooth movement of wild animals.
An existing quarry would have to be closed and a natural stormwater drainage stream, passing through the culvert system, would have to be restored and kept free of any obstruction.
Are these steps adequate?
In general, experts point out that any foray into wildlife sanctuaries is pernicious.
The project plan of the corridor involves drilling a 7-km-long undersea tunnel to avoid damaging the forest and several of the mitigating measures could go a long way to encourage flamingos and other birds to continue visiting the sanctuary.
However, environmentalists say they aren't confident that mitigation work will be taken seriously.
In conclusion, the ongoing Mumbai Metro Project has adversely impacted the Aarey Forest and destroyed mangroves and wetlands in Uran and the Sion-Panvel Highway, according to ecologists.
1. In the Chishti shrine in Ajmer
Editorial Analysis:
Moinuddin Hasan Chishti was born in Sijistan (modern-day Sistan) in Iran in 1141-42 CE.
After receiving Khilafat at the age of 52 from Sheikh Usman Harawani, he went on Hajj to Mecca and Medina.
While he was praying in the Prophet's mosque in Medina, the Khwaja is said to have heard the Prophet telling him to go to Hindustan and to the city of Ajmer.
At that time, he had no idea where Ajmer was.
However, he proceeded via Baghdad and Herat to Lahore and thene to Delhi and Ajmer.
Muizuddin Muhammad bin Sam of Ghor had already defeated Prithviraj Chauhan and established his rule in Delhi.
Khwaja Moinuddin Chishti started living and preaching in Ajmer.
His instructive discourses, full of spiritual insights, soon drew the local populace as well as kings and nobles and peasants and the poor from far and wide.
The shrine has been visited by Muhammad bin Tughlaq, Sher Shah Suri, Akbar, Jahangir, Shah Jahan, Dara Shukoh, Jahanara Begum and Aurangzeb, among many others. Even today, filmstars and heads of states, both the rich and the poor make a pilgrimage to the shrine.
Construction and additions
According to Carl W. Ernst and Bruce B. Lawrence, the original dargah was made of wood.
A stone canopy was built over it later. When Mahmud Khilji, the Sultan of Malwa, conquered Ajmer in 1455, no concrete structure had been built over the grave of Khwaja Moinuddin Chishti.
The first concrete evidence we get of construction in the dargah complex is the cupola of the shrine that was embellished in 1532, as indicated in an inscription written in golden letters in the northern wall of the tomb.
This is the beautiful dome we see today.
In keeping with Indo-Islamic architecture, a lotus adorns the dome and a golden crown offered by Nawab Haider Ali Khan of Rampur sits on top of it.
It is important to note that most of the additions made to the shrine were done during the reign of Akbar, by the emperor himself.
Akbar first visited the shrine in 1562 after he heard wandering minstrels singing the praise of Khwaja Moinuddin Chishti as he was returning from a hunt. He decided to proceed to Ajmer immediately. Thus began his annual pilgrimage.
In 1568, Akbar offered a degh, or brass cauldron, for cooking of langar. This was ensconced at the entrance. Another cauldron was offered by Jahangir in 1614. It is placed opposite the first cauldron. Both cauldrons are in use today. Devotees offer sacks of rice and wheat for the gruel that is cooked here. Only vegetarian food is cooked in this dargah.
Akbar gave instructions to build mosques and khanqahs in Ajmer in 1569.
The Akbari mosque of red sandstone is probably a result of those orders. An elegant mosque was also built by Shah Jahan in 1637 and is to the west of the shrine, along with the Shah Jahani Darwaza.
It is also important to note that this is one dargah where women are allowed.
F. Tidbits
1. Britannia to help women start businesses
Context
Britannia Industries Ltd. (BIL) is currently sifting the million-plus applications that it received from unemployed homemakers who responded to an initiative launched by the company to make them entrepreneurs.
Details of the initiative
BIL realised that it could play a role in inspiring and supporting these women to chase their dreams and become a change-catalyst.
To that end, it rolled out the Britannia Marie Gold Indian Women Entrepreneurship Survey Report 2018. Conducted by Nielsen, this study revealed that homemakers had the aspirations of embarking on a entrepreneurship journey and finding financial independence.
Results that came in last month showed 48% of the respondents had harboured dreams of launching a business and gaining financial independence, in their youth.
Armed with these findings, BIL launched an initiative to help register their keenness to set up a business. This drew over a million responses.
BIL will shortlist 50 women from whom 10 would be selected for getting ₹10 lakh each to launch their businesses
2. Gujjars call off protest for quota
Context
Gujjars occupying the rail track and highways in Rajasthan with the demand for 5% reservation in government jobs and educational institutions called off their agitation after the State government gave a written assurance that it would take legal steps to safeguard the quota provided to them in a Bill passed by the Assembly recently.
Rajasthan Backward Classes Amendment Bill, 2019
The Rajasthan government has passed the Rajasthan Backward Classes (Reservation of Seats in Educational Institutes in the State and of Appointments and Posts in Services under the State) Amendment Bill, 2019. The bill comes in the backdrop of two similar bills passed in 2015 and 2017 which were struck down by the Rajasthan High Court.
The bill seeks to provide 5% reservation to Gujjars, Banjaras, Gadia Lohars, Raikas and Gadaria. At present, the communities are provided 1% reservation under More Backward Classes (MBC).
The bill has increased the OBC reservation in Rajasthan from the present 21% to 26%. It has also increased the income limit for defining creamy layer in OBC from Rs. 2.5 lakh to Rs. 8 lakh/annum.
The Rajasthan government has also passed a resolution requesting the Centre to include the bill in Schedule IX of the Indian Constitution. This is because Rajasthan has breached the 50% cap on reservations set by the Supreme Court.
A law enacted and included in the Ninth Schedule gets protection under Article 31-B (validation of certain Acts and Regulations) and is not subject to judicial review. However, in 2007, the Supreme Court ruled that all laws including those in the Ninth Schedule would be open to judicial review if they violated the basic structure of the constitution.
G. Prelims Facts
1. Decoding how leptospirosis bacteria interact with human proteins
Context
By studying proteins from leptospirosis-causing bacteria and the human body, researchers have identified the key pathogen-host protein interactions that are responsible for the development of the disease.
Leptospirosis
Leptospirosis is one of the emerging zoonotic diseases and causes almost 60,000 deaths every year as there is currently no preventive vaccine for humans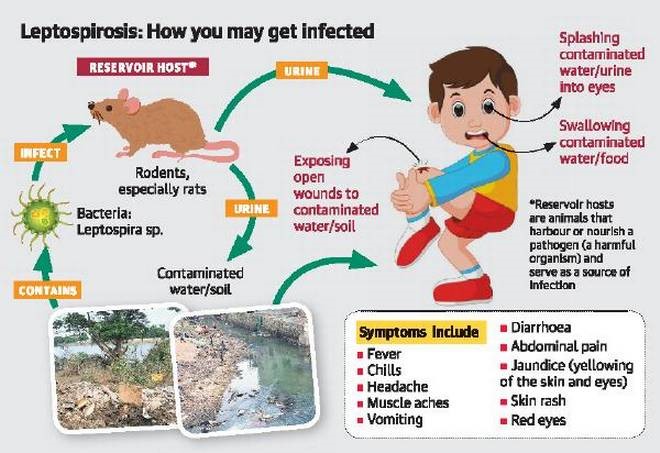 It is a zoonotic disease i.e spread from animals to humans, caused by bacteria of the genus Leptospira.
It is commonly known a rat fever and it affects both humans as well as other animals.
The infection is generally transmitted to humans by water that has been contaminated by animal urine which comes in contact with unhealed breaks in the skin, the eyes, or with the mucous membranes.
Leptospira interrogans spreads under conditions of stagnant water, flood water, humidity, and proximity between man and beast.
In most of the cases, leptospirosis only causes mild flu-like symptoms, such as headache, chills and muscle pain
However, in some cases the infection is more severe and can cause life-threatening problems, including organ failure and internal bleeding.
Severe form of leptospirosis is known as Weil's disease.
2. Great Indian hornbills can adapt to modified habitat: study
Context
Amid a changing environment, with natural homes of birds getting depleted as natural forests make way for plantations and other such modified terrain, comes the good news of how the great Indian hornbill (Buceros bicornis) adapts to such change.
A group of researchers from NCBS-TIFR in Bengaluru and Nature Conservation Foundation in Mysuru observed eight hornbill nests, three located in contiguous forests and five located in modified habitats such as coffee plantations. They found that the birds followed similar nesting behaviour but adapted to the changed environment. The study is published in the journal Ornithological Science.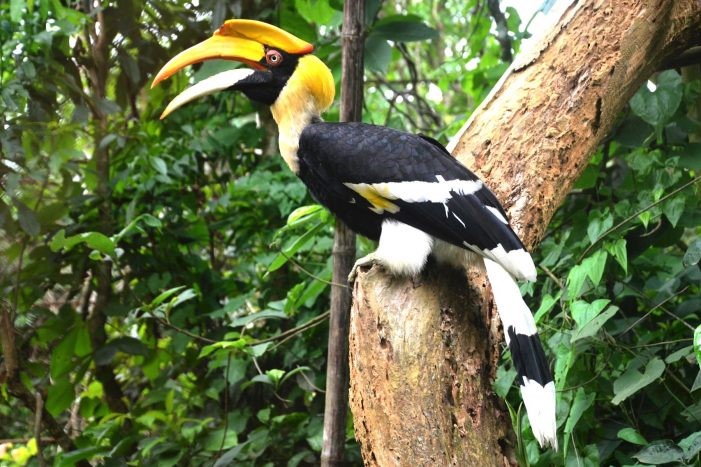 About Great Indian Hornbill
The great hornbill (Buceros bicornis) also known as the great Indian hornbill or great pied hornbill, is one of the larger members of the hornbill family.
The great hornbill is long-lived, living for nearly 50 years in captivity.
It is predominantly fruit eating, but is an opportunist and preys on small mammals, reptiles and birds.
Its impressive size and colour have made it important in many tribal cultures and rituals.
IUCN status: Vulnerable (uplisted from Near Threatened in 2018).
It is also listed in Appendix I of CITES.
   Nothing here today!!!
H. UPSC Prelims Practice Questions
Question 1.Which of the following statements is/ are correct?

Totipotency is the ability of a living cell to express all of its genes to regenerate a whole new individual cell.
Totipotent cells can only be derived from animals.
Select the correct answer using the codes given below:
Only 1
Only 2
Both 1 and 2
None of the above
See
Question 2. Consider the following statements:
Mitochondria are found in Red Blood Cells, but not White Blood Cells
The mitochondria and the DNA inside it are passed from one generation to the next through the mother's egg cells.
Which of the above statement(s) is/are correct?
Only 1
Only 2
Both 1 and 2
None of the above
See
Question 3. Consider the following statements regarding pH Scale
The pH scale is a measure of how acidic or basic (alkaline) a solution is
It ranges from 0 to 14. A pH of 7 is neutral.
A pH less than 7 is basic, and a pH greater than 7 is acidic.
pH values increases as hydrogen ion levels decreases.
Select the correct answer using the code given below:
Only 1 and 2
Only 1, 2 and 3
Only 1, 3 and 4
All of the above
See
I. UPSC Mains practice Questions
India has recently revoked the Most Favoured Nation (MFN) status of Pakistan (bestowed in 1996) and warned of more measures in response to its support for terrorist groups targeting India. In this context, write a note on the role of MFN status in the international trade. (12.5 Marks; 200 words)
Recently the National Aeronautics and Space Administration (NASA) announced that its Mars Mission, Opportunity Mars Rover has come to an end. In this context discuss the various mars exploration missions by the different countries. (12.5 Marks; 200 words)
See previous CNA