History is undoubtedly one of the most popular optional among those who take the Civil Services Main Examination. Selecting a good optional subject is a vital decision and it plays a compelling role in a candidate's overall score. 
Many aspirants opt for History as an optional for IAS exam as it is easy to start with and happens to be one of the subjects that are least dependent on coaching. Approaching history as an optional requires a very technical and an objective approach. However, one should opt for history as an optional only when that aspirant is highly passionate about the subject, deeply interested in it and has the zeal to go deeper. It has a synergy with General studies where for instance, an aspirant can cover up to 90 marks questions of modern India by covering optional history. It has its benefit in the essay paper as well. Mostly it has been noted that at least one socio-cultural issue comes as an essay topic. Hence having a historic vision gives depth to the arguments.
Many of us would have had a strong dislike for History in general from elementary days as we believe this subject needs a lot of cramming. Similarly, there are many perceptions about this optional among aspirants like this subject is full of crude facts, dates and years, tales and stories, lengthy syllabus, difficult to score etc. Let's have a look at a few logical facts about this optional:
It is a given that there are factual details in all subjects and one cannot do away with facts in any of the subjects. A large number of facts need to be registered for the Preliminary Examination in almost all sections like Geography, History, Science & Technology, and Indian Economy etc. Mains Examination on the other hand, requires facts and information without which the answer seems like a story and very generalized.
Preparation for History optional doesn't demand cramming of crude facts. One needs to analyze the nature of questions asked and include relevant facts accordingly. The essence of writing a good answer in Mains lies in having good conceptual clarity, developmental clarity and analytical capability.
The syllabus of almost every other optional subject included by UPSC is equally vast and comprehensive. It is a known that UPSC does not discriminate among subjects. A standard has been determined by the commission for every subject and has incorporated all important topics into the syllabus. Any popular optional subject like History, Geography, Public Administration, Sociology etc. selected by the candidates have a comprehensive and well defined syllabus.
When it comes to marks being awarded, the UPSC examiner does not discriminate among subjects while giving marks. A subject doesn't determine that an aspirant can fetch good marks or not, it solely depends upon one's performance. An aspirant who is well prepared can score well in any subject given. The only rational criteria for the subjects being more or less scoring is the stream they are associated with. Science associated subjects may be more scoring than the humanities related because of greater objectivity.
History optional is as scoring as any other optional subject under humanities. The trend over the past few years indicate that 1-2 candidates having history as their optional come among the top ten and about 200 odd selections every year from this optional.
Positive aspects of History Optional
A major positive aspect of this optional is marked by the absence of technicalities in this subject. The subject is plain and involves no typical theories, principles and doctrines.
The concept of full-fledged theories we find in other streams of humanities like Sociology, Psychology, Geography, Public Administration etc. are noticeably absent in history as it has very few concrete theories.
A candidate needs to invest a considerable amount of time in current affairs preparation in almost all popular optional subjects like Geography, Public Administration, Political Science, Sociology etc. While preparing for an exam, updating of content to suit the dynamic requirement of the syllabus is the toughest part. Preparation for History optional doesn't require updating as most part of the syllabus is static in nature.
History is an optional where developmental inter-connections and linkages are dominant. The outcome of this is that if a candidate finishes a topic, several other topics get automatically completed.
Though optional subjects like Political Science, Pub Ad, Geography, Sociology and including History have their bits in GS Papers, yet History optional subject is the only subject whose almost 90% content are now there in GS (Main + Prelim). So logic is that even if one doesn't have History optional, about 90% of History optional subject one has to study. If a little bit of more preparation is done (beyond 90%) it becomes absolutely the preparation of History optional subject. Marks wise, In Preliminary Examination there are about 15 to 18 questions constituting 30 to 36 marks (in 200 in GS Paper-I (Prelim) and in the Main examination in GS-I (Paper-II Main) History is expected to constitute over 50% marks (that is 125 + marks).
As mentioned above, almost the entire syllabus of History is a part of GS. Let's see the below comparison for a better understanding: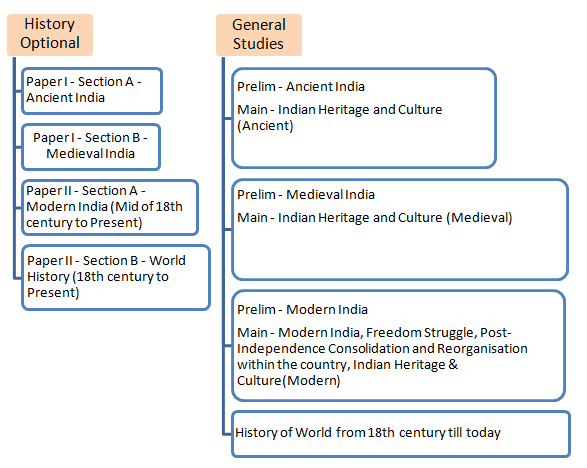 Reference Books for History Optional:
A History of ancient and early medieval India – Upinder Singh
Modern India – Bipin Chandra
Comprehensive History of Medieval India – Salma Ahmed Farooqui
Modern India – From Plassey to partition – Shekhar Bandopadhya
World History – Modern Europe and the world – L Mukherjee (Norman Lowe for topics not covered in L Mukherjee)
For Map Practice, Spectrum's Historical Atlas. According to the time scale it is advised to divide the location (prehistoric/historic) and then map them in practice maps state-vise.
Supplementary Sources:
Mastering Modern World History by Norman Lowe
Spectrum Culture Book
India After Gandhi by Ramchandra Guha
Spectrum Modern India History
Also Read: