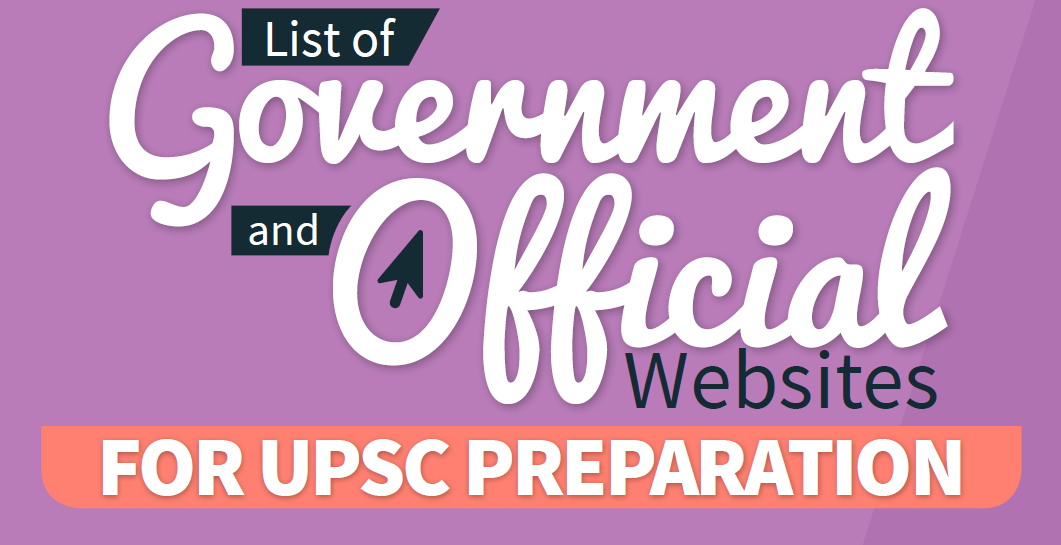 Internet has now become a part of our lives. Even for UPSC aspirants, the internet is one of the most important sources to collect information. With the change in trend for the preparation of UPSC Exam, you will find a lot of UPSC Online Sources that provide information for IAS Exam preparation but all you need to know is which to choose. One thing should be kept in mind that one has to do a qualitative study rather than just quantitative study. So, reading from too many sources will create confusion and hence to avoid this, here we bring a list of UPSC Online sources which IAS aspirants can refer to enhance their preparation.
Union Public Service Commission (UPSC) is a statutory body that conducts the Civil Services Exam to recruit candidates for various posts.
www.upsc.gov.in

This is the official website of Union Public Services Commission (UPSC) where candidates applying for Civil Services Exam, NDA, CDS and other competitive exams can find all the details and information like:

Notifications

Exam Schedule

Syllabus

Download e-admit card

Previous Question Papers

Recruitment Details

Cut-off marks

Answer Key and much more.
Find below the list of some of the useful websites as UPSC Online Sources for Civil Services Exam (IAS, IPS, IFS, IRS and Others) Preparation (Prelims and Mains) that are categorized into GS Paper I, II, III, and IV:
UPSC Online Sources for General Studies Paper I
For Art and Culture; and History and Geography
www.ncert.nic.in

NCERT  is the most important and basic resource for any competitive exam be it UPSC Exam or CDS, or NDA.

From this website, candidates can download all the NCERT books that are required for Civil SErvices IAS, IFS, IPS, IRS and others.

  www.nios.ac.in

NIOS (National Institute of Open Schooling) is important in civil services exam point of view as it helps to gain a complete idea about the various issues and concepts that form the base of the several regulations.

    http://ccrtindia.gov.in/

Centre for Cultural Resources and Training (CCRT) is a website that covers about culture.

CCRT website helpful in preparing art & culture for UPSC exam especially architecture.  The website has a collection of India's rich natural and cultural heritage, information on Indian art and culture, Music, Dance, Drama and etc.
UPSC Online Sources for General Studies Paper II
For Constitution, Polity
http://indiacode.nic.in/ coiweb/welcome.html

The India Code Information System contains all Central Acts of Parliament right from 1836 onwards. Each Act includes: Short Title, Enactment Date,  Sections, Schedule and also very significant Foot-Notes in every act, which is important in the Indian Polity preparation of UPSC Exam.

http://parliamentofindia.nic.in/

Composed of the Rajya Sabha (Council of States) and the Lok Sabha (House of the People). Here candidates preparing for IAS Exam can find information like Some Facts of Constituent Assembly; Rules of Procedure and Conduct of Business; Constituent Assembly DEBATES; Parliamentary Committees and much more.

http://wcd.nic.in/           

                                    

http://www.mohfw.nic.in/

http://mhrd.gov.in/      

 

http://rural.nic.in/netrural/rural/index.aspx                                    

http://socialjustice.nic.in/            

 

https://india.gov.in/my-government/schemes                  

Government policies, Welfare schemes for vulnerable sections, Social Sector Services relating to Health, Education, Human Resources

http://darpg.gov.in/

Governance, Transparency and Accountability, e-governance, Citizens charters

http://mea.gov.in/                                   

http://www.mea.gov.in/overseas-indian-affairs.htm

http://www.idsa.in/

India's Foreign Policy, Indian Diaspora Important International institutions, agencies and fora- their structure, mandate
UPSC Online Sources for General Studies Paper III
http://niti.gov.in/

Indian Economy, Planning, mobilization of resources

http://indiabudget.nic.in/

Government Budgeting, Economic Survey

http://agricoop.nic.in/SchemesGuidelines.aspx

Marketing of agricultural produce, e-technology in the aid of farmers

http://dfpd.nic.in/

http://www.dahd.nic.in/

Farm subsidies and minimum support prices; Public Distribution System, Buffer stock & Food Security, economics

http://mofpi.nic.in/

Food processing and related industries

http://dolr.nic.in/index.asp

Land reforms in India

http://www.isro.gov.in/

http://dipp.nic.in/English/Schemes/intellectual

_property_rights.aspx

Space Technology, Issues relating to intellectual property rights

http://envfor.nic.in/

http://cpcb.nic.in/

Conservation, environmental pollution and Degradation, environmental impact assessment
UPSC Online Sources for General Studies Paper IV
http://arc.gov.in/

Ethics in Public Administration

http://darpg.gov.in/

http://rti.gov.in/

Probity in Governance, Information sharing

and transparency in government, Right

to Information, Codes of Ethics, Codes of

Conduct, Citizen's Charters
Other Miscellaneous Official UPSC Online Sources for Civil Services Exam Preparation
| | |
| --- | --- |
| http://www.prsindia.org/ | PRS Legislative Research |
| http://pib.nic.in | Press Information Bureau |
| http://www.yojana.gov.in/ | Yojana |
| egyankosh.ac.in | IGNOU Books |
| https://www.youtube.com/user/rajyasabhatv | Rajya Sabha TV (The Big Picture and India's World) |
Of Course, there are a lot more websites that can help you with your preparation but these are the major online sources that would enrich your IAS Preparation. If you find any other important websites for UPSC Online reference and want to add to the list, please leave your suggestions in the below comment section.
All the best!
Also read-
4 Last minute tips for UPSC IAS aspirants