Water crisis is a reality that many in our country face on a day-to-day basis. Water is one of the fundamental needs of man and it is striking that people even today face water shortage and lack of potable water. This is an important topic for the UPSC exam. It can be covered under various subjects including social issues, science and technology, polity and governance, human rights, etc. for the IAS exam.
'Andhra Pradesh High Court, 2002: Drinking water is a fundamental right under article 21'
The above judgement of the High Court once again highlights the importance of water that has been considered the most valuable resource since civilization evolved. It was as true then as it is now. The above judgement also presents a very disturbing fact. Why did the Court have to stress on such a basic aspect which is omnipresent in our daily lives? This points out to the fact that we have shifted our priorities from utilization of water for our basic needs to depletion of the resource for our selfish needs.  
Why in news?
We all would be aware about the distress of thousands of our fellow citizens in many parts of the country due to the massive drought that the country is facing. It got more coverage due to the judgement of the High Court of Maharashtra:   'No IPL in Maharashtra due to drought and shortage of water' There can be a debate altogether on this ban, but without getting into much details, let us touch upon the validity and the need for such a ban.
Many argue that it is only a symbol, but then, symbolisms sometimes help in a crisis situation like this.
It is also a lot about psychology, wherein the agony of the affected and the deprived increases seeing the pomp and show and the extravaganza being showcased at such occasions, being both extremities happening in the same region
This ban has been used as a tool to raise awareness
Commercial use of water comes at a lower priority than the use of water for drinking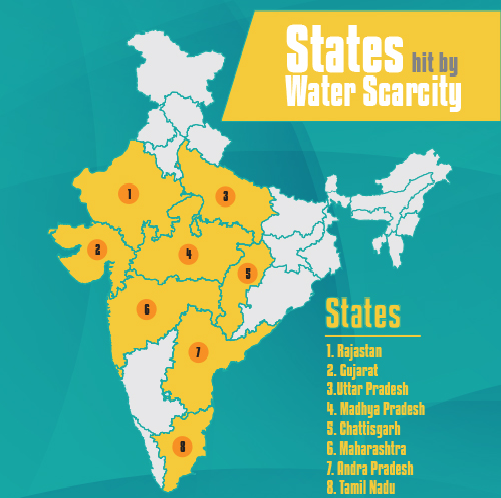 Reasons for the Crisis
Let us study some of the reasons that have led to this crisis situation:
Rainfall deficit
Policy failures with respect to water resources prioritization
Water resources mismanagement
Inadequate and improper water management techniques
Increase in the per capita water demand
Apart from the reasons cited above, it is also due to the failure on the part of governance and policymaking from decades and the apathy of the Indian state to the suffering of the poor. Let us take some examples to understand:
Growing of crops like mentha in the Bundelkhand region; this crop requires a lot of water and to make matters worse, this region is prone to droughts
Depletion of water levels in Punjab due to the growing of paddy
Production of sugarcane in Maharashtra uses maximum water for irrigation purposes
  Steps to be taken/ Probable solutions:
Change in cropping pattern
For example:
Production of oilseeds to be promoted instead of sugarcane in Maharashtra
Conservation of groundwater. An interesting fact is that India is often called 'Groundwater civilisation'
For example:
Rice intensification method can decrease the requirement of water for paddy cultivation; this can reduce the exhaustion of groundwater in Punjab
Change in consumption of energy from thermal to renewable sources
Combining the several ministries that deal with various aspects of the same resource into one for sustainable development and efficient management and conservation
Acquifiers should be mapped as they are at the core of conservation of water. Ecology over economy should be the catch phrase for agricultural policy
Rational prioritization for the use of water must be there
Citizens to be made aware and given training and encouragement to practice watershed management, rainwater harvesting, agroforestry and contour bunding
The government needs to invest in de-silting and upgrading storage of water in canals and minor water bodies
Demand and supply side management should go in tandem to address the depleting groundwater levels
Apart from the above steps, it should also be ensured that the farmers affected from this massive drought should be looked after in terms of alternative employment. MNREGA (Mahatma Gandhi National Rural Employment Guarantee Act) can play a major role in this regard. The Supreme Court of India has also stated:
'NREGA funds to be released in time for the drought hit states'
However, it should be noted here that declaring drought is the responsibility of the state government, whereas release of funds is in the hands of the Central government. Hence it is imperative that there be a harmonious cooperation in action among both the governments.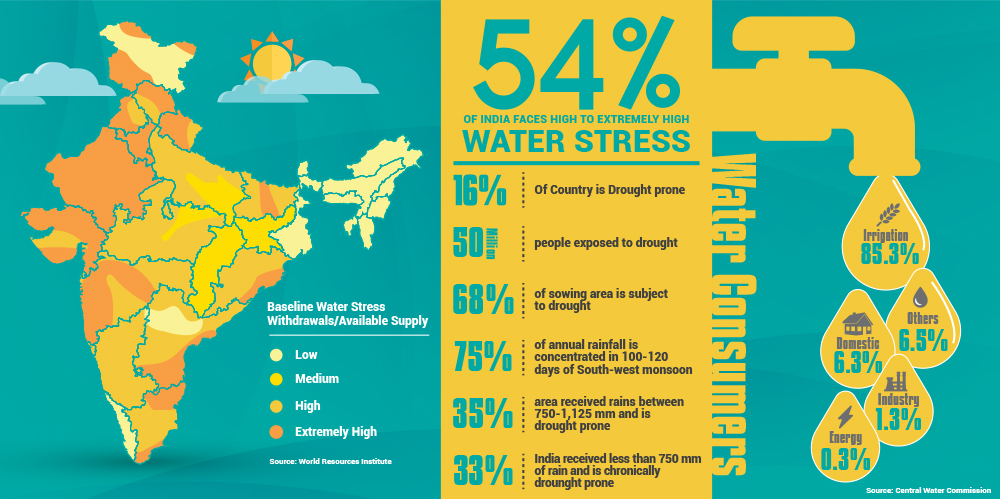 Government Measures
1.      National Rural Drinking Water Programme (NRDWP) It aims to:
Provide adequate water supply
Encourage sustainable use of water
Meet the basic quality standards
Make water readily available at all times
2.      ShikayatNirvan Kendra It is a good governance initiative in the form of a centralized web enabled redressal system. 3.      National Water Policy 2012 It aims at:
Using scientific inputs from research for agricultural strategies for management of soil, land, energy and water management
Improving the soil and water productivity along with managing droughts
4.      National Water Mission It aims at:
Conservation of water
Equitable distribution of water
5.      India Water Week
The 4th India Water Week was organised during the first week of April'16 to elicit ideas and opinions from global-level decision makers, politicians, researchers and entrepreneurs in the field of water resources for mutual benefit and goodwill
Theme: 'Water for all: Striving Together'
What the 12th Five Year Plan says
1.       Moving from a single source to multiple sources such as groundwater, rainwater harvesting and surface water 2.      Sustainability in drinking water and avoiding slip back 3.      Revival of traditional water bodies for water conservation 4.      Proper water demand and budgeting 5.      Convergence of all water conservation programmes at the village level 6.      Development of alternative sources for treating arsenic or fluoride contamination than high-cost treatment 7.      For nitrate contamination:
Treatment of catchment area through fencing
  Effective implementation of Total Sanitation Campaign
  Prevention of sewage seeping into underground water sources
  Ecological sanitation by reducing use of inorganic water sources
8.      Salinity Problem:
  Solar desalination
  Dilution through rainwater harvesting
9.      Jalmani guidelines: for implementation of standalone drinking water purifications systems in rural schools
Water in the Indian Constitution
Article 246: Laws to be made by the Parliament and the states
Article 262: Regarding disputes
7th Schedule: Regulation and development of inter-state rivers
  According to the Indian Meteorological Department
What is a Drought?
Drought is the consequence of a natural reduction in the amount of precipitation over an extended period of time, usually a season or more in length, often associated with other climatic factors (viz. high temperatures, high winds and low relative humidity) that can aggravate the severity of the drought event.  
Types of Drought
Meteorological Drought: seasonal rainfall received over the area is less than75% of its long term average value
Hydrological Drought: period during which the stream flows are inadequate to supply established use of water under a given water management system
Agricultural Drought: It occurs when available soil moisture is inadequate for healthy crop growth and cause extreme stress and wilting
Socio-Economic Drought: meteorological, hydrological and agricultural drought often lead to what is termed as 'Socio-economic drought'
  How to approach for the Civil Services exam General Studies 1: a. Society
– Mission Kakatiya (Telangana)– for restoration of irrigation tanks, – Village Mawlynnong in Maghalaya termed as Asia's cleanest village, – Bio-toilets by DRDO
Implication on Women especially lower income groups
Implication on the lower income groups as a whole
  b. Geography
Water as a resource
Drought, classification and declaration
General Studies 2: Policies of the government General Studies 3:
Agriculture
Unemployment
Integrated development
Disaster Management
Conservation of water for sustainable development
Also see: