ATTEND FREE WEBINAR
BYJU'S GMAT Learning Program
Serviced by CareerLabs®
Ever followed a mathematical approach to GMAT Verbal? Follow a 2 tier approach to your GMAT preparation. With BYJU'S begin your GMAT Prep with basics and practice, use real-time diagnostics to analyze which and what are your mistakes, and steer ahead to a high-level practice to score a 700+ on your GMAT Exam.
Key Features of BYJU'S GMAT Program
Serviced by CareerLabs®
Our GMAT promise – Prep with 99th percentile scorers
Phase 1 – GMAT Content
– Comprehensive 150 hours of GMAT Preparation
– 60 hours dedicated to GMAT Basics to revive your concepts
– 3500+ practice questions, basics to high-level
Phase 2 – GMAT Live online webinars
– 700+ level practice questions through 40 hours Live online webinars
– 20 sessions of 2 hours each repeated every month
– Classes by certified & trained mentors – Subject matter experts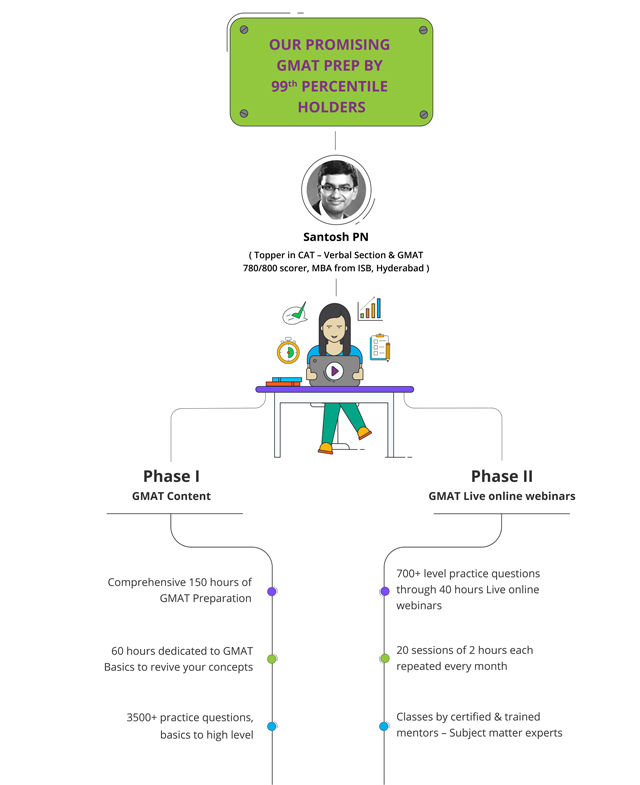 Why Choose BYJU'S GMAT
Why choose BYJU'S GMAT over many others?
– 99th percentile faculties – P.N.Santosh, GMAT 780 scorer, and ISB Alumni. Amith Ravindra, GMAT 760 scorer, and 99th percentile scorer in Quant.
– Flexibility – Prepare for your GMAT whenever and wherever you want.
– Diagnostics – Measure your accuracy, know where you made a mistake, why and how to avoid the mistake through our unique Diagnostic toolkit feature
– Unique Patented Techniques – Mathematical approach to RC, Reverse Engineering approach to SC, Un-layering technique to CR, and Translation technique to Math.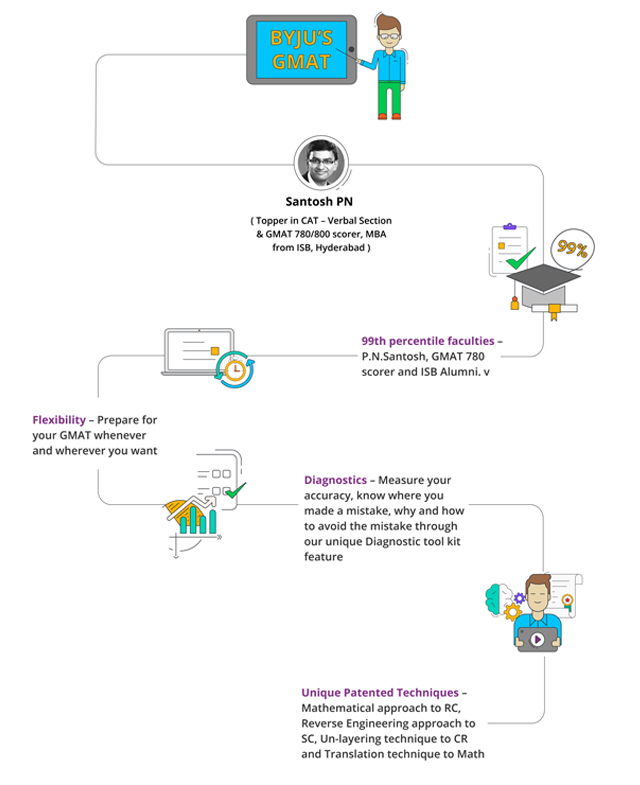 I made BYJU'S GMAT prep my study partner for cracking the GMAT. The course is designed after understanding the niche of the GMAT exam. The course is interesting and helpful for the aspirants.
BYJU'S GMAT preparation helped me in achieving a big GMAT score of 740. In context of the content, it is highly interest binding and relevant.
The moment I got enrolled with BYJU'S GMAT preparation, I found them beside me whenever I need their assistance for resolving study related queries. The verbal content is more competitive compared to others.
Generally, the webinars are conducted by BYJU'S GMAT preparation as a subsided to test preparation and are held late evening are really convenient for the working professionals like me. The content for the preparation is pragmatic and easy to understand, especially the verbal section is comprehend and enjoyable.
The verbal section is being taught by Mr. PN Santosh, the sessions are insightful, interesting, and enjoyable. acknowledged my special thanks and gratitude for his wonderful teaching sessions.
Harshil Parashar, 710 GMAT Scorer
Swapnil Kumar, 740 GMAT Scorer
Aditya, 760 GMAT Scorer
Rajesh Devaguptapu, 710 GMAT Scorer
Swati Pandey, 700 GMAT Scorer
What is GMAT?
GMAT stands for Graduate Management Admission Test. GMAT is one of the most reliable entrance tests for quality business programs offered by eminent B-Schools worldwide. This is a computer adaptive test which implies that it is responsible to assess one's Critical Thinking, Analytical Writing abilities, English Language skills, and Problem-Solving abilities through its Verbal Reasoning and Quantitative Aptitude sections. The GMAT score is used as a key prerequisite for seeking admission in graduate management and business programs like MBA or equivalent.
GMAT is the registered trademark of Graduate Management Admission Council (GMAC). The council is responsible to conduct the test for admission towards more than 5,900 programs offered by more than 2,100 colleges and institutions. The GMAT exam is managed in 112 nations around the world in standardized test facilities.
Common Facts About GMAT
In a calendar year, students can take the GMAT test five times with a 16-day gap from the previous attempt.
Candidates can attempt the GMAT exam up to eight times in total.
Surprisingly, GMAT does not have a set exam date. Applicants have the flexibility to choose the date from a list of available GMAT exam dates to appear for the exam.
About GMAT EXAM
GMAT is one of the most reputed entrance tests for obtaining admission in quality business programs offered by eminent B-Schools globally. The test is a computer adaptive assessment which evaluates an aspirant's problem-solving abilities, logical reasoning, reading and verbal reasoning skills, and analytical writing abilities in written English.
Graduate Management Admission Council (GMAC) is the administering body of the GMAT exam.
GMAT Exam Dates
so that they can prepare for the test accordingly. Applicants can refer the below schedule and register online for a scheduled test date at the official GMAT website as per their convenience:
| | |
| --- | --- |
| GMAT | Crucial Dates |
| GMAT Registration | Open throughout the year |
| Date of GMAT Examination | Candidates can choose the date during registration |
| GMAT Result Declaration | Within 20 calendar days from the test date |
GMAT Fees
GMAT Product or Service
Fees
GMAT Exam Fees
US $250
GMAT Rescheduling Fee
More than seven days before the appointment
US $60
Within seven days of appointment
US $250
GMAT Cancellation Fee
More than seven days before the appointment
US $80 Refund
Within seven days of appointment
No Refund
Additional GMAT Score Report
US $35 each
GMAT Score Reinstatement Fee
US $50
GMAT Score Cancellation Fee (canceled online after you leave the test center)
US $25
GMAT Enhanced Score Report
US $30
GMAT Registration
GMAT 2020 applications can be filled on the official website of GMAT. One can fill the application forms throughout the year. There are no specific dates for filling the forms. Hence, there is no hurry to meet any deadlines. The registration process can be done on the official website of the GMAT. You will have to follow the below steps for registration :
Open the official GMAT website, click Registration, and create your Account.
Sign in with the newly created credentials and fill in all your details namely: First Name, Last Name (As it appears on your ID proof), Date of birth, Address, Email ID etc.
Select at least THREE preferred GMAT Test Centres in close proximity to your home.
Next, you will need to select the exam dates from the list of available dates per your convenience.
Finally, you have to make the payment of US $250 through any of the following ways: Credit Cards, Debit Cards, Personal Cheques etc.
Recent Updates in GMAT
Since 2018, GMAT has introduced changes in the duration and the pattern of the exam. The duration of the GMAT exam is now 3 hours and 7 minutes long without optional breaks. Although we know that breaks are a great time to break-free, relax, and replenish your mind between the different sections of the test. You can utilize the 8-minute breaks, then your total test time might escalate to 3 hours and 23 minutes. The chart below shows the length of the GMAT exam with breaks after the different sections:
Section
Scheduled Time
Analytical Writing Assessment
30 minutes
Integrated Reasoning
30 minutes
Optional 8-minute break
Quantitative Aptitude
1 hour, 2 minutes
Optional 8-minute break
Verbal Ability
1 hour, 5 minutes
Total Time
3 hours, 23 minutes inclusive of 8-minute breaks
Although the sections of the exam Verbal Reasoning, Quantitative Aptitude, Integrated Reasoning, and Analytical Writing have remained the same. The number of questions and the time duration for both Quant and Verbal have changed as follows:
GMAT Quant section now has to be attempted in 62 minutes and has a total of 31 questions.
GMAT Verbal section needs to be attempted in 65 minutes and has 36 questions.
GMAT Eligibility Criteria
The GMAT exam has a few factors which have to be satisfied so that you are eligible to attempt the exam :
Age Criteria: The candidates who usually attempt the exam must be 18 years of age. However, individuals between the age group of 13-18 can also write the exam provided they submit a parental/guardian consent form which can be obtained from the official GMAT website.
Qualification Required: There are no such qualifications which are required for any candidate to appear for the GMAT. GMAT can be attempted up to a total number of 5 times in a calendar year, and 8 times in total. If you would like to improve your GMAT score from the previous attempt then you will have to wait for a period of 16 calendar days before you can re-attempt the exam.
GMAT 2020 Syllabus
If you are planning to take the GMAT exam in 2020, you need to kick-start your preparation as per the syllabus for GMAT soon. The syllabus is divided into four different sections:
Analytical Writing Assessment: This section particularly tests a candidate's analytical writing style through a comprehension passage or an essay.
Integrated Reasoning: This section evaluates a candidate's logical reasoning capability to solve complex problems on the basis of graphs, tables etc.
Quantitative Aptitude: This section involves quantitative aptitude like problem-solving and data sufficiency problems like Algebra, Arithmetic, Geometry, etc.
Verbal Ability: This section assesses a candidate's ability to read and evaluate arguments, and take corrective measures, and express ideas satisfactorily in standard written English.
Click here to download the GMAT syllabus in PDF format from the links given below:
Best GMAT Books 2020
We would recommend that you should consult a few references in the form of books or study materials while prepping up for the GMAT exam. To name a few, we have listed some of the best books for your ready reference:
| | |
| --- | --- |
| Name of the book | Name of the author |
| Complete GMAT Strategy Guide Set (Manhattan Prep GMAT Strategy Guides) | Manhattan Prep |
| GMAT Advanced Quant: 250+ Practice Problems & Bonus Online Resources (Manhattan Prep Strategy Guides) | Manhattan Prep |
| GMAT Complete 2019: The Ultimate in Comprehensive Self-Study for GMAT (Kaplan Test Prep) | Kaplan Test Prep |
GMAT Exam Pattern
As mentioned above, the pattern of the GMAT exam remains the same:
| | | | |
| --- | --- | --- | --- |
| Name of the Section | Time Limit | Number of questions | Score Range |
| Analytical Writing | 30 minutes | 01 (essay) | 0-6 |
| Integrated Reasoning | 30 minutes | 12 | 1-8 |
| Quantitative Reasoning | 62 minutes | 31 | 6-51 |
| Verbal Reasoning | 65 minutes | 36 | 6-51 |
GMAT Exam Centers in India
The GMAT Exam is offered on demand around the year at the following 34 cities in India through 39 Test Centres.
| | | | |
| --- | --- | --- | --- |
| Ahmedabad | Guwahati | Mysore | Ranchi |
| Bangalore | Hyderabad | Nagpur | Surat |
| Bhopal | Indore | New Delhi | Tiruchirappalli |
| Bhubaneswar | Jaipur | Noida | Trivandrum |
| Chennai | Kolkata | Patiala | Vellore |
| Cochin | Lucknow | Patna | Vijayawada |
| Coimbatore | Manipal | Pilani | Vishakhapatnam |
| Dehradun | Mohali | Pune | |
| Gurgaon | Mumbai | Raipur | |
GMAT Results
GMAT candidates can access their non-official score immediately once the exam is over. They have the option to either accept or reject the GMAT result. If a candidate accepts the result, then the institutes which he/she had selected earlier can view his/her result. On the contrary, if a candidate wishes to decline the result in that case, none of the parties will be able to see his/her GMAT results. Candidates usually have the option to download the non-official scorecard immediately after the exam. However, the official scorecard is available on the GMAT official website only after 20 working days from the test date.
GMAT Score Validity
The total GMAT score ranges between 200-800. The validity of GMAT score is of 5 years only. GMAT candidates usually receive scaled scores in five different components:
Analytical Writing Assessment Score (0 to 6), with percentile
Integrated Reasoning score (1 to 8)
Quantitative Reasoning Score (6 to 51), with percentile
Verbal Ability Score (6 to 51), with percentile
Total GMAT Score (200 to 800), with percentile
| | |
| --- | --- |
| GMAT Section | Score Range |
| Analytical Writing Assessment | 0-6 |
| Integrated Reasoning | 1- 8 |
| Quantitative | 6-51 |
| Verbal | 6-51 |
| Total Scaled Score | 200-800 |
Colleges Accepting GMAT Score
GMAT is accepted in more than 114 countries around the world. With the wide acceptance of GMAT scores globally, GMAT applicants can apply to more than 7000 programs at approximately 2300 business schools around the world. Top business schools across the globe like Harvard, Stanford, INSEAD etc. accept GMAT score of 720+ for admission purposes. To name a few, in India there are few B-Schools which accept GMAT scores which include:
| | | |
| --- | --- | --- |
| University/College | Program | Average GMAT Score (out of 800) |
| Indian Institute of Management, Calcutta | PGPEX | 700+ |
| Indian Institute of Management, Ahmedabad | PGPX | 706 |
| Indian School of Business (ISB), Hyderabad | YLP, PGP | 700 |
| XLRI, Jamshedpur | GMP | 700 |
GMAT Scholarships
Many B-Schools offer scholarships and grants to students to pursue a professional program like MBA or equivalent. Scholarships can either be merit-based or need-based. As a matter of fact, there are no hard and fast rules for awarding a scholarship. A lot of it depends on a particular business school's admission process. Hence, it is advisable for the student to be aware of the respective B-School rules and regulations before availing a scholarship. Scholarships are of two kinds: full and partial. The former type covers the entire course fee of the program, and the latter covers only a part of the course cost.
GMAT FAQs
Q 1. What do you mean by a computer-adaptive test?
A: A computer-adaptive test is a standardized assessment which adapts to the level of a candidate's ability. Depending upon the candidate's capacity, the difficulty level of the upcoming questions tends to increase or decrease based on his/her performance in the previous set.
Q 2. What is the Executive Assessment Exam?
A: Recently, the GMAC has introduced a new Mini GMAT version called Executive Assessment Exam for the Executive MBA course. It is specially designed for students who want to pursue an E-MBA.
Q 3. What is a Percentile in GMAT?
A: A percentile usually reflects a candidate's performance against other candidates and denotes the percent of the population whom he/she might have scored more by obtaining that score. For instance, if a GMAT applicant percentile is 90, it implies that he/she performed better than 90% of the candidates and there are still 10% of the candidates who have performed better than him/her.
Q 4. Does any B-School accept GMAT scores which are older than five years?
A: NO! Most of the B-Schools do not accept the scores of the exam taken over 5 years ago. Only score reports which are 5 years old or less are accepted.
GMAT Contact Details
| | |
| --- | --- |
| Email | [email protected] |
| Telephone | +852-3077-4926, 9 a.m. to 6 p.m. AEST |
| In India | +91-6366004441, 9 a.m. to 6 p.m. Indian Standard Time |
| Fax | +91-120-4001660 |