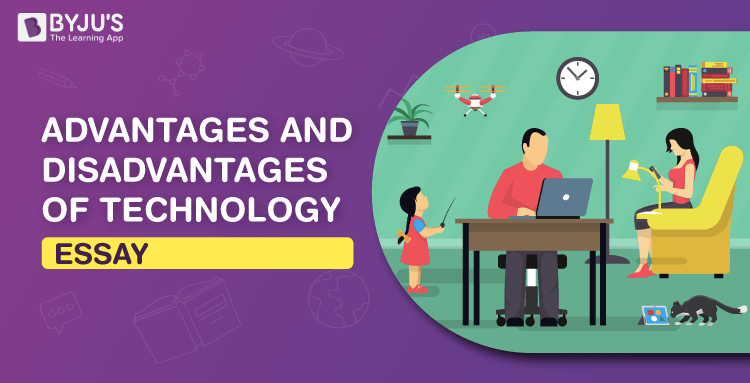 Technology can be both a boon and a bane. Technological apps can help kids learn vocabulary, maths skills, and other essential skills in school. They can also keep kids entertained with fun games and videos. However, it all depends on the usage and time spent on it. In this advantages and disadvantages of technology essay, let us learn the merits and demerits of technology for kids. It is important to note that it's never too early to introduce technology and apps into your child's life safely. Research has found that introducing technology at the age of three can make them more socially competent than their peers who don't have access.
Technology is great for kids. It can help kids learn and have fun. Technology gives them access to information that they might not otherwise know. However, there are negative aspects to technology as well. Some experts warn that excessive use of technology can lead to depression, anxiety, and other mental health problems. Moreover, mental health awareness is an important aspect. Parents should be vigilant when it comes to their children's use of technology. BYJU'S technological advancement essay helps us understand the advantages of technology for kids.
Advantages of Technology for Children
Educational games make learning fun for children and motivate them to keep playing so they can unlock new levels in the game. Technology has changed the way children learn forever. Now, kids have access to many teaching tools that help them understand concepts more quickly and help them engage their creativity. On-demand videos allow kids to watch educational films independently and without advertisements, making for a more enjoyable learning experience. Let us read BYJU'S advantages and disadvantages of the technology essay and learn the merits.
Technology has many advantages for children. It teaches them how to learn, problem-solve, and think differently. It encourages children to use creativity to make designs and animations. EdTech has made it possible for children to learn from experts around the country and experts worldwide through online courses and communities.
In addition, science and technology help children grasp new concepts quickly. The more they learn, the better they will do in school. They also have access to educational apps that can help them learn new things like coding and reading. Technology has also greatly helped kids with their social skills. Apps allow them to communicate with others and share photos on various platforms.
Disadvantages of Technology for Children
After learning the advantages of technology, let us understand the disadvantages by referring to the disadvantages of technology essay. Technology can be a dangerous thing for children. For example, they have access to violent movies and games that they may not understand. Also, they are exposed to cyberbullying without even realising what is happening. Families need to give proper education about the risks of technology and take appropriate steps to protect their children from these risks.
New research suggests that children who spend more time on screens are more likely to be anxious and unhappy. This is because they miss out on activities like interacting with friends and going outside. This can also lead to addiction problems later in life.
To conclude, technology is good as well as bad for the little ones. However, when used positively, it can be good for kids. For more kids learning activities, namely, GK questions, poems and worksheets, visit BYJU'S website.
Frequently Asked Questions
Does technology help kids score better?
Yes. Technological devices such as smartphones and tablets have been proven to improve children's spelling and maths scores. EdTech companies like BYJU'S are a great platform for kids to learn and score better.
Why is technology important?
Technology is important for kids because it teaches them to be creative and strategic thinkers socialising with others. With new technology available all the time, it is vital that kids are prepared to use the skills they develop now with whatever new inventions come in the future.