There would not be any children who have not chased after a butterfly in their gardens. The butterfly poem for kids will make them reminisce about this sweet memory as they sing along to the tunes of the poems. The butterfly poems are easy poems for kids to recite, and it would be better if we give them catchy tunes so that they will never get bored of listening to and reciting them.
It is not difficult to spot a butterfly around. With their beautiful wings and appealing colours, butterflies create a mesmerising effect on children. The short butterfly poems for kids from BYJU'S will enable children to appreciate these wonderful creatures. Along with learning new words, the butterfly poem for kids will be helpful in developing their reading and language skills.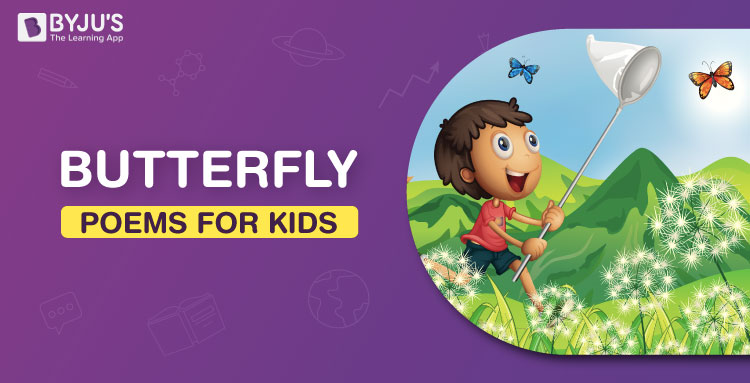 Table of Contents
List of Butterfly Poems for Kids
List of Butterfly Poems for Kids
Butterflies are a thing of beauty in nature, and it is simply reassuring to watch them roam in the garden and collect nectar from different flowers. The main aim of a butterfly poem for kids is to make them aware of the shape and structure of a butterfly and revel in its beauty. While there are many English poems for children, we must begin by giving short butterfly poems for kids to recite.
Though it is easy to write about a butterfly in a small paragraph, it requires a different approach to describe its beauty in verses. We will see a butterfly poem for kids, and you will understand how poems are capable of portraying a butterfly in a better way. As the poems talk about a butterfly, kids will be enthusiastic to recite short butterfly poems for kids since they are already familiar with it.
Apart from its beauty, a butterfly poem for kids depicts the whole life cycle of a butterfly, thus educating them. Through the short butterfly poems for kids, they will be able to identify and name different parts of the butterfly. Since these poems are educational and entertaining, it is a must to include them in the syllabus of Class 1 poems. Here, we will see some amazing butterfly poems for kids.
Pretty Butterfly poem
The Butterfly poem
Butterfly, Lend Me Your Wings, I Pray poem
Life Like A Butterfly poem
Butterfly Laughter poem
The given short butterfly poems for kids will be useful for children to develop their vocabulary and understanding. They will be eager to recite such poems because a butterfly is what they see daily. We can also encourage them to write a poem on their own on such simple topics. You can browse other kids' learning resources like stories, essays and worksheets on BYJU'S website.
Frequently Asked Questions
Q1
What are butterfly poems?
Butterfly poems talk about the beauty of butterflies and their life cycle. BYJU'S have presented a list of poems for children to easily learn and recite.
Q2
Why is it important to learn butterfly poems for kids?
Butterfly poems are helpful in teaching children about butterflies and their distinct characteristics. They are also useful for them to learn new words and thus build their vocabulary.
Q3
What are the different types of poems that children learn?
Children are introduced to different types of poems like nature poems, family poems, friendship poems, winter poems, flower poems, Independence Day poems, Christmas poems etc., that are suitable for every occasion.
Related Links
| Flower Poems for Kids | Rainbow Poem for Kids |
| --- | --- |
| Tree Poem for Kids | Water Poems for Kids |