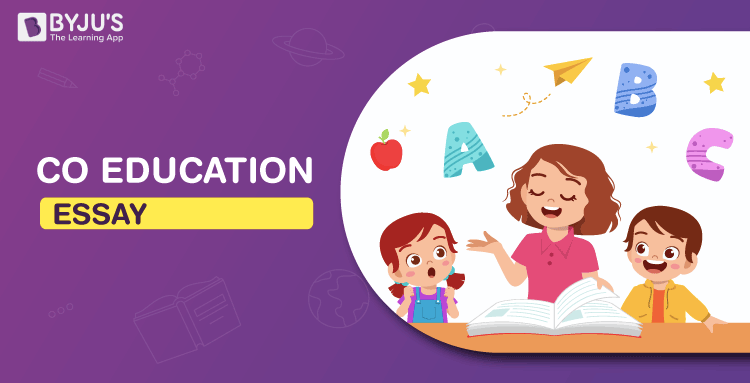 Introduction
Whether in school or college, you might have mingled with many other students, some of them even becoming your greatest pals. Mostly, everyone would have studied in a co-ed school or college and hence, it will be easy for you to understand its significance. But as your kids are growing, it is vital to convey to them the importance of co education for which this benefits of co education essay will be useful.
Co education means educating both boys and girls together at the same institution and in the same classroom. When they learn and play together, they will better understand each other, and this will make their lives comfortable when they start living together in society at a later stage. Here, we will see how to write an essay on co education.
Importance of Co Education
Let us consider a situation where your kid goes to a boys-only school. Since he will be exposed to only boys in such a school, he will not be aware of who or what are girls. Due to this, he starts forming his ideas about girls, which may not be true and misjudges them, which would later affect his life. The same is the case if we send our girls to a girls-only school.
Many would argue that boys will be able to understand girls and vice versa from their mothers and fathers, respectively. But we must bear in mind that kids who learn and interact within their age group are found to become better beings. This is why co education is the best way to educate our children. You cannot write an essay on co education without understanding its advantages.
Benefits of Co Education
The benefits of co education are myriad, but the most significant one is that it helps in eliminating gender discrimination. As boys and girls study together, they will be able to appreciate and respect each other. From a young age, they will start believing that boys and girls are equal, and this thought will enable them to lead better lives in the future. Besides, they will develop a competitive spirit, and this ensures that they learn from each other.
If a boy is trained solely at a boys' school, he will sometimes develop anxiety to confront girls as he is not aware of how to communicate with them. Even though it is possible that they will never have to talk to girls in college as well, it will become a problem when they move to their professional lives. By studying in a co-ed school or college, your kids will overcome their shyness to talk to the opposite sex and will also develop self-esteem in them. Thus, this co education essay from BYJU's will help in the overall development of our kids.
FAQs
Is co education good?
Co education is the most effective educational practice that aids in the growth of children. While co-ed education teaches children to work together, it also helps them cultivate mutual respect, understanding and support for each other. This will enable them to adjust to new environments easily.
Are there any disadvantages to co education?
Although the advantages of co education are higher, we cannot overlook some of the disadvantages. It is said that the opposite sex attracts each other, and this could lead children to fall into unhealthy relationships. Moreover, children could lose concentration on studies as their personal feelings come to the top.