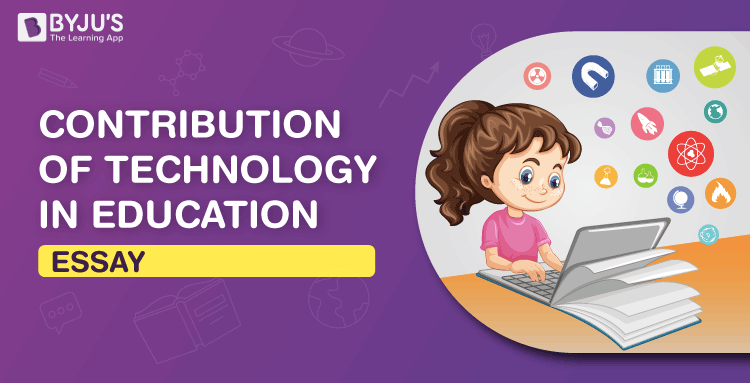 Technology has helped improve many aspects of society. Technology is making education more accessible and convenient for students. It has the power to change classrooms and change the way teachers teach. Technology is also shaping education by helping students learn in ways that have not been possible before. Using technology in classrooms to create lesson plans and record essays, notes, quizzes, and presentations has raised the bar for students' achievements. Technology also allows students to stay connected with educators across the country through online discussions and video conferences. BYJU'S essay on contribution of technology in education enlightens us with the facts of the advantages and disadvantages of technology in education.
Technology has improved the quality of teaching and learning, allowing educators to focus more on teaching skills applicable in everyday life instead of just memorising facts. Technology has also made it more convenient for teachers to communicate with their students and help them succeed in school. Technology has been contributing to education in many ways. It is used to help students learn more about other countries, cultures, and historical events. It also helps them research topics that they may not have had the chance to learn about before now. Technology can be used to teach in new and innovative ways. Now, let us know about the advantages of using technology by reading contribution of technology in education essay.
Advantages of Using Technology in Education
Technology has been a critical component in education for the past few decades. Teachers are using technology to help students learn. Streaming videos and files are used behind the scenes, so the kids can watch them or teachers can access lesson plans. BYJU'S contribution to technology in education essay pdf allows us to comprehend the merits of education.
Technology is becoming a more integral part of education. Technology allows for engagement and new interactions in school settings. It opens the door for collaboration and understanding between learners and teachers. Technology also provides unique opportunities to teach lesson plans, such as virtual reality.
Technology in education is a staple of today's classrooms. Technology provides students with the opportunity to learn anywhere and at any time. In addition to academic contexts, science and technology have also been used for educational purposes outside the classroom.
Disadvantages of Using Technology in Education
After understanding the advantages of technology, let us learn about the demerits of using technology in online education by reading BYJU'S technology in education essay. The use of technology in education has many benefits with some disadvantages. The most common disadvantage is that students are more likely to get distracted and not pay attention to the lesson. They may be more interested in doing other things like texting or watching videos on their phones. Students also have trouble concentrating because they think about how long it will take them to do something on their computer or phone. Other disadvantages to using technology in education include the overuse of computers, lack of face-to-face communication, and distraction while driving.
Some disadvantages of technology in education include that students get less opportunity to read or write, and they aren't required to go through the physical exercise of writing letters with their own hands. They also don't experience a sense of accomplishment when their hard work pays off.
After reading the essay on contribution of technology in education, we can conclude that technology usage in education has pros and cons. For more kids learning activities like poems, stories and GK questions are available at BYJU'S.
Frequently Asked Questions
Is using technology bad for kids?
Technology is a part of our everyday lives and has made many aspects of our lives easier. It has also been put to good use for kids and allowed them to stay connected with friends, parents, and educators worldwide.
What are the positive contributions of technology in education?
Technology has a lot of benefits for students. It allows students to be more productive and take advantage of all technology opportunities. Technology can provide students with access to powerful software, promote collaboration and communication among teachers, increase the accessibility of information, and encourage innovation and creativity.