Diwali is one of the most popular festivals of Hindus which is celebrated with great fervour and delight. Kids have a great time when they are asked to write an essay on Diwali as they get an opportunity to share their joyful experiences about the festival. Youngsters usually love this festival as it brings a lot of happiness and delightful moments for everyone. They get to meet their family, friends and relatives and share greetings and gifts with their loved ones.
An essay on Diwali in English helps kids to express their views and convey their feelings about the essence of the auspicious festival. Little ones can check the essay on Diwali festival given below and try writing a few lines on this topic to express or share their personal experiences about the holy festival.
Here's a short essay on Diwali for kids which youngsters can refer to while drafting an essay on their own:
Essay On Diwali For Kids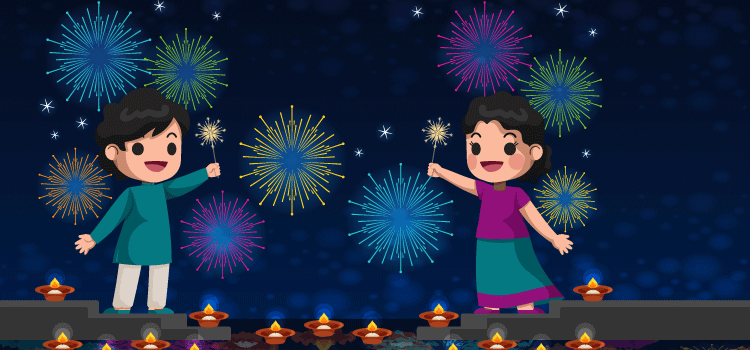 "Diwali also popularly known as "Deepavali" is one of the most auspicious festivals of Hindus residing in India or across the globe. The festival is celebrated with great fervour and enthusiasm by people throughout the world. Although it's considered a Hindu festival, but people from different communities celebrate the bright festival by bursting crackers and fireworks.
According to Hindus, Diwali is a festival which commemorates the return of Lord Ram to Ayodhya along with his wife Sita, brother Lakshman and ardent devotee Hanuman after defeating the demon king Ravan. This religious festival signifies the victory of good over evil and the triumph of light over darkness.
Diwali is often referred to as "Festival of Lights". People light earthen oil lamps and decorate their houses with lights of different colours and sizes which glitter at their entrances and fences that makes for a mesmerizing view. Kids love bursting crackers and different fireworks like sparklers, rockets, flower pots, fountains, peony fireworks, etc.
On this auspicious occasion, Goddess Lakshmi is worshipped by Hindus as merchants open new account books on Diwali. Furthermore, people believe that this beautiful festival brings wealth, prosperity and success to all. People also buy new clothes for themselves and look forward to exchanging gifts with their family, friends and relatives during the festival."
We hope the above essay for Diwali festival English proves beneficial for young learners who wish to compose an essay on this topic. We have made a modest attempt from our end to justify the essence of the auspicious Diwali festival in the essay given above. Kids can pick some ideas from this sample essay on Diwali and draft a few lines and learn how to frame sentences and enhance their English writing skills simultaneously.
For more such engrossing essay topics, you can check our Kids Learning page and make learning a fun experience for your little one.
Related Essays: