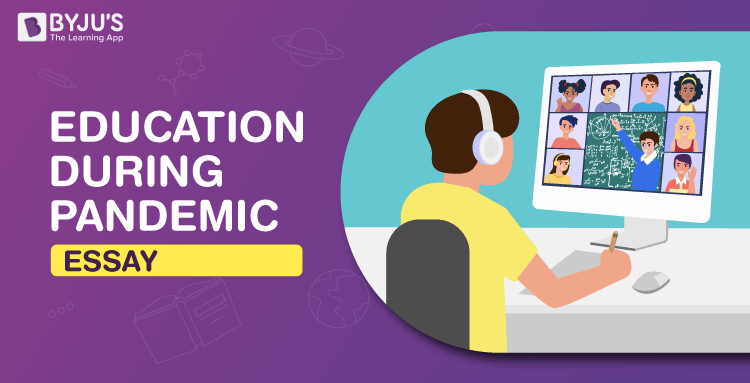 Introduction
We all remember our school days to be filled with both excitement and tension as we hurry to take the front seat in the classroom and worry that the teacher would scold us for not doing our homework. We hold the belief that education is not complete without students, teachers, classrooms, benches, desks and blackboards. But now, the situation has changed as the pandemic made us believe that education can happen even outside the classroom.
As the schools remain shut due to the ongoing pandemic, classes have turned virtual, where you see students and teachers interact through computer screens. In this essay on education during pandemic, let us see how the advent of COVID-19 has changed the education system.
Impact of COVID-19 on Education
Even though we feared sending our kids to schools due to the spread of the virus, we were more concerned about how this would affect their studies. With schools closed, there was uncertainty about their education and the way they learned. While kids were more than happy to sit at their homes and play all day, parents found it difficult to handle them. But as days progressed, children got bored of doing the same things over and over. We realised that we need to give them quality education from the comfort of their homes. Thus, online learning was introduced that changed our views about education. Let us understand its benefits through this education during pandemic essay.
Benefits and Limitations of Online Education
Online learning has become the new norm, and it is here to stay for quite some time. The greatest benefit of online education is for students as they do not have to get up early and get ready to go to school. They will have access to education at their fingertips wherever they are. It is not easy to grab young children's attention for a long duration, and hence, online learning is the best medium for them to study as well as play through interactive worksheets and activities. There is a fine balance between work and play, and children will never get too tired of studying or playing.
While flexibility and convenience are the most important benefits of online education, some disadvantages are discussed in this essay on education during pandemic. Children are isolated due to this new form of education during the pandemic, and they hardly have an opportunity to interact with their teachers and friends. This might make them dull as kids learn best through real-life interaction. Besides, excessive use of mobiles or laptops due to online learning may affect them badly. However, given the time that we live in, e-learning is the best alternative for students to give them access to education. Although the pandemic has disturbed the familiar educational pattern, we can hope for a new and improved education through online learning.
FAQs
How has the pandemic brought changes in the educational sphere?
In a classroom setting, we prepare students through active learning. But due to the pandemic, schools were shut, and so teachers had to invent new ways to pass on the knowledge. Now, everything is happening online – taking classes, conducting exams, and doing online assignments. Although the real interaction between student and teacher is lost, students now have the opportunity to think for themselves and the freedom to learn in ways they deem suitable.
Is online education as effective as traditional classroom learning?
Online education is more effective than classroom learning as children are given the space and time they require to learn. In online learning, students can choose their time to study and also refer to online study materials based on their convenience. But this is not possible if students are studying in a classroom.