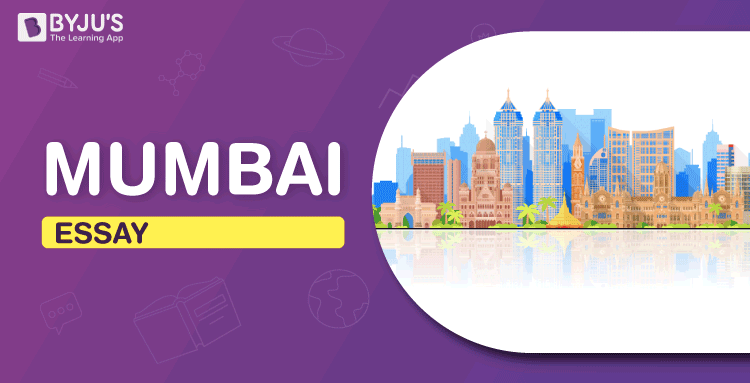 Mumbai is a busy city and has a rich history as one of the birthplaces of Indian independence movement. Mumbai's culture is diverse, with people speaking various languages and practising different religions. The food in Mumbai is just as varied, with options ranging from street food to fine dining. Mumbai is also a gorgeous city during the monsoon season when it gets its fair share of rain. BYJU'S essay on Mumbai helps us understand the lifestyle and importance of this city. It is a sprawling, densely populated city that has a population of over 20 million. Mumbai has grown to become one of the most populated cities in the world. Mumbai is also home to some of the country's wealthiest people.
Mumbai is also known as the city of dreams. It is a significant tourist destination, attracting tourists from all over the world to visit this beautiful city. The famous Gateway of India welcomes visitors, and it may be one of the most iconic structures in Mumbai. The Taj Mahal Palace Hotel is one of the greatest additions to Mumbai's skyline and offers stunning views from its upper floors. Mumbai has several smaller districts that are also worth exploring. Now, let us read the essay on Mumbai city life.
History of Mumbai City
Now, let us understand the history of Mumbai by reading BYJU'S essay on Mumbai. Mumbai, formerly known as Bombay, is a city in India. Mumbai began as a cluster of seven islands established by fishing communities, like the Kolis and others. These islands shared a common language, which is Marathi. The Hornby Vellard engineering project joined the islands in 1784.
King Bhimdev established his kingdom in this region in the 13th century and established his capital in Mahikavati (present-day Mahim). The marriage agreement of Charles II of England and Catherine on May 8 1661, laid Bombay under British rule as a part of her dowry. It was a trading stop for the British to do business with various rulers of India. Moreover, in 1661, the British took over the town, and it became part of the United Kingdom until Indian independence in 1947.
After the Indian independence in 1947, the city became a part of Bombay state, which later became Maharashtra. According to experts, Mumbai is now known for being one of the world's top ten most economically powerful cities.
Mumbai City Life
Mumbai is one of the biggest cities in India and a central economic hub. It's known for its long history and rich culture, but many live in poverty. A big part of Mumbai is still trying to catch up with the rest of the world regarding modern living so that people living there can also enjoy a better life. After learning the history of Mumbai city, it is time to learn more about the lifestyle in Mumbai.
Mumbai is home to some of India's most influential industries. The city provides a diverse culture, beautiful beaches, and picturesque landscapes. A variety of festivals are celebrated in this city. The most famous festivals include the Ganesh Chaturthi and the Dahi Handi festival.
To conclude, this short essay on Mumbai helps kids understand the life, culture and history of this marvellous city. For more kids learning activities such as poems, GK questions and stories, visit BYJU'S website.
Frequently Asked Questions
Mumbai is the capital of which state?
Mumbai is the capital of Maharashtra.
Which festival is famous in Mumbai?
Ganesh Chaturthi is a famous festival in Mumbai.