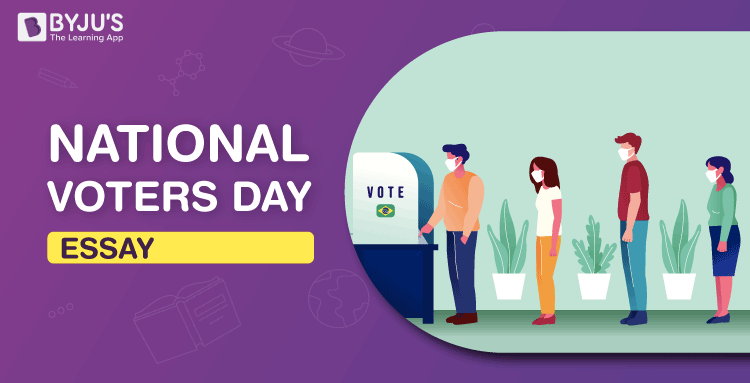 National Voters Day is celebrated on 25 January every year. On National Voters Day, people across India celebrate their right to vote by celebrating democracy, exercising their civic duty, and participating in the democratic process. This essay on National Voters Day in English allows us to understand the importance of voting and realise it is our right.
National Voters Day reflects the importance of voting. People should take the time to recognise that when they vote in an election, they are bringing a difference. National Voters Day encourages voters to use their voices at the polls and make their votes count. Voting is a constitutional right. People may choose to vote for someone who could bring changes to their lives. Voting helps shape the world, community and country we live in. It is important to cast a ballot because our voice can help bring changes.
Every vote is crucial during the election, and citizens can make a difference in the country by voting. It is one of the only ways we, the people, can have power over what happens next.
Many Indians are unaware of the importance of voting. The only way to influence laws and policies is through the poll, which positively impacts the lives of the people.
Importance of Voting
Now, let us read about the importance of voting by referring to BYJU'S short essay on National Voters Day. Elections are essential for any country. They allow citizens to voice their opinions about what should happen in their country and also allow them to hold politicians accountable for how they perform.
Voting is important because it changes the world. Candidates need to show up and vote to elect their leaders to rule the country. If no one votes, voters may never get the candidate they want, leading to many issues like inflation and a poor economy.
Every vote counts, and we must remember that our vote is our voice. We need to exercise our right to vote in this day and age, sometimes more than ever. It is the only way all voices can be heard, and voting is democracy in action. If your goal is to change or improve society, voting should always be at the top of your list.
By observing the factors and incidents happening in the world, it is easy to understand that voting is more important than ever before. Voting is a constitutional right that should be utilised. It gives everyone a chance to express opinions and hold the government accountable for their actions and policies. The citizens must vote in every election.
Voting is a great way to reflect people's opinions and demand the changes they need in the country. If you vote, you will feel like you are doing something that will positively affect society. Hence, voting is a necessary action that can affect the people, society and the country. The essay on National Voters Day in English explains the significance of voting. For more kids learning activities, visit BYJU'S website.
Frequently Asked Questions
Why is voting important?
Voting is important because it allows the citizens to choose their leaders in establishing the government, and it is the only way to participate in the democratic process. Additionally, voting impacts what goes on in our society. If people don't vote, they implicitly let their interests be placed before those of others.
Why should we vote?
An individual needs to vote to impact a government's policies and laws. Whether someone agrees or disagrees with the decisions, people must voice their opinion and vote.