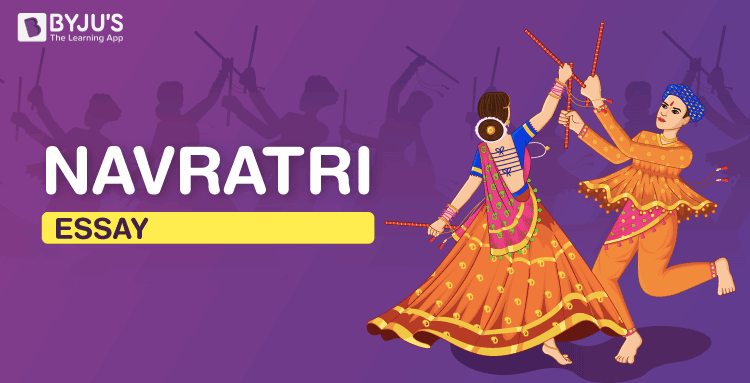 Navratri is a Hindu festival celebrated annually in October/November to worship the nine divine forms of Goddess Durga. It is marked by nine days of fasting and prayer, beginning on the first day of Navratri worshipping Goddess Durga in the form of 'Shailaputri' and ending on the 9th day worshipping in the form of 'Siddhidatri'. The name Navratri means 'nine nights.' BYJU'S essay on Navratri helps the children learn the auspicious traditions of India and the history behind the celebration.
Festivals symbolise happiness, peace, giving, prosperity and blessings. India is a culturally diverse nation, and the festivals of India teaches us the importance of following traditions and celebrating festivals. Essay on my favourite festival Navratri is an excellent way to learn about the festival and improve your kids' vocabulary.
History of Navratri
This short essay on Navratri explains the history behind the grand celebrations across the country. Once the kids have read this essay on Navratri, ask them to write an essay on my favourite festival. Navratri is one of the auspicious festivals celebrated in India. Similar to the Holi festival, Navratri symbolises the victory of good over evil.
The history of Navratri goes back ages. This auspicious festival is connected with a furious battle between Goddess Durga and demon Mahishasura. The demon was blessed with a boon by Lord Brahma, 'Immortal.' However, this boon had a catch that no one could defeat nor kill him but a woman. The overconfident demon never imagined that a woman would be strong enough to defeat him in his wildest dreams.
As years passed, Mahishasura started becoming powerful by attacking innocent people, and no Gods could defeat him. Eventually, the holy trinity of Lord Vishnu, Brahma and Shiva decided to create a goddess, Durga, the incarnation of Goddess Parvathi, who would kill the demon.
Goddess Durga came to Earth with all powers and weapons blessed by Lord Brahma, Vishnu and Shiva to kill Mahishasura. Goddess Durga fought with Mahishasura for ten days, and he kept changing his forms from human to animals and different shapes and sizes to mislead her. Once he turned into a buffalo, and the goddess killed him.
Celebration of Navratri
Navratri is celebrated with great pomp and happiness across the country. Our country is called Incredible India across the globe, and we have to be proud for being a part of the nation, which is a melting pot of traditions, cultures and customs. An essay on Navratri helps us understand the celebration by different states.
Navratri is celebrated as Dasara in Karnataka. In Mysore, Dasara is one of the famous festivals in Karnataka. Navratri is celebrated by dancing, visiting relatives, and distributing sweets. A few people also keep a fast and have a festive meal.
A short essay on Navratri is an essay about the history and the importance of celebrating this colourful festival. For more kids learning activities like poems and short stories, visit BYJU'S website.