Here, we present you one of the most riveting essay topics, i.e. an essay on my favourite cartoon character Doraemon for kids. By reading this essay, children will be able to grasp some ideas on how they can draft a splendid essay on my favourite cartoon character Doraemon or any other cartoon character of their choice. They can write an essay on my favourite cartoon character Pokemon, Mickey Mouse, Tom & Jerry, Motu-Patlu, Popeye, Pink Panther, etc.
Essay writing for kids therefore, not just help in enhancing writing skills but also develop the sentence construction skills of young ones. It exposes them to experience the different aspects of the language and develop exceptional linguistic skills.
Cartoons are loved both by kids and adults alike. They are a source of entertainment and we tend to forget our worries while watching cartoons. Young kids correlate with cartoons and imagine the world from their perspective. They think the world is as magical and amusing as projected by their loved cartoon characters. There are ample options of cartoon characters available on television and multiple cartoon channels to choose from such as Pogo, Cartoon Network, Disney Kids, etc.
All these channels have different types of fun-filled and entertaining cartoon shows scheduled throughout the day. The cartoon shows let kids explore a variety of emotions such as joy, sadness, happiness, fun, etc. Cartoon characters are usually fun to watch and also convey lessons to children in an entertaining way and expose them to real-life circumstances.
Here, we bring you my favourite cartoon character Doraemon essay that will help children to pick ideas while they decide to draft an impressive essay on this topic using simple sentences. Besides, you can also download this essay on my favourite cartoon character Doraemon in PDF format for free, from the link given below.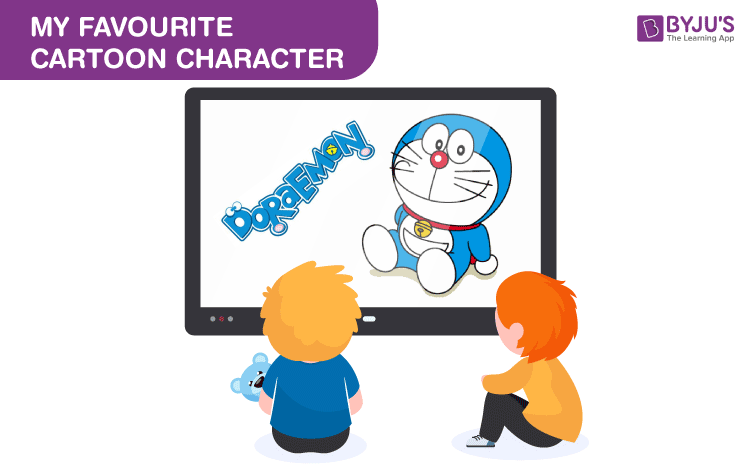 Essay on My Favourite Cartoon Character Doraemon
I love watching cartoon shows on television. My favourite cartoon character is Doraemon.
Doraemon is a Japanese anime series about an earless robotic cat.
He travels back in time from the 22nd century to help a young boy named Nobita Nobi who is weak in studies.
Doraemon protects Nobita from getting bullied by his classmates, Gian and Suneo.
He was sent to take care of Nobita by Sewashi Nobi who is Nobita's future grandson.
He is very protective of Nobita and helps him to finish his homework regularly.
Doraemon has a magic pouch to store new-age gadgets and improve Nobita's life.
He has many gadgets such as Bamboo-Copter, Anywhere Door, Time Kerchief, etc. with which he helps Nobita to overcome difficult situations.
He often helps Nobita to talk to Shizuka Minamoto, his closest friend and love interest.
I love to watch Doraemon as he has an optimistic nature and is always ready to help Nobita in need.
While writing an essay on my favourite character, kids get a wonderful opportunity to imagine their most loved cartoon character and are able to pen down their thoughts about that character. This highlights the creative side of children as they ponder about the topic and write their minds while expressing their views of why and what they like about such a cartoon character.
Are you looking forward to exploring more such resources? We have a huge collection of such engrossing learning resources like stories, poems, worksheets, GK questions, trivia questions, NCERT Solutions, etc. on our Kids Learning section. You can check those resources and study materials and help your child enjoy the best learning experience.