Here we present to you – My Village Essay in English for kids for your ready reference. This essay will help kids get a clear understanding of how they can frame a good My Village essay in 10 lines in a simple way.
What comes to one's mind when one thinks of a "village"? A serene place far from the hustle-bustle of the city. A place that is full of greenery and simplicity. A place that calms one's mind. Here, let's see how kids can write 10 lines on My Village essay and pen down their thoughts about how they feel about their village.
You can also download this My Village Essay 100 words in a colourful PDF format for free, through the link provided below.
My Village Essay in English for Kids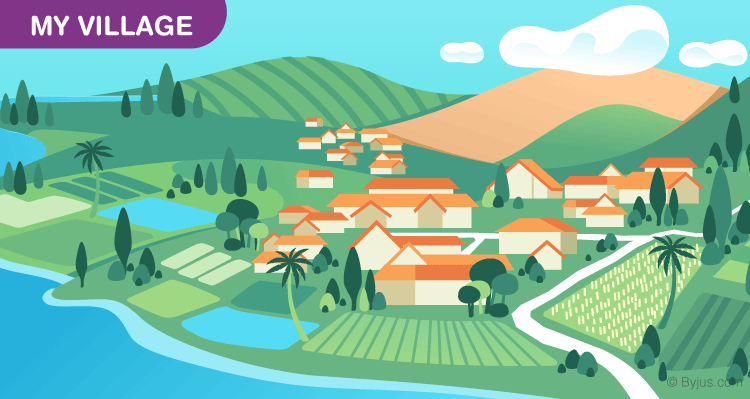 The name of my village is Pakdiyar which falls in the Gopalganj district of Bihar.

During the summer and winter vacations, I visit my village.

My grandparents live in the village. They like the village more than the city where we stay.

My grandparents' house is one of the biggest pakka houses in the village.

My grandfather is the sarpanch of the village. He is admired by all the villagers for his just verdicts and actions towards the welfare of the villagers.

In my village, our family is highly respected. My grandmother does a lot of social work for the villagers.

There are multiple wells, handpumps and rivers in our village. People fetch water from these sources for daily use, irrigation, etc.

The people of my village are strongly bonded to each other. They celebrate their joys together and stand united in tough times.

Every person in my village is hard working. The farmers toil all day long on the field. The women take care of home chores and look after the elderly and children.

My village does not have tall buildings and glittering lights. But it has peace, warmth and a welcoming attitude. I love spending vacations in my village along with my parents and grandparents.
The given topic – My Village Essay in English is a very common topic for essays for kids. Hence, the above essay on My Village will help kids in writing engrossing compositions about their villages. You can also refer to other common topics on essays for children.
A Short Essay About My Village
I come from a humble background of a family of farmers. We belong to a small town called Mudbidri in Karnataka, India. This is one of the most beautiful villages in Karnataka. Here, we primarily grow coffee. My grandfather owns a coffee estate, and the smell of the fresh coffee is wonderful. My village looks more beautiful during the winter and rainy seasons. It would be cold during winters, and we set up bonfires and spend time in front of the bonfire keeping ourselves warm. My village is a beautiful and prosperous one.
Villages are the backbone of the Indian economy. Agriculture is most prevalent in the villages of the country. Feeding a population as large as India's is also possible because of our huge village population. Thus, we can say that villages contribute a great deal to the growth of the country.
Drafting essays enhance the linguistic skills of students of all ages. It motivates them to write down their thoughts and feelings about that topic. It is a mental exercise that charges up their brain and bestows them with higher levels of creativity in the long run.
When kids write My Village Essay 10 lines, they get to ponder over the topic. If they include the points that have been provided by us in the 10 lines above, kids can get a sound idea on how to frame a good essay on My Village. They can add their own thoughts along with My Village Essay 100 words.
We also have a plethora of other learning resources that you might be looking out for. Intriguing worksheets, brain-tickling general knowledge questions, interesting stories, poems for elementary school children, NCERT solutions, easy trivia questions on various topics, etc. are available in our Kids Learning section. Explore this section and let your kid set foot on the best learning journey.