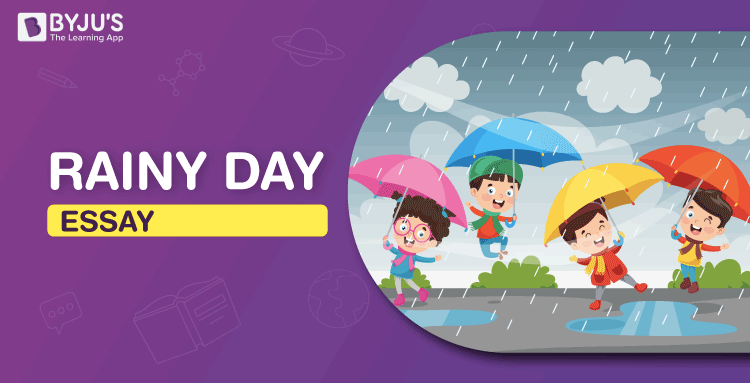 The rainy season is one of the most beautiful seasons. It is one of the important seasons of the year, and farmers wait a year for this season. We all know that it's not always sunny and bright. Sometimes you need to spend your time indoors doing something fun or productive. Perhaps children want to spend some time doing homework or reading a book, but sometimes the weather may be too severe. One way to make the days more bearable is to go outside and have some fun on rainy days. It can help kids build self-confidence, have fun with friends, and stay active at the same time. Help kids read the rainy day essay and ask them to write one on their favourite season of the year.
The rain is something that most people do not take often, but it is something that many people enjoy very much when they get to experience it. Long rainy days can be pretty boring for kids. But, there are many ways to make the rainy day more interesting and funny. Kids can start with games like hide-and-seek or play musical instruments. You could also let them play outside. This is a rainy day short essay for children, and you can ask kids to write an essay on their favourite season by referring to the BYJU'S essays.
Importance of Rainy Days
Rainy day essay in English is an excellent way to teach kids about the rainy season. Rain is necessary for the Earth to cleanse itself. The majority of water on Earth is rainwater that falls from the sky onto the land, and it has to be filtered by plants and soil before the ground, rivers, or lakes can soak it up. By providing a natural cleansing system, rainwater helps keep our planet healthy.
Rainy days play an important role in life, and they are a blessing to our planet. Our bodies and other living beings need oxygen to live, and rain is one of the easiest ways to provide it. Rain is the most efficient way for plants to absorb water and replenish their stores of it. Plants also use carbon dioxide during photosynthesis and convert it back into oxygen.
A sunny day is always a good thing, but definitely, nothing compares to a rainy day. Rainy days are so much more refreshing and relaxing. Rainy days can do amazing things for our health, happiness, and productivity. Some people argue that it's not the rain itself that makes us feel better, but rather the atmosphere it creates by depressing our mood.
Rainy days are always a good time to spend with children. They can be very exciting, and we can create interesting opportunities for imaginative play. The most common reasons kids need rainy days are for going out and exploring the outdoors during the rain, learning about science and nature, and resting and sleeping. There are many fun possibilities that kids can explore when it rains.
Rainy day essay plays a significant role in understanding the season and improving the vocabulary and kids learning experience.
Frequently Asked Questions on Rainy Day Essay
What is the importance of rainy days?
Rain is the most efficient way for plants to absorb water and store it. Rain helps the planet stay healthy, and crops flourish during the rainy season. Also, it refreshes all living beings by making the climate cool.
Why are rainy days a good time for kids?
Rainy days are always a good time for the parents to spend with their children. They can be very interesting opportunities for improving the creativity and imagination of kids by exploring and learning about nature and by engaging in other activities.