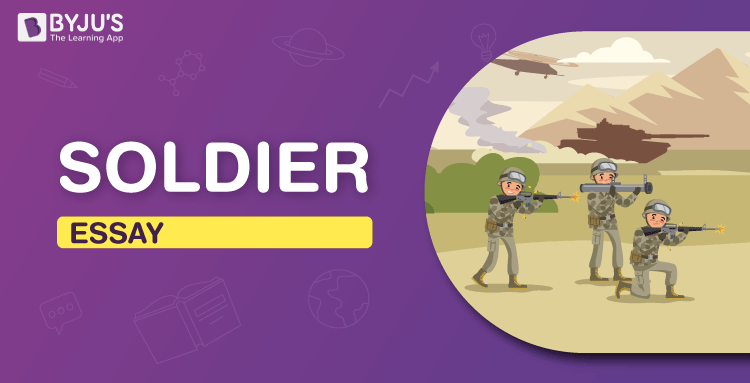 There are people across the world risking their lives to protect others. Soldiers do what they have to do to protect their country and freedom. We don't even know about it because it can be dangerous and secretive. Writing a soldier essay for kids is a great way to teach them about soldiers' sacrifices. They can also learn about what it is like to be on the battlefield.
Soldiers are people who go to war and fight for their country. They have a huge responsibility because they are often the first ones to be fighting and are in charge of destroying the enemy army. They also do important things like protecting civilians, transporting supplies, and seizing territory. They are not just protecting the soldiers and people around them, and they are also watching the values of their country. Anyone can join the military, but only those who meet specific criteria will be able to serve on the front lines. Every soldier sets an example that is hard to follow. Now, let us understand the duties of a soldier by reading BYJU'S soldier essay in English for students. For more kids learning activities, like stories, questions, GK questions, and poems, visit BYJU'S website.
Duties of a Soldier
Soldiers are vital because they protect our country. They defend the rights and freedoms of people, fight to maintain peace, and help civilians in times of disaster. Soldiers are a part of the Army, Navy, or Air Force. Soldiers are essential to the operation of any country. They serve their country by helping defend against other countries that may be trying to attack. Soldiers also fight for freedom and to maintain peace in other countries. Let us learn about the duties of a soldier by reading an essay on soldiers are real heroes.
Soldiers often carry their gear, weighing up to 100 pounds. Sometimes they are in charge of equipment worth millions of rupees. Soldiers may also be called upon to search and rescue after natural disasters.
Moreover, the duties of a soldier include things like fighting or training, recovering from injuries, and maintaining their equipment. They also have to stay up-to-date on new technology that may lead to additional skills in combat. In addition, soldiers must obey the orders of their superiors and follow the law of their country. BYJU'S Indian soldier essay in English helps us understand the challenges faced by the soldiers every day.
Soldiers are often assigned to combat zones, where they take on duties such as securing a perimeter, doing patrols, and raiding enemy positions. They may be part of a convoy or be in the rear guard. Their duties depend on their rank and unit type. A soldier can also serve as an infantryman or a pilot.
Challenges Faced by Soldiers
After understanding the duties of a soldier, let us learn about the challenges faced by them by reading BYJU'S life of soldiers essay. Soldiers face a lot of challenges in the military. They often have to deal with mental trauma from war, difficult living conditions, and physical injuries. The military has put a lot of time and money into researching the best ways to prevent these problems. Another challenge is being away from family and friends for long periods.
Turf wars are another challenge faced by soldiers. Soldiers often have to patrol for long periods, exhausting and making them vulnerable to attacks. Soldiers also have to be strong enough to carry heavy loads or even evacuate injured people from the battlefield with little assistance in hostile terrain.
We owe our gratitude to the many soldiers who have fought and died for our freedom as a nation. They are the ones that ensure our rights as citizens, so they deserve every bit of respect and admiration. Their contributions don't go unnoticed, and they should be honoured with the appreciation they deserve.
Frequently Asked Questions on Soldier Essay
Why is a soldier important?
A soldier is the backbone of any nation. Soldiers take an oath to defend their country, and they could be put in dangerous situations. They are taught how to handle weapons. For a nation to sleep peacefully, it needs strong armed forces to protect the border.
Who are some famous Indian soldiers?
Some famous Indian soldiers are Vikram Batra, Rifleman Sanjay Kumar, Captain N Kenguruse, Major Vivek Gupta etc.