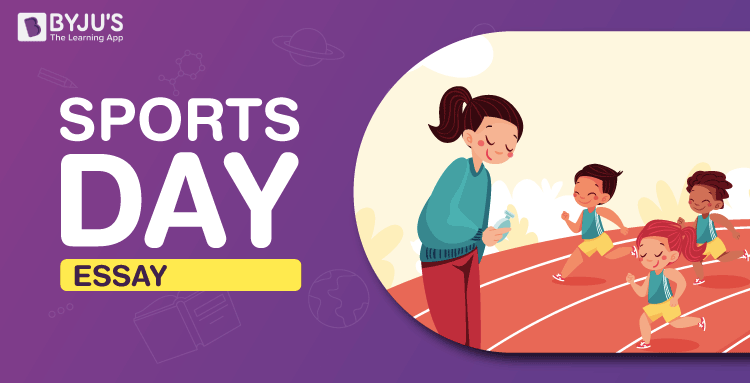 Introduction
Children wearing their white uniforms and marching towards the school ground while carrying their house flags are a sight to behold. While there would be drummers rallying through the march past on one side, children will be cheering from the stands for the victory of their peers. The sports day essay will detail events about sports day in school.
Every school conducts their annual sports day to bring out and recognise the athletic talents of students. The short essay on sports day will be useful for children to become familiar with various activities held on that day. They will also be able to learn the significance of sports day in a student's life.
Importance of Sports Day
We send our kids to school to study so that they become knowledgeable about different things. But we also know that they must engage in other physical activities to keep their minds fresh and relaxed. Some parents even worry that their children are not performing well in their academics. This may be because their interest lies in other fields, and sports day is an apt day to discover the athletic interest of your children.
Sports day is conducted every year so that students get some time off from their routine studies and help them to concentrate on their other strengths. The sports day essay talks about how teachers encourage their students to participate in sports and consider physical education to be an essential part of student life. Along with making them fit and healthy, sports develop several skills in children. Through sports, children will learn the value of discipline and team spirit. They will also learn how to lead a team as an efficient leader and how to take things in a sportsman spirit. Thus, sports day is celebrated at schools to support the athletic abilities of students.
Activities During Sports Day
Sports day is usually a one-day event at schools, which starts in the morning with the march past. Based on their classes, students are categorised into different sections, and they contest in many events like running race, long jump, high jump, relay, javelin throw etc. Kids usually participate in simple sports activities, such as lemon and spoon races, filling the bottle or walking races. Those who are not contesting in sports will sit in the gallery and cheer for others. Sometimes, parents will also accompany their children for sports day.
Let us conclude the essay on sports day by telling how winners are applauded. The winners of different sports events are made to stand on an elevated platform according to first, second and third positions. Then the chief guest awards them with medals and certificates. The day ends with students happily showing their prizes to their friends and families. Most of the children eagerly look towards sports day as it is filled with great vigour and excitement. You can discover more essays for kids on our website.
Frequently Asked Questions on Sports Day Essay
Why should we encourage our children to participate in sports day?
Children must be given a break from their studies, and we must encourage them to stretch their hands and legs by engaging in sports and physical activities. This will make them more energised and focused as well as enable them to explore their athletic abilities.
How is sports day celebrated at school?
Most of the schools follow a common practice for sports day. Sports day begins with flag hoisting and march past, after which students participate in many individual and team events. The winners are awarded medals at the end of the day.