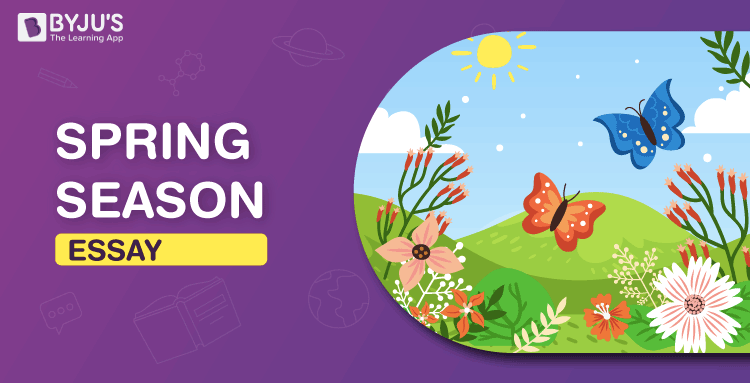 The Spring season is a time of year when the weather starts to change. Spring is a transition season between the winter and summer seasons. The days get longer and nights get shorter, the temperatures are milder, and flowers bloom. There is a warm wind in the spring season in the air. Spring typically begins in March and usually lasts until May or June. Spring season essay helps kids learn about the seasons and activities performed during this season.
Moreover, when it is Autumn in the Southern Hemisphere, it is spring in the Northern Hemisphere. Spring is the season of sheer joy and happiness. Many nations celebrate this season of joy. Spring is a time of new beginnings for plants. The temperature becomes warm, the sunshine is plentiful, and plants turn green. It's also a time when many animals come out of winter hibernation.
Health Benefits – Spring Season
Spring is the perfect time to be outside. It is a time for flowers, concerts, festivals, and more. Spring is also the ideal time to highlight all of the incredible health benefits you can receive from being outside. The most obvious benefit is getting some fresh air. Vitamin D helps with many health benefits like boosting immunity, preventing cancer, and improving moods. The warmer weather is a great time to get outside for outdoor exercise and fresh air, and this can improve your mental health and physical well-being. The Environmental Protection Agency recommends that people spend at least one hour of physical activity outdoors each day during the spring season.
Furthermore, springtime provides fresh air and sunshine to keep your lungs healthy, helps you sleep better at night because of less pollen in the air, and allows you to have energy throughout the day because the sunlight makes it easier on your body.
Festivities During Spring Season
India is a land of different cultures and celebrations. As mentioned before, spring is the season of rejoicing and happiness. Spring is also a season of festivals and celebrations. Festivals like Ugadi, Bihu, Rath Yatra, Sarhul, and Baisakhi are celebrated in India during the spring season.
BYJU'S spring season essay in English is an excellent way to teach children about the beauty of nature when each season changes. As an activity, you can ask the little ones to write an essay on season spring and later review it to improve their vocabulary and grammar.
Frequently Asked Questions
Why should kids refer to BYJU'S spring season essay?
Kids must refer to BYJU'S spring season essay because it explains the health benefits and celebrated festivities during the spring season.
What are the different seasons in India?
Winter, spring, summer, autumn and monsoon are the different seasons in India.
When does the spring season start?
The Spring season starts in March every year. Spring is a transition season between the winter and summer seasons.