Short Essay on Ugadi Ugadiin English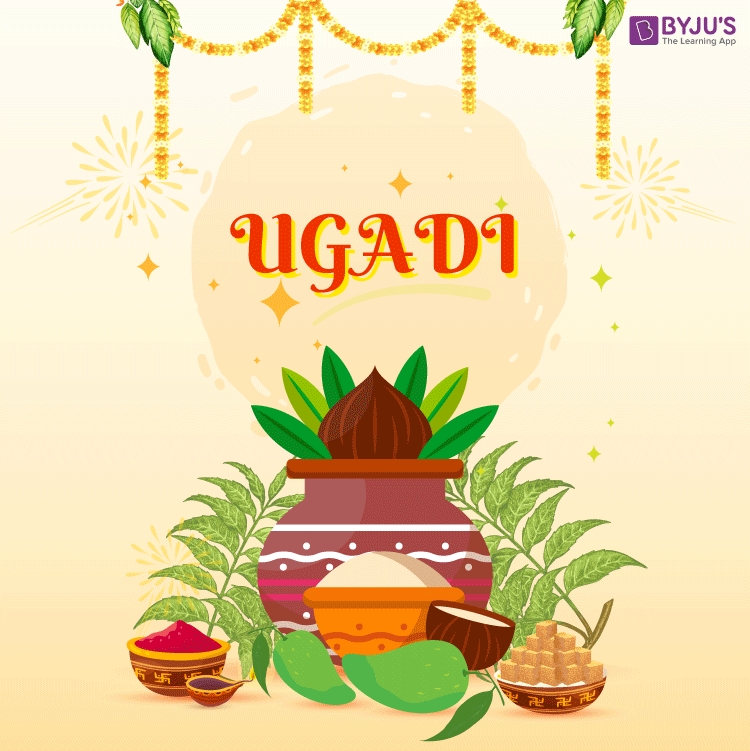 Introduction
We know that India is a land of diverse cultures and festivals, so it would be interesting to teach our children some of the important festivals of India. We have witnessed how children enjoy celebrating the festivals; hence, introducing them to different traditions followed in other states is appropriate. The Ugadi essay attempts to familiarise kids with such practices and customs.
Through this Ugadi short essay in English, you will learn the festival's importance and see how it is celebrated with great joy. You can get important points from this essay and help children create a beautiful essay. Besides, the BYJU'S essay on Ugadi in English will guide them to write an essay on the festival.
Table of Contents
History of Ugadi
Let us first understand the history of this festival through this Ugadi short essay in English. The word Ugadi is derived from the Sanskrit words yuga (age) and ādi (beginning), meaning "the beginning of a new age". According to Hindu mythology, it is believed that the demon Somakasura stole the Vedas from Lord Brahma and hid it in the sea. To retrieve the Vedas from the demon, Lord Brahma sought the help of Lord Vishnu, who took the form of Matsya (Matsyavatara) and brought back the Vedas to Lord Brahma after killing the demon.
Brahma began the creation of the universe on the day of Ugadi. Ugadi is the first day of the whole year, and our one year is equal to one day to Lord Brahma. And every year, Lord Brahma starts his day on this auspicious day and writes the fates of people. The current Ugadi year of 2022 – 2023 is known as 'Shubhakruthu Samvatsara.'
Importance of Ugadi
Ugadi is a festival that popular in the regions of Andhra Pradesh, Telangana and Karnataka. While we celebrate New Year on the 1st of January every year, people from these areas celebrate their new year in March or April. The festival is celebrated to mark the beginning of a new year in the month of Chaitra.
It is also that time of the year when nature is at its best with its fresh blooms and greenery. With the advent of Spring, everything in nature looks happy, and people believe that there is no better time than this to celebrate the new year. The Ugadi essay in English also points out how this day is considered sacred to start new ventures like buying a house, vehicle or shop. The festival of Ugadi gives us a simple message of accepting everything that comes our way and dealing with the good and bad with a positive attitude.
Celebration of Ugadi
As we have seen the importance of the festival in the previous paragraph, let us also understand how it is celebrated through this essay on Ugadi in English. The festival's preparations start a week early, with a thorough cleaning of the house, including vessels and utensils. And, people decorate the entrance of their houses with mango leaves and rangoli. On Ugadi, people pray to God for good health and prosperity. Moreover, people share jaggery and neem leaves in equal quantities and seek blessings from God and elders in the family. Sharing jaggery and neem leaves symbolise accepting good and bad phases of life equally.
People make special dishes from raw mango, coconut, tamarind, jaggery etc., on the festival day. The dishes usually include different tastes like sweet, bitter, salt, and sour, which are symbolic of different phases of our life, including good and bad days. Also, folk communities conduct literary feasts and recite meaningful poems. In essence, Ugadi is a festival celebrated in full happiness.
You can explore BYJU's website for more exciting essays on different festivals in India. The Ugadi essay in English will be useful for children to learn about the festival. They can also write an essay about their favourite festival by referring to the points discussed in this article.
Frequently Asked Questions on Essay on Ugadi
What is the story behind celebrating Ugadi?
According to Hindu mythology, Lord Brahma created the universe on Ugadi, and people believe that the Lord writes the fate of every human being on this day. Thus, Hindus consider this day to be auspicious and hence, celebrate the festival with great joy.
How is Ugadi celebrated?
Ugadi is a joyful festival where people clean and tidy up their houses to welcome the new year. They make colourful rangolis in front of their houses and decorate the interiors with mango leaves. They will also make special dishes like raw mango pachadi, wear new clothes and give gifts to friends and relatives on Ugadi.
When in Ugadi celebrated?
Ugadi is celebrated in March or April.
What does Ugadi mean?
The word Ugadi is derived from Sanskrit. When it is split into two parts, 'Uga' and 'Adi', it implies the beginning of a new year according to the Hindu calendar.
Why is Ugadi considered an important festival?
Ugadi is considered an important festival because, it is one of the auspicious and the first festivals in the Hindu calendar. People seek blessings from God and the elders to have a successful year ahead.