Introduction
In this value of games and sports essay, we will be discussing the importance and benefits of engaging in different sports and games for children.
Games and sports are an integral part of our lives. Although we say that academics are the most vital aspect of children's growth, physical education is what completes their development. The value of games and sports essay 150 words will explain how such sports keep them physically and mentally strong. With the help of this essay, children can practise essay writing on value of games and sports.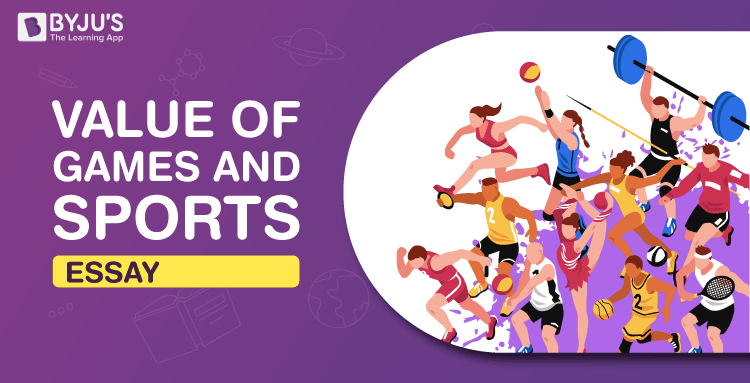 Benefits of Games and Sports
Parents and teachers always push children to study hard and score excellent marks. But how do you think they will be able to concentrate well and grasp things faster? To focus on such matters, they need a healthy mind, and a healthy mind resides only in a healthy body. They can keep both their physical and mental health fit by participating in games and sports. So, this is the main benefit of games and sports discussed in the value of games and sports essay 150 words.
Games and sports are also an excellent way to distract their mind from stress and worries. When they get bored of studying or experience a lack of motivation to do anything, see how a game of chess or swimming cheers and relaxes them. Apart from this recreational advantage, the value of games and sports essay emphasises that they also help in character building of children. Besides, they will learn important skills like teamwork, leadership, and sportsmanship. Games and sports will also instil in them values of honesty, discipline, confidence, and responsibility.
Difference between Games and Sports
A game usually involves more than one player or team, and its main aim is enjoyment or recreation. On the other hand, a sport focuses on the individual skills of a person rather than the teamwork involved in a game. Sports can be played either for recreation or as a competition. If games emphasise the collective performance of all the players, sports lay importance on the skills and talents of a single individual. The participants of a game are called players, while those of sports are called athletes or sportspersons.
The value of games and sports essay 150 words further describes that a sport is usually conducted with a competitive spirit rather than a friendly match of a game. Cricket, volleyball, basketball, and football are some of the popular games and cycling, archery, boxing, and tennis are the various sports in India.
Thus, we can conclude that games and sports will make our children healthy and happy. For more exciting essays for them, visit our website.
Frequently Asked Questions on Value of Games and Sports Essay
Q1
What is the value of games and sports in children's lives?
Games and sports help children to engage in physical activities that will boost their physical and mental health. They will also be able to better concentrate on academics once they become relaxed after a game or sport.
Q2
What are some of the games and sports that children can participate in?
There are various games and sports like chess, cricket, basketball, dodgeball, racing, swimming, skating, cycling etc., that children can participate in.