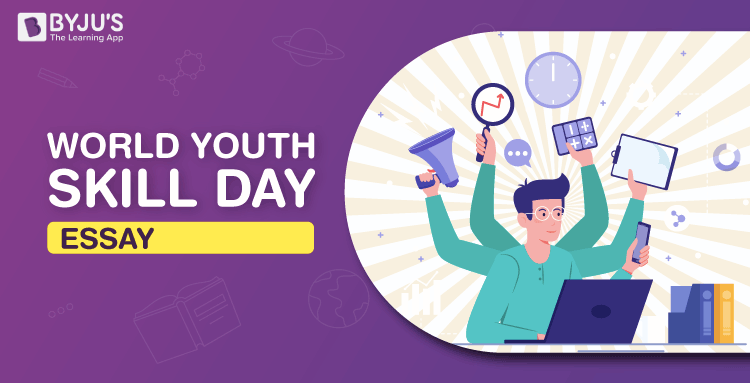 World Youth Skills Day is celebrated on 15 July of every year. This day was created to celebrate the skills and talents of young people around the world. It is a chance for youth in the world to learn new skills and take pride in their abilities. Events are organised in many places to perform, share, and learn new things. People who participate on this special day can ask for jobs and help from organisations that support their career choice. The idea is that young people should know their full potential, which they can only do if exposed to various study areas. BYJU'S World Youth Skills Day essay explains the objectives of celebrating this day.
World Youth Skill Day is celebrated every year to bring together participants from different countries to share skills and knowledge on entrepreneurship, leadership, sustainable development, technology, education and innovation. The event is usually organised in partnership with various stakeholders, such as governments, civil society organisations, the private sector and the international community. Moreover, World Youth Skills Day is a day for youth to learn about the skills needed for employment. Read BYJU'S essay on World Youth Skills Day to understand more about this day.
Objectives of World Youth Skill Day
An essay on World Youth Skills Day helps children learn the importance and objectives of celebrating this day. The goals of World Youth Skills Day are to develop and support youth entrepreneurship, apprenticeship and training, the upskilling of youth from informal to formal employment, and promotion of skills development. These modules cover entrepreneurship and creative expression. The event also features seminars from professional leaders and guest speakers. They hope that this will lead to more jobs for everyone, an improved economy, and successful entrepreneurs.
One of the objectives of the day is to introduce youth to new industries to explore and find possible career paths. Another objective is to help youth see the opportunities in their communities and spotlight public service and innovation. These skills will help them develop a better world for themselves, their communities, and future generations.
World Youth Skills Day is an event to raise social awareness of young people's skills to succeed. It aims to provide information on career opportunities and discuss how to prepare for a competitive job market. The event also includes workshops, competitions, and networking for opportunities for youth worldwide.
Why is World Youth Skills Day important?
In 2014, the United Nations General Assembly announced 15 July as World Youth Skills Day to celebrate the importance of helping youngsters with skills for work and employment. Events provide a unique opportunity for communication between young people, employers, policymakers, and development partners. Since 15 July 2014, many have focused on the increasing significance of skills as the world transitions toward sustainable development.
To conclude, World Youth Skills Day is a celebration for youth to reflect on their skills. This event is an opportunity for countries to update their national skills strategies and promote cooperation with international organisations to support and nurture young talents. For similar essays, worksheets and stories, visit BYJU'S website.
Frequently Asked Questions
When is World Youth Skills Day celebrated every year?
World Youth Skills Day is celebrated on 15 July every year.
What is the objective of celebrating World Youth Skills Day?
The objective of celebrating World Youth Skills Day is to encourage young people from all over the world to achieve the skills needed for better employment opportunities. The World Youth Skills Day is about education, empowerment, and job opportunities for young people around the globe.