NCERT Exemplar for class 11 Biology chapter 7 Structural Organisation in Animals is very vital in perceiving the fundamental of animal kingdom organ. It is very important for the students to study this exemplar solution in order to understand the topic completely and to score good marks in CBSE class 11 and medical entrance examinations.
NCERT Exemplar for class 11 Biology chapter 7 pdf is important from the point of your entrance exam preparation. It makes you practice the type of questions provided in entrance exams and sometimes even in CBSE class 11 examinations.
This solution has MCQ'S, match the following, and fill in the blanks, true or false, important diagrams and tables worksheets, exercises, assignments, tips and tricks.
We know that for life, certain systems and processes need to function in tandem. Similarly, life has a certain organizational structure which is dictated by millions of years of evolution.
For instance, a snail and a squid belong to the same phylum – Mollusca. But they evolved varied characteristics to adjust to their environment. A squid uses jet propulsion to move around in the ocean, meanwhile, a snail uses muscular contractions that help it move around slowly. And most land snails have shells that protect them from predators. Squids had shells millions of years ago, but they lost it in favour of features that avoided predators more efficiently.
Important concepts of class 11 biology chapter 7 Structural Organisation in Animals
Animal Tissues

Epithelial Tissue
Connective Tissue
Muscle Tissue
Neural Tissue

Organ and Organ System
Earthworm

Morphology
Anatomy

Cockroach

Morphology
Anatomy

Frogs

Morphology
Download the PDF of NCERT Exemplar Class 11 Biology Chapter 7 Structural Organization in animals below: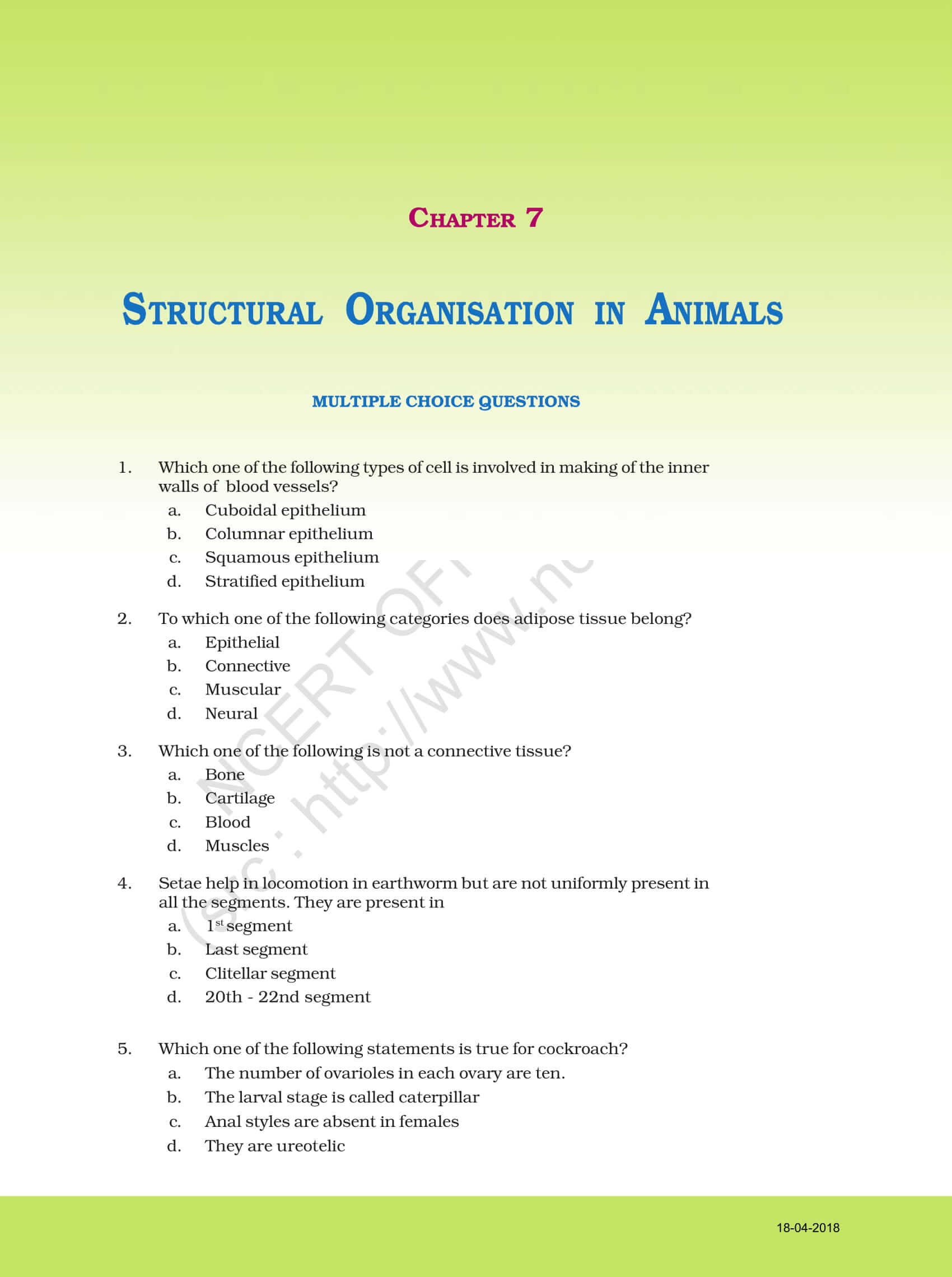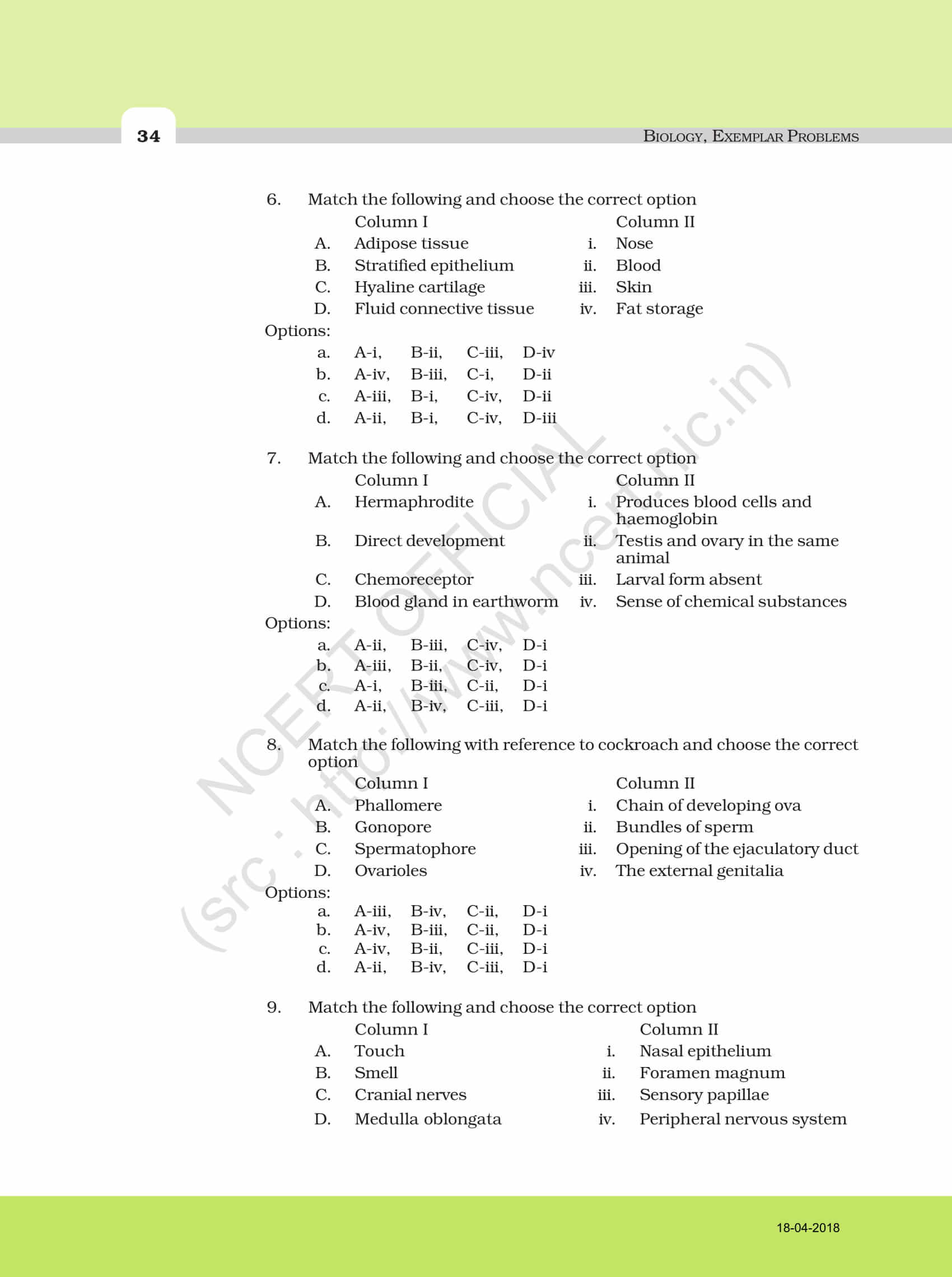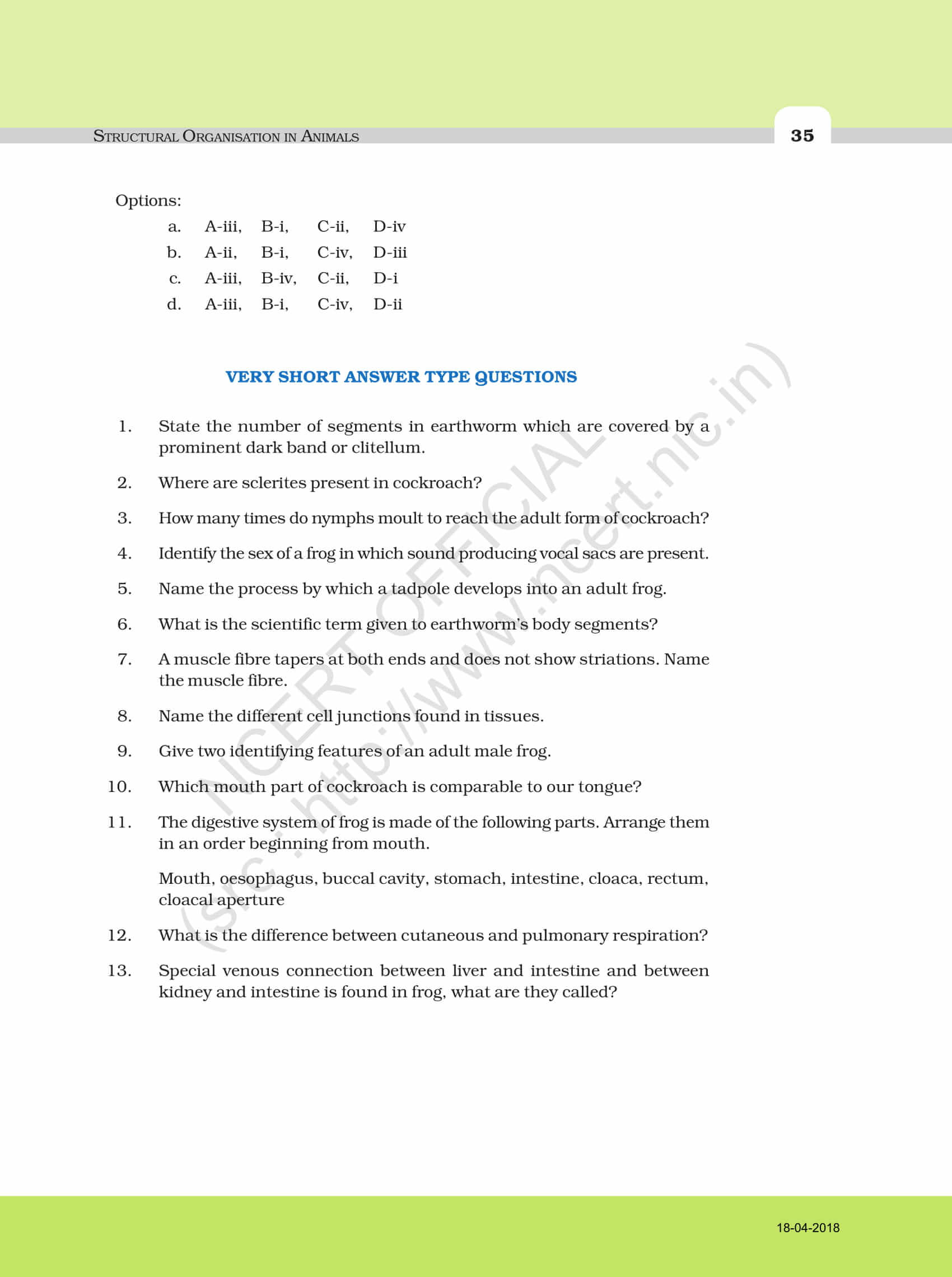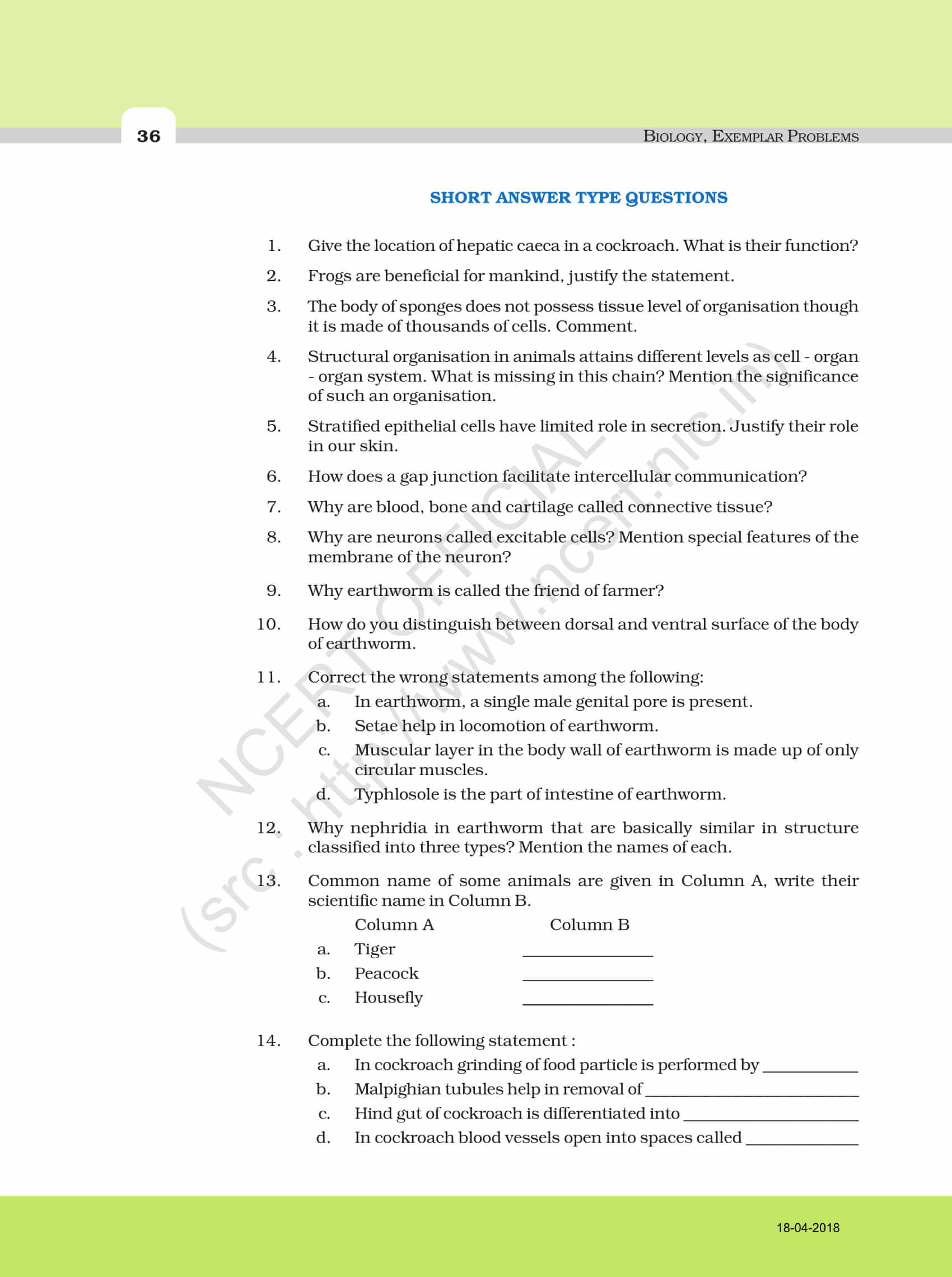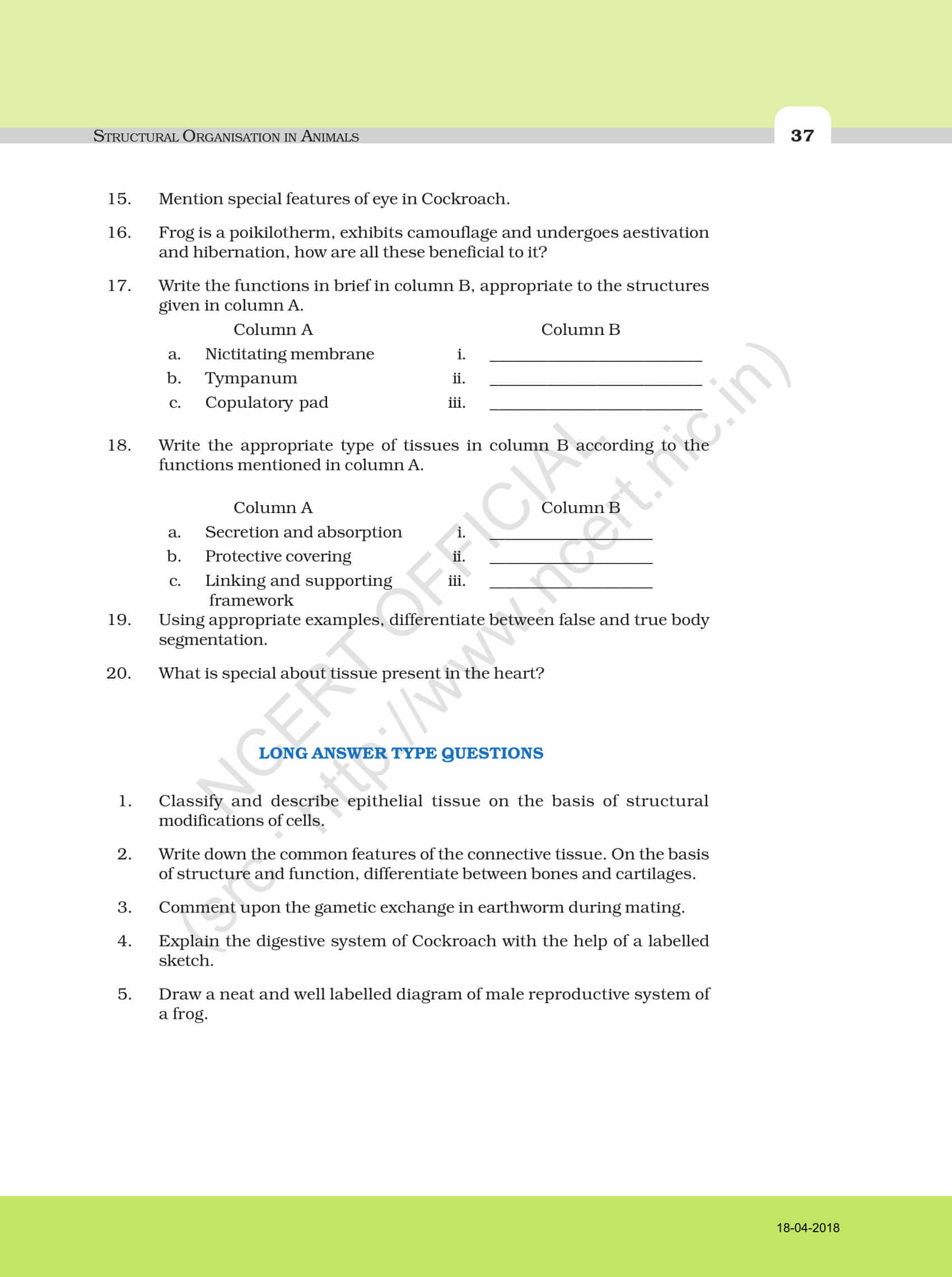 Chapter 7 Structural Organization in animals is interesting and important topics that are pivotal in scoring good marks in class 11 and graduate entrance examination. To make you understand this chapter easily BYJU'S provides you with Study materials, videos, animations and infographics that will help you clear all the doubts in perceiving the concepts involved in Structural Organisation in Animals.