Learn about natural resources, their availability, and their optimal management with the help of NCERT Solutions for Class 10 Science Chapter 16 Management of Natural Resources. These solution pages have been prepared by highly qualified and experienced subject matter experts.
Furthermore, we ensure that appropriate content on NCERT Solutions Class 10 is regularly updated as prescribed by the CBSE board. Besides accurate solutions, we also provide a complete breakdown of the questions, detailing all the steps and process in an easy-to-understand format.
The solutions provided are tailored to be easily understood by Class 10 students. This ensures that the solutions are relevant to anyone studying the NCERT class 10 Science textbook.
Access Answers of Science NCERT Class 10 Science Chapter 16 – Management of Natural Resources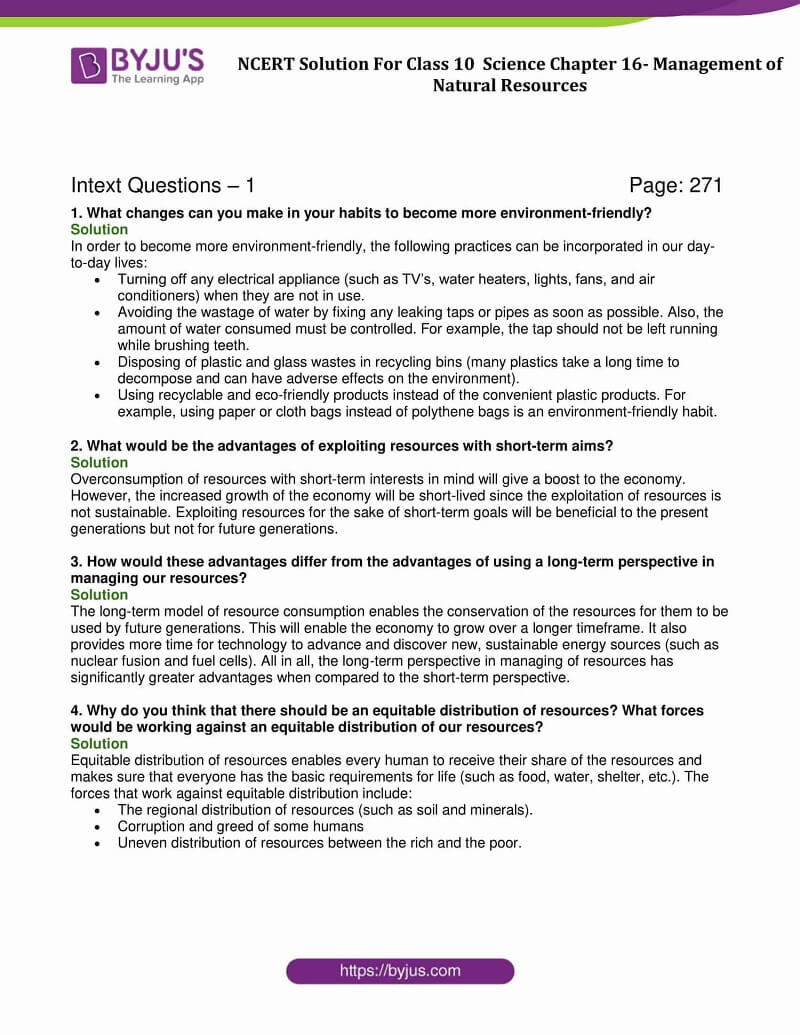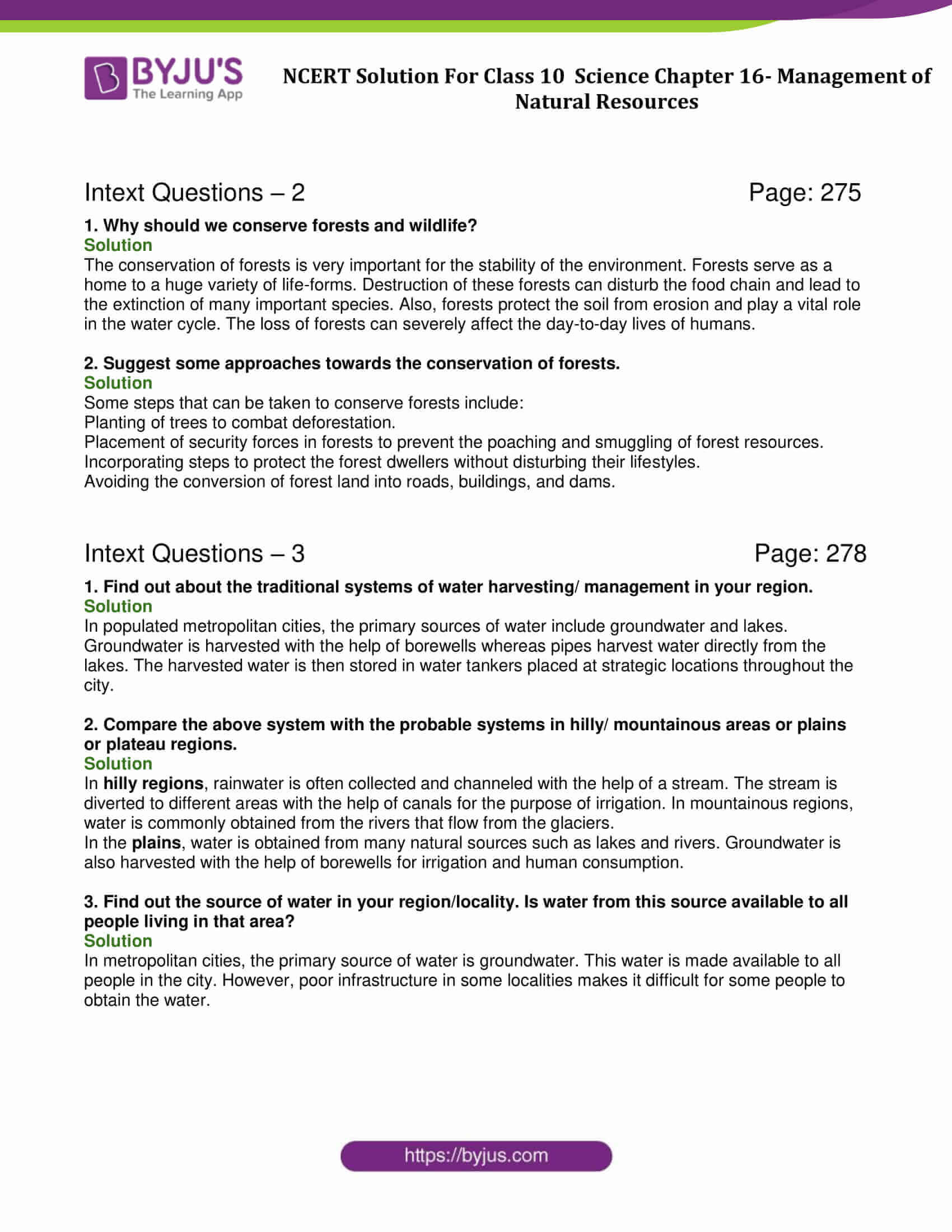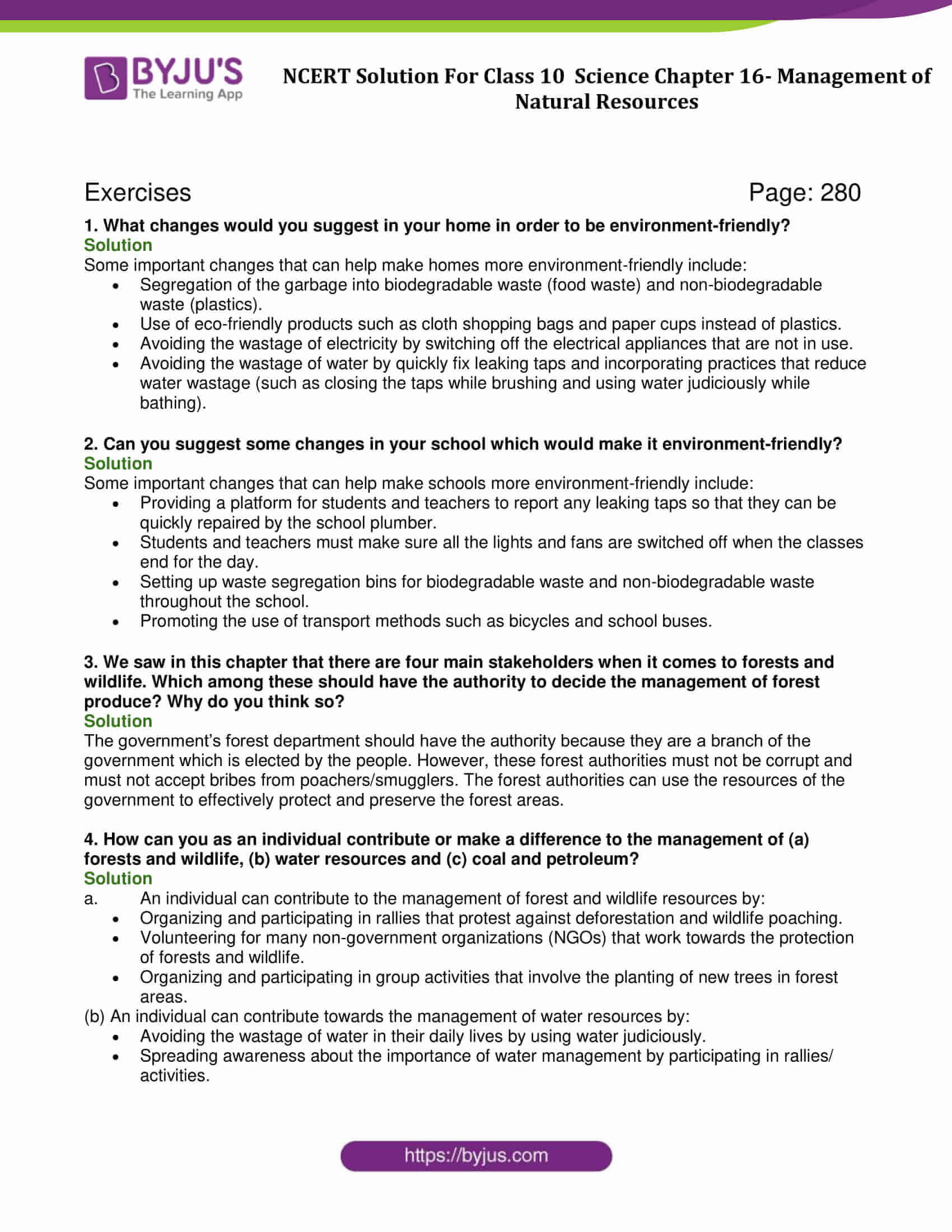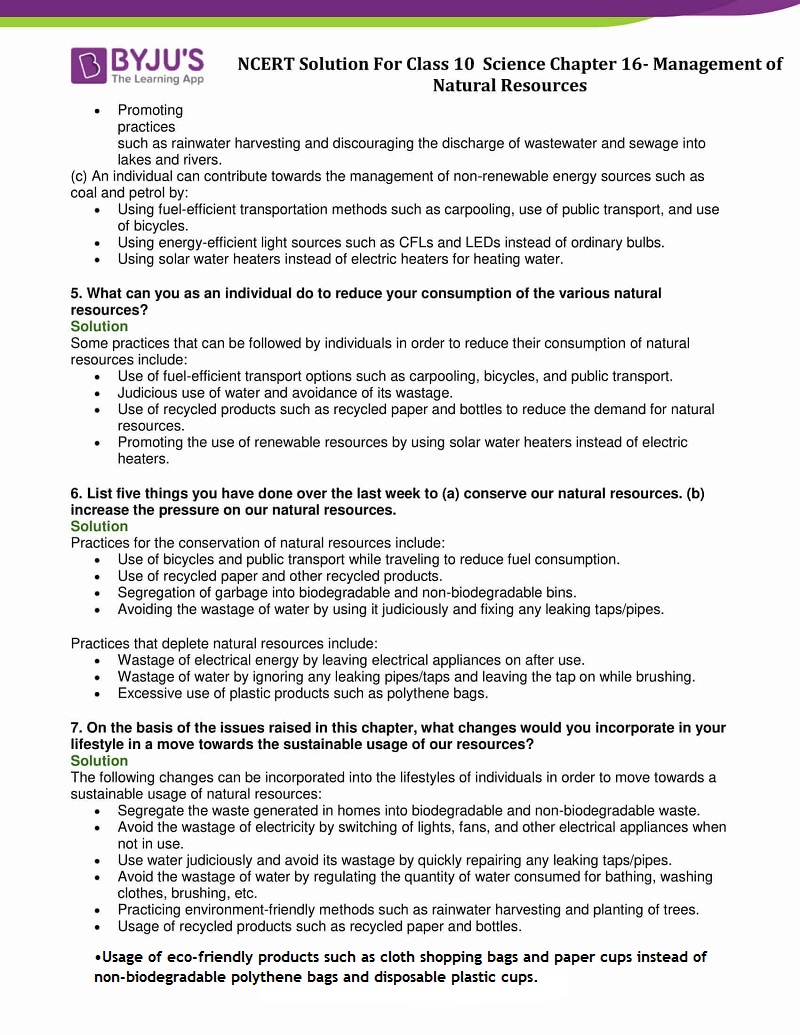 NCERT Solutions for Class 10 Science Chapter 16 Management of Natural Resources
Management of natural resources is the sixteenth chapter in the NCERT class 10 science textbook. It is a part of Unit 5 – Natural Resources, which is expected to hold 07 marks. The solutions provided here can prove quite helpful for last minute revisions since they provide a quick summary of the types of questions that can be asked from this chapter. Our NCERT Solutions provide useful and relevant content to students that are studying NCERT textbooks.
The topics that are covered under this chapter include:
Why do we need to manage our resources? (4 Questions)
Forests and Wildlife (2 Questions)
Water for all ( 3 Questions)
Coal and Petroleum
Natural resource management
Post-Chapter Exercises (7 Questions)
NCERT Solutions for Class 10 Science Chapter 16 Management of Natural Resources
There exists a need to sustainably manage the natural resources available on Earth (forests & wildlife, coal, petroleum, water, etc.) so that they are available for future generations. One important concept in the management of natural resources is the 3R principle, which stands for "Reduce, Reuse, and Recycle".
The authority which is responsible for the management of forests and the resources contained in them must keep in mind the interests of the various stakeholders. Water is another important natural resource which is vital to the survival of human beings. In order to efficiently conserve this precious resource, its wastage must be prevented at all costs.
Finally, non-renewable energy sources such as coal and petroleum are consumed on a huge scale by humans. These resources will eventually run out. Their combustion also leads to the liberation of many pollutants into the atmosphere. Therefore, their usage must be controlled.
Key Features of NCERT Class 10 Science Chapter 16 – Management of Natural Resources
Content delivered in an easy-to-learn format.
Solutions are crafted in-house by highly qualified subject matter experts.
Updated questions and solutions according to the latest prescribed syllabus
All multiple choice questions have been answered with the reasoning/ worksheet.
Discover other additional resources like previous year question papers and sample papers.
Also Read: NCERT Solutions Class 10 Science
Frequently Asked Questions on Management of Natural Resources
What would be the advantages of exploiting resources with short-term aims ?
Overconsumption of resources with short-term interests in mind will give a boost to the economy. However, the increased growth of the economy will be short-lived since the exploitation of resources is not sustainable. Exploiting resources for the sake of short-term goals will be beneficial to the present generations but not for future generations.
Why should we conserve forests and wildlife ?
The conservation of forests is very important for the stability of the environment. Forests serve as a home to a huge variety of life-forms. Destruction of these forests can disturb the food chain and lead to the extinction of many important species. Also, forests protect the soil from erosion and play a vital role in the water cycle. The loss of forests can severely affect the day-to-day lives of humans.
Find out about the traditional systems of water harvesting/ management in your region ?
In populated metropolitan cities, the primary sources of water include groundwater and lakes. Groundwater is harvested with the help of borewells whereas pipes harvest water directly from the lakes. The harvested water is then stored in water tankers placed at strategic locations throughout the city.