Abscisic acid is used in agriculture for various purposes. E.g.
They are used to induce seed dormancy to withstand desiccation and unfavourable conditions for growth.
It stimulates the closure of stomata so delays wilting by reducing water loss by transpiration. A plant can withstand a short period of drought.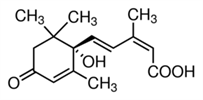 Also Check:
Stay tuned to BYJU'S to learn similar questions and important points related to plant growth and development.
Recommended Videos: