As per the instructions given, we can draw a diagram as shown below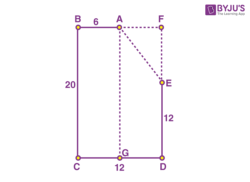 From the given details we note that
AB=6
BC=20
CD=12
DE=12.
From the diagram, we note that
∠ABC=∠BCD=∠CDE=∠ABC=90∘.
Construction: Draw the lines AF and EF which are the extensions of BA and DE respectively such that they meet at point F at the right-angle also.
So, in rectangle FBCD we have four angles equal to 90∘.
We get BC=FD=20,BF=CD=12. (opposite sides are equal in rectangle)
In triangle OED,
EF=FD−DE=20−12=8
AF=BF−AB=12−6=6.
On applying Pythagoras' theorem For right-angle triangle ΔAEF, we get
AF2+FE2=AE2
=62+82
=36 + 64
AE 2 = 100.
Distance from initial point to terminal point = √100 = 10m