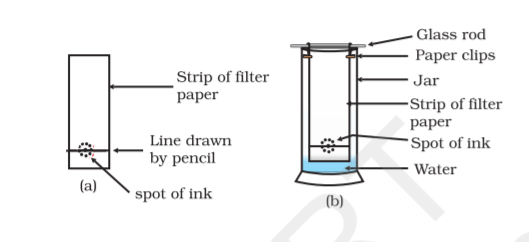 Answer:
(i) If the ink has three different coloured components, the filter paper will have spots of different colours at different heights, as seen in the figure. On the chromatograph, the most soluble in water shows at the top, the least soluble in water appears in the centre, and the least soluble in water appears at the bottom.
(ii) Child uses the technique of paper chromatography.
Paper chromatography
The chromatography technique that uses paper sheets or strips as the adsorbent being the stationary phase through which a solution is made to pass is called paper chromatography.
(iii) Paper chromatography is used to separate different pigments present in the chlorophyll.