Option D=√119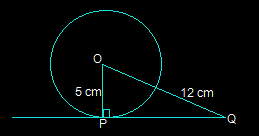 From the above figure, the line that is drawn from the centre of the given circle to the tangent PQ is perpendicular to PQ.
Hence OP ⊥ PQ
Applyong Pythagoras theorem in triangle
ΔOPQ we get,
OQ2 = OP2+PQ2
(12)2 = 52+PQ2 PQ2
= 144-25 PQ2
= 119 PQ
= √119 cm
So, option D i.e. √119 cm is the length of PQ.