Solution
A rough sketch of the quadrilateral LIFT can be drawn as follows.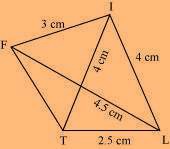 (1) ∆ ITL can be constructed by using the given measurements as follows.

(2) Vertex F is 4.5 cm away from vertex L and 3 cm away from vertex I.
ConsideringL and I as centres, draw arcs of 4.5 cm radius and 3 cm radius respectively, which will be intersecting each other at point F.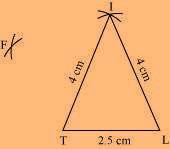 (3) Join F to T and F to I.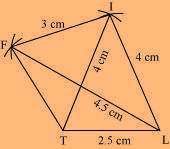 LIFT is the required quadrilateral.