Solution:
Consider a rigid body rotating about a given axis with a uniform angular acceleration α, under the action of torque.
Let the body consist of particles of masses m1, m2, m3, . . … , mn at a distance r1, r2, r3, . . … rn respectively from the axis of rotation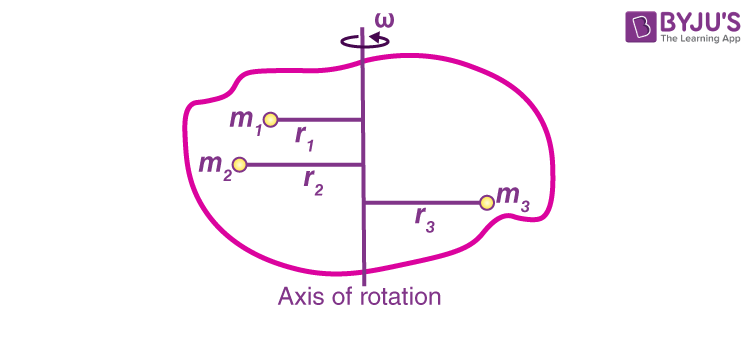 If a1, a2, a3, . . … , an are the respective linear acceleration of the particles, then,
a1 = r1α, a2 = r2α, a3 = r3α…..
Force on particles of mass m is
f1 = m1a1 = m1r1α
Moment of this force about the axis of rotation f1 × r1 = (m1r1α) × r1 = m1 r12α
Similarly, the moment of forces on other particles about the axis of rotation is
m2 r22α, m3 r32α ———-mn rn2α
Torque acting on the body
τ = m1 r12α + m2 r22α + m3 r32α ———-mn rn2α
So, 
\(\begin{array}{l}\vec{\tau }= \sum_{i=0}^{i=n}m_{i}r_{i}^{2}\alpha \end{array} \)
τ = Iα
where m1 r12 = moment of inertia of the body about the given axis of rotation