Answer:
Flowers are the reproductive part of a plant. They are not only involved in reproduction but are also a source of food for other living organisms. They are a rich source of nectar.
The different part of a flower is labelled below.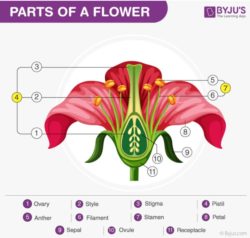 Pedicel: It is the stalk of a flower.
Calyx or Sepals: The outermost covering or whorl of a flower is called calyx and its units are called sepals.
Corolla or Petals: Next to the calyx is present a corolla which is a colourful whorl and helps in attracting pollinating insects. The units of the corolla are called petals.
Stamen: It forms the male reproductive part of the flower. Each stamen has a long filament and a terminal anther. The anther contains pollen grains.
Carpel or Pistil: It forms the female reproductive part of the flower. Each carpel or pistil consists of three parts which are stigma, style and a basal swollen part called the ovary.