The human eye is a spherical organ, responsible for perceiving visual stimuli. It is enclosed within the eye sockets in the skull and is anchored down by muscles within the sockets.
Sclera: A white visible portion made up of dense connective tissue and protects the inner parts.
Conjunctiva: It lines the sclera and is made up of stratified squamous epithelium. It keeps our eyes moist and clear and provides lubrication by secreting mucus and tears.
Cornea: It is the transparent, anterior or front part of our eye, which covers the pupil and the iris. The main function is to refract the light along with the lens.
Iris: It is the pigmented, coloured portion of the eye, visible externally. The main function of the iris is to control the diameter of the pupil according to the light source.
Pupil: It is the small aperture located in the centre of the Iris. It allows light to enter and focus on the retina.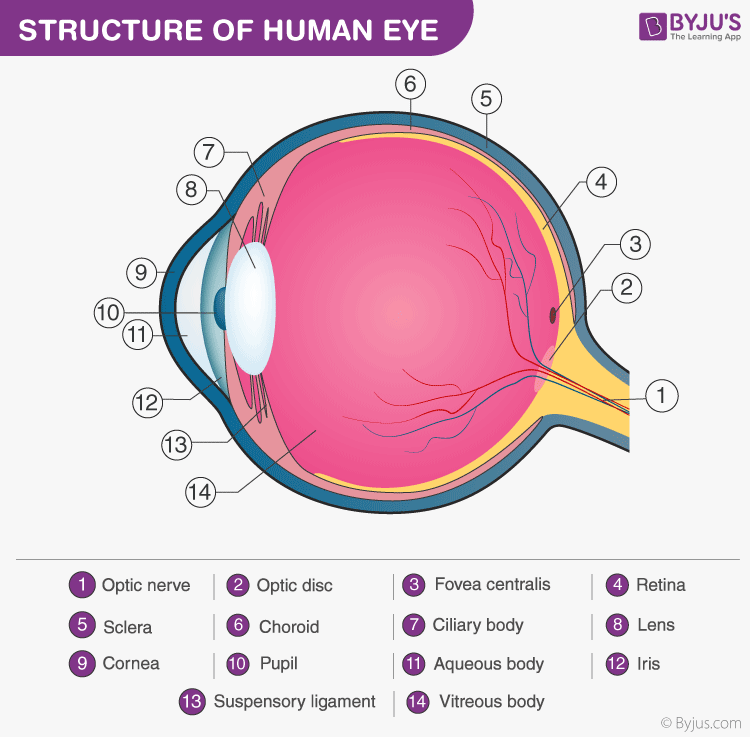 External components include:
Sclera
Conjunctiva
Cornea
Iris
Pupil
Internal components include:
Lens
Retina
Optic nerve
Aqueous Humour
Vitreous Humour