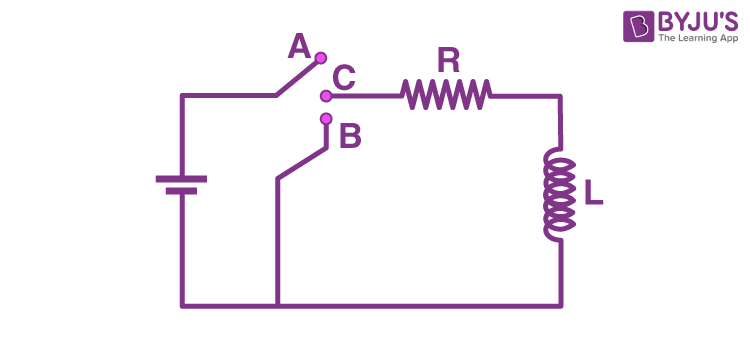 a) 0
b) 1
c) -1
d) infinity
Answer: c) -1
Solution:'
Let the emf of the battery be E.From the question, the point C of the circuit is connected to the point A. So the circuit will look like
So the inductor is connected to the DC source. When a DC source is applied across an inductor, it behaves as a short circuit after the steady state is reached.
Current in the circuit at this instant is given by
I = E/R
Current through the LR circuit is given by
i(t) = i0exp(-t/τ) ——(1)
As the current cannot suddenly change through an inductor, so the current at the time instant t=0 will be equal to the current through the inductor before closing the circuit, that is,
i0 = I = E/R ———-(2)
i(t) = (E/R)exp(-t/τ) ——-(3)
We know that the time constant of an LR circuit is given by
τ = L/R ———-(4)
According to the question, the given instant of time is
t=L/R———(5)
From (4) and (5)
t=τ
Putting this in (3) we get
i(L/R)=(E/R)exp(−τ/τ)
⇒i(L/R)=E/Re ——–(6)
Now, we know from the Ohm's law that the voltage across the resistance is
VR=IR
Putting (6) above, we get
VR=(E/Re)R
⇒VR=E/e……………….(7)
We also know that the voltage across an inductor is given by
VL=L(di(t)/dt)
From (3)
VL=Ld[(E/R)exp(−t/τ))]/dt
VL=(−EL/Rτ)exp(−t/τ)
Putting the value of the time constant from (4)
VL=(−ELR/RL)exp(−Rt/L)
⇒VL=−Eexp(−Rt/L)
At the time t=L/R we get the voltage across the inductor as
VL=−Eexp(−RL/LR)
⇒VL=−E/e………………….(8)
Dividing (7) by (8) we get
VL/VR=−1
Thus, the required ratio is equal to −1.