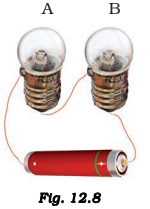 Bulb A will not glow.
As we know, if a circuit is not complete the bulb will not glow. The filament is the glowing part of the bulb as well as it is the connecting part. It completes the circuit within the bulb.
If the filament of bulb B is broken the circuit is not complete and hence bulb A will not glow. If any of the components is broken which completes the circuit will not work. The most important condition is to first complete the circuit.
If any other bulb is also connected it will also not work. Because there is no complete way for a current.