We know that our body comprises of large amount of nerves. These nerves play a major role in our body. Nerve cell is also referred to neuron in our body. Every part of the body is connected by these nerves. The central nervous system plays a major role in the system.
Neuron or Nerve cell
The neuron is an individual specialized cell that is primarily involved in transmitting information through electrical and chemical signals. They are found in the brain, spinal cord and peripheral nerves. Neuron is also known as the nerve cell. Neuron is the structural and functional unit of the nervous system. The cell body, dendrites and axon are the components of the neuron. The three components of a neuron (or a nerve cell) are: Cell body, dendrites, and axon.
The diagram given below shows the structure and parts of a neuron.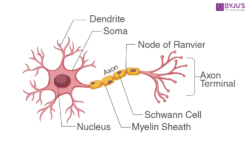 Functions of a nerve cell
The functions of a nerve cell are listed below
The function of a nerve cell is to transmit messages to the brain and also to take away messages from the brain to the receptor organs.
It is specialized to carry messages while the endocrine system provides chemical integration through hormones.
These nerves help in carrying the stimulus to the brain and spinal cord by sensory neurons and then transfers the response to effector organs by motor neurons.