Everyone enjoys eating tasty and delicious food and has a choice of a favourite dish. Food is necessary for survival. It provides us nutritional value and sustenance and promotes the growth of our body. Eating healthy food supplies the necessary nutrients, which are essential for the growth and development of your body. Kids enjoy eating outside food such as snacks, pizza, burgers, French fries, etc. Here, in this article, we have brought to you an impressive "My Favourite Food Essay for Class 1" kids to help young learners in writing a fascinating essay on the food they love the most in just 10 lines.
Young kids tend to enjoy eating food of different flavours and tastes. Writing my favourite food essay in English helps kids to develop their English writing prowess. Given below is my favourite food essay, 100 words for Class 1, which will aid children of primary classes to write a few lines about the food they love the most and their fascination with a particular food or dish. Besides, you can also explore more such mind-blowing essays for Class 1 kids here.
My Favourite Food Pizza Essay for Class 1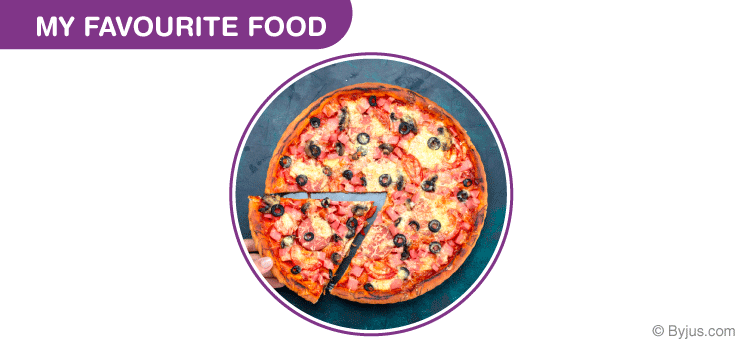 I am a big foodie and pizza is my favourite food.
It is an Italian dish which comes in various shapes and sizes.
There are various types of pizza available such as chicken pizza, Margherita and veg pizza.
My favourite pizza is Margherita, that has toppings of red tomato, mozzarella cheese and basil leaves.
It is unbelievably delicious and has an irresistible taste.
My parents gave a pizza party to my friends on my birthday.
My mother cooks delicious and yummy pizza.
I always request my mother to prepare pizza for me during the holidays.
Although a pizza has no nutritional value, I still enjoy eating various flavours of the dish.
Pizza is a lip-smacking dish, and it shall always remain one of my favourite foods.
Given above is a sample essay that will help kids to pick some ideas on how they can draft a beautiful 10 lines on my favourite food essay 100 words for Class 1.
Searching for more such exciting learning resources for your kid? Here at BYJU'S, we provide the best solution for young minds where you can check out our Kids Learning section and discover the best for your children such as poems, GK questions, trivia questions, worksheets, stories, NCERT solutions and lots more!