In this article, we bring to you my pet essay for Class 1. My pet essay writing is an important topic for children studying in primary classes. Essay writing helps in polishing the English language by giving students a better understanding of the language and encourages them to learn how to use new words.
Who doesn't love pets? Pets are a blessing in the life of human beings. People who love animals have a special corner for their pets. They may either keep a cat, dog, fish or parrot as pets. They love us unconditionally and do not expect anything but our companionship in return. They are usually selfless living beings who exhibit their love and affection to human beings.
Nowadays, people treat their pets like their children and their relationship evolves more with time. Here, we bring you to an essay on my pet animal for Class 1 kids, which will help them to understand the importance of pets in our lives and how they can write a few lines on this trending topic. You can also download the "My Pet Animal Essay" in English in PDF format. You can explore lots of such amazing essays for Class 1 on several engrossing topics, which are frequently asked in primary classes.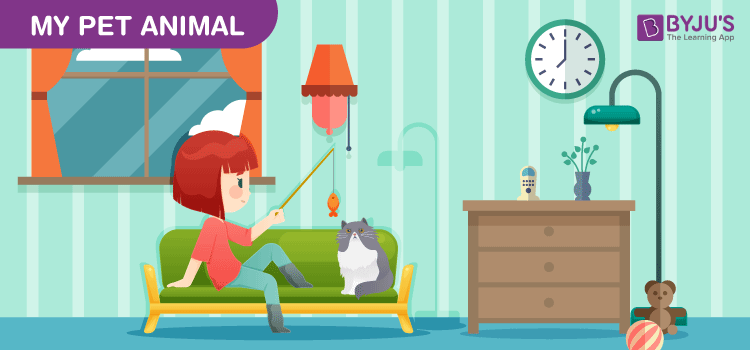 Essay on My Pet Animal for Class 1
My pet cat's name is Mistacat. He is a Persian cat breed.
He is 3 years old, very fluffy and grey in colour.

He loves to sleep most of the time and always lies down in a corner of my room.

He loves to drink fresh milk, eat fish and meat.

He spends a lot of his time snuggling with me and my brother.

He is very gentle and loves playing with me when I return from school.

I give him a bath once a week during the weekend and he enjoys playing with water.

He sometimes gets angry when he sees another cat or dog.

He loves jumping and enjoys sleeping on my lap often.

He cheers me up when I'm upset and licks my palms and showers lots of love and affection on me. I love Mistacat very much.
My pet essay for Class 1 is a very interesting essay topic for young kids. Kids at this stage are receptive to learning and bonding with people and pets alike. My pet essay writing helps in developing the writing prowess of kids and enables them to portray their feelings for their pets in a simplistic manner.
Looking for more such amazing resources? You can check our Kids Learning section to explore useful study content such as worksheets, stories, poems, essays, GK questions, NCERT Solutions, trivia questions, etc. that will aid your kid to learn new concepts more efficiently and proactively.