Here, we shall explore how to write a simple yet interesting My Sister essay for Class 1 kids.  By having a thorough read of this essay, Class 1 kids will be able to understand the points that they should include while they write an essay on my sister in English. 
Given below are 10 lines on My Sister essay, which your little one can refer to and draft an awesome essay on this topic. My Sister essay for Class 1 kids will assist kids in discerning the importance of having a sister. While trying to write an essay, they will realise how special sisters are to them. Here, we have provided a set of 10 lines essay on my sister in English in short sentences, so that it is easier to be understood by kids. You can also download My Sister essay in English in a colourful PDF format for free through the link provided below.
My Sister Essay for Class 1 Kids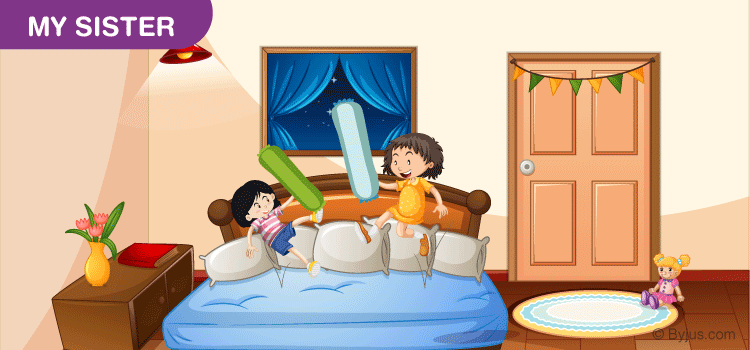 I have an elder sister. Her name is Priya.
She studies in Class 4.
She is fond of dancing and painting.
She is a very intelligent student and scores 1st rank in all exams.
She helps my mother in household chores.
We play together in the evenings after school.
She assists me in my homework and studies.
She advises me whenever I am confused.
She is a loving and caring person.
I love my sister so much and pray for her sound health.
We hope that your kid will love reading and practising this essay on My Sister in English. He/She will be able to write crisp 10 lines on sisters in simple words. You can find a lot of such fabulous essays on various essay topics for Class 1.
Sisters are very close to their siblings. In general, they are emotional and caring for everyone in the family. They are loved by every member of the family. Also, they are the apple of the eyes of their elder brothers. A sister is someone who is closest to her younger brother. She knows his secrets, advises him when he is unsure of his decisions, admires him, boosts his confidence and shares with him a bond that is very special. And, to a younger sister, she is a role model.
Looking out for more such engrossing learning content to enhance your kid's education? We are here to help. We have a plethora of resources on our kids learning section that you can refer to colourful worksheets, general knowledge questions, trivia questions on various subjects, poems, stories for kids, NCERT Solutions and a lot more!