Kids generally share a special bond with their grandparents, particularly their grandfather. A grandfather is often lovingly called 'grandpa' by his grandchildren. He is the one who adores, indulges and showers his love and affection towards his descendants. Grandfathers are treated with great respect by their grandchildren. They love to give in to their interests and love to fulfill their demands about whatever they ask for. Whenever the young ones demand for chocolates or wish for favourite toys, their grandfathers are ever ready to buy the best gifts for them. To celebrate this special bond, we bring to you an engrossing "My Grandfather Essay for Class 2" kids.
The below "My Grandfather Essay in English" for Class 2 kids can be easily downloaded in a colourful PDF format through the download link given here. We hope these simple 10 lines will help young learners to pick some ideas about drafting a simple yet impressive My Grandfather Essay for school.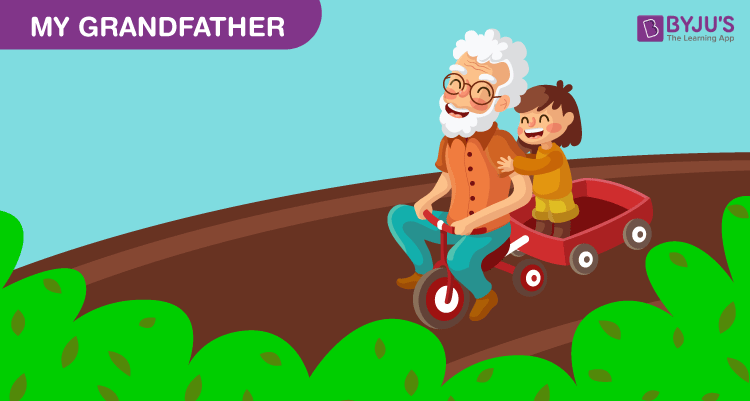 My Grandfather Essay for Class 2

My grandfather's name is Nirjhar Roy Choudhury.
He is the most loved member of my family.
He is 68 years old and he is the head of our family.
We all treat him with great respect and honour as he cares for us wholeheartedly.
My grandpa is a soft-spoken and kind-hearted person and always speaks gently to everyone.
He wears a pair of spectacles and loves reading newspapers, novels and magazines.
I love spending time with my grandfather when I return from school.
He reads out fairy tales and stories of kings, queens, princes, etc. to me before bedtime.
He gifted me a bicycle on my last birthday. He always encourages me to behave gently with everyone.

My grandpa is my inspiration and role model and I want to become a noble person like him when I grow up.
We ardently hope that the above written 10 lines on My Grandfather essay in English for Class 2 students will encourage your little ones to pen down a few lines on this interesting topic. We have maintained simplicity in the usage of easy language and structure of the above essay on My Grandfather in English, so that children of Class 2 may find it easy to understand and grasp.
Writing essays brings forth the creative power of a person. He/She is able to express his/her feelings and thoughts on any particular topic. Kids have tender and fresh minds and by writing My Grandfather Essay for school, they are able to boost their communication and writing skills. We have plenty more exciting topics for essays for Class 2 which you may want to explore for your kids.
Loved the essay? If you're looking for more such amazing resources for your kid's education, you can check out our Kids Learning section. You will find a huge collection of mind-blowing learning resources such as worksheets, General Knowledge questions, stories, poems, NCERT Solutions, trivia questions and lots more, particularly dedicated to our young learners.